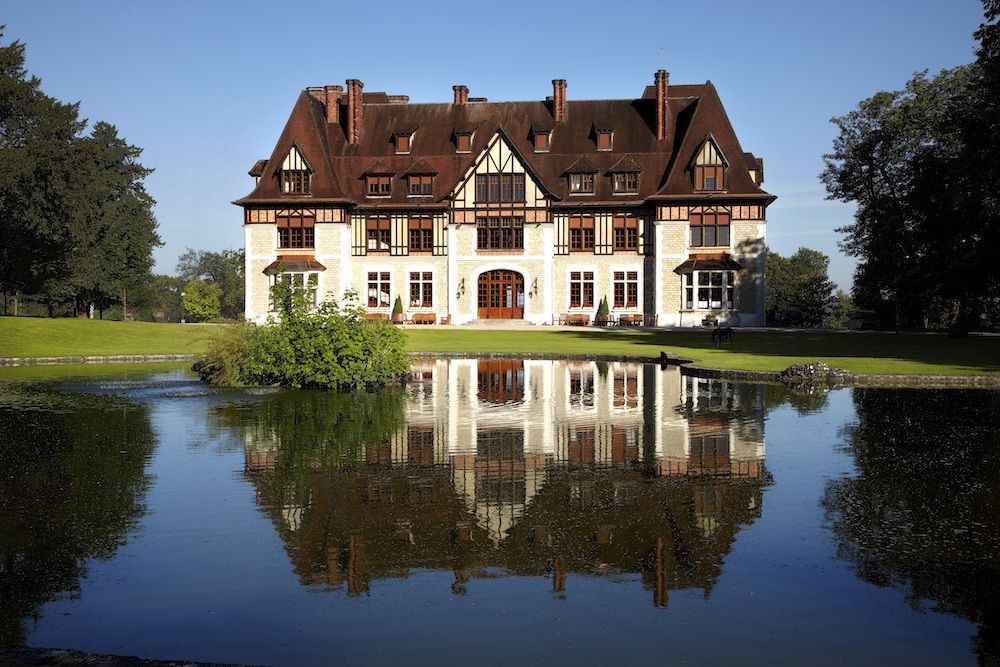 Photo Credit: Martell
Exclusive, exquisite, occasionally expensive and always worth it—it's no wonder Americans can't get enough of Cognac. The double-digit growth of sales of the spirit in the U.S., already the world's largest importer of Cognac, is one of the resounding success stories in the industry. And surprisingly enough for a spirit that's been around since the 16th century, it's enjoying a newfound fashionableness that's bringing new consumers to the table. They are merely discovering what connoisseurs have always known: Cognac is one of life's greatest pleasures.
We recently had the privilege of touring France's top five Cognac houses, world famous brands whose names have become synonymous with luxury, good taste and enjoying life to its fullest. The first thing we learned was that it is not merely brandy by another name, only the spirit that comes specifically from western France's Cognac region can be called Cognac. The harvest season for the white wine grapes that are its foundation begins in October, followed up by distillation from November to March. The resulting wine must be double distilled in copper pot stills and aged in French oak casks for at least two years, whereupon it becomes eaux de vie.
Photo Credit: Jared Paul Stern
Properly sourced, aged and blended, eaux de vie then becomes Cognac. One side effect has been that though it was once considered blasphemy to consume it any other way than neat in a sniffer, Cognac is now being used in a variety of delicious cocktails. The most important thing to know is that the designations "VS," "VSOP" and "XO" are a guarantee of how long a Cognac has been aged. VS (Very Special) means that it has been aged at least two years, VSOP (Very Special Old Pale) four years and XO (Extra Old) at least six years. Some Cognacs are aged for much longer (a revision to the labeling rules is due in 2018) and there are now specialty bottlings for those who wish to sample something truly precious. VSOP is the most common type and the one you've most likely tried, and is also well suited for cocktails.
The six "crus" or growing areas of the Cognac appellation are Bois Ordinaires or Bois a Terroir; Bons Bois; Fins Bois; Borderies; and the famed Champagnes: Fine, Petite and Grande. The name Champagne refers to the chalky soil that this region shares with the legendary sparkling wine. Most Cognacs are a blend of eaux de vie from the six crus, though some focus more heavily on certain varieties. Grande Champagne is considered by some to be the most prestigious, but whether it is the best is a matter of personal taste.
Photo Credit: Jared Paul Stern
The Bureau National Interprofessionel du Cognac (BNIC) welcomes visitors to the region to immerse themselves in the rich history and ongoing heritage of the legendary spirit. There, one can learn firsthand how the individual character of the terroir, the various stages of production, the methods unique to each brand, the quality and characteristics of the oak in which they are aged, and the talent and experience of the key personnel influence the aromas, taste and balance of the finished product, from vineyard to decanter. There are plenty of gastronomic adventures to be had along the way as well.
All Cognacs fall into at least the Premium category and many are considered Super Premium. Each Cognac house or maison has a master blender whose job it is to create the ideal product in keeping with the hundreds of years of history that most of the brands can boast of. Cellar masters are in charge of aging and identifying the eaux de vie that have matured to perfection. The most precious eaux de vie, some of which are well over a hundred years old, are kept in special, well-protected cellars where few mortals ever get the chance to see them, though they may taste them one fine day. Here's a look at the top five Cognac houses or maisons: Courvoisier, Hennessy, Martell, Rémy Martin and D'Ussé.
Photo Credit: Jared Paul Stern
Courvoisier
Courvoisier was founded in 1835 and became known as "Napoleon's Brandy" after Napoleon Bonaparte contracted with founder Emmanuel Courvoisier to supply himself and his officers with the spirit, and later took a quantity with him to St. Helena. Courvoisier still operates from its stately chateau on the banks of the Charente River, which is also home to a company boutique and museum.
Courvoisier sources eaux de vie from the crus of Grande and Petite Champagne, Boderies and Fin Bois to create its beloved blends. Its cognac is aged in handmade barrels from 200-year-old oak sourced from France's Forest of Tronçais. Highly coveted special bottlings include Exclusif, Napoleon, Initiale Extra, Millennium, Courvoisier Succession J.S., Courvoisier Rosé, L'Esprit de Courvoisier and L'Essence de Courvoisier.
The spirits brand recently unveiled a bottle and packaging redesign based on Paris' Golden Age, with elements echoing the Eiffel Tower (which is fitting since people toasted with Courvoisier during the grand opening of the Tower in 1889). The new look evokes the brand's modern approach to luxury and attention to detail.
Photo Credit: Hennessy
Hennessy
Hennessy, the world's best-selling Cognac, is celebrating its 250th anniversary this year. Time has only served to enhance the values that the maison has espoused since its creation: "unique savoir faire, a constant quest for innovation, and an unwavering commitment to creation, excellence, legacy and sustainable development." Today the brand sells about 50 million bottles a year (more than 40 percent of the world's Cognac), making it the largest producer and a true international icon. One of the most coveted jobs in the entire spirits industry is a position on Hennessy's prestigious seven-person tasting committee, which samples 10,000 eaux de vie per year. Hennessy makes its own oak barrels at its "La Sarrazine" cooperage for aging the exclusive spirits selected to become a part of its blends.
Hennessy produces blends ranging in price from $33 to $4,200 per bottle, including the $600 ultra-rare 250 Collector Blend made to honor their anniversary. The Blend is a "tribute from the present [7th generation] Master Blender Yann Fillioux to his predecessors and marks a crowning achievement of his illustrious 50-year career," notes Rodney Williams, Senior Vice President of Hennessy, Moët Hennessy USA. "It is a testament to the progressive vision and dedication to excellence that has made Hennessy endeared the world over."
Photo Credit: Jared Paul Stern
Martell
Founded in 1715 by Jean Martell, the oldest of the great Cognac houses has always honored its hallmarks: "elegance, complexity and balance." Founded at the height of the French L'Art de Vivre movement, a period in which "gastronomy, tasting and craftsmanship were all celebrated and enjoyed with style," Martell came to symbolize the very art of fine French living, in which no great meal or social occasion is complete without a toast of the precious elixir.
Martell, which favors wines from the Borderies for its eaux de vie, was served aboard the Queen Mary in 1936 and even on the Concorde in 1977, among many other occasions in history. At the heart of its commitment to hospitality is the stunning Château de Chanteloup near the town of Cognac, where VIPs and visiting dignitaries are welcomed by the brand's suave and accomplished ambassadors and top executives.
This year Martell celebrated its 300th anniversary in high style. In partnership with L'Officiel (the oldest French lifestyle magazine), Martell's anniversary ambassador, actress Diane Kruger, selected the 300 most innovative French and French-inspired talents. The leading lights in the fields of gastronomy, art, mixology, entertainment and fashion were chosen for their "impact on French culture on an international scale." There's no doubt that 300 more years of glory will follow for Martell.
Rémy Martin
Rémy Martin
Founded way back in 1724, Rémy Martin has a lot of history to celebrate as well. The brand emphasizes the fact that its aging process of 10-37 years goes beyond the requirements for the standard age statements. A 20-person tasting committee samples around 20-30 eaux de vie per day to determine which are qualified to bear its hallowed name in treasured blends. Rémy only uses those from the Grande and Petite Champagne crus, because they have the greatest aging potential.
Rémy has one of the most accomplished and charismatic cellar masters in the personage of Baptise Loiseau, entrusted with the responsibility of continuing the house's centuries-old traditions and impeccable style. The company also produces Louis XIII, a famed luxury blend of up to 1,200 eaux de vie that range in age from 40 to 100. It comes in a Baccarat crystal decanter and can cost around $3,000 a bottle.
The brand recently announced a new global marketing campaign fronted by Jeremy Renner, called One Life/Live Them. It's based on the concept that in today's world "individuals are no longer defined by one talent or skill but are multi-faceted," and encourages everyone to "explore, embrace and celebrate all of their talents." In addition, Rémy produced a film for posterity with John Malkovich called 100 Years, which has been put in a time capsule for release in 2115.
Photo Credit: D'Ussé
D'Ussé
Backed by rapper Jay Z, who appears in its marketing campaigns and drinks it to celebrate his many triumphs, D'Ussé has deep roots dating back to 1795 thanks to its revered sister brand Baron Otard. Aimed at a young consumer demographic with a strong focus on smoothness—Cognac is seen by some neophytes to have a too much of a "bite"—it's a woodsy blend with accents of honey and dried fruit, designed to be enjoyed in high-end cocktails.
With an avant-garde bottle design decorated with the Cross of Lorraine (a powerful French symbol of honor, courage and perseverance), D'Ussé exemplifies the potential of Cognac to capture the contemporary imagination. At the same time, its home in the incredibly historic Château des Valois in the town of Cognac, along with the Chateau's precious reserves of ancient eaux de vie, gives it a strong grounding in history and tradition.
The other major brands will no doubt be keeping a watchful eye on D'Ussé to see whether cutting edge Cognac is in fact a viable prospect for the long term. Try it for yourself and see, but we think Hova just may be on to something.