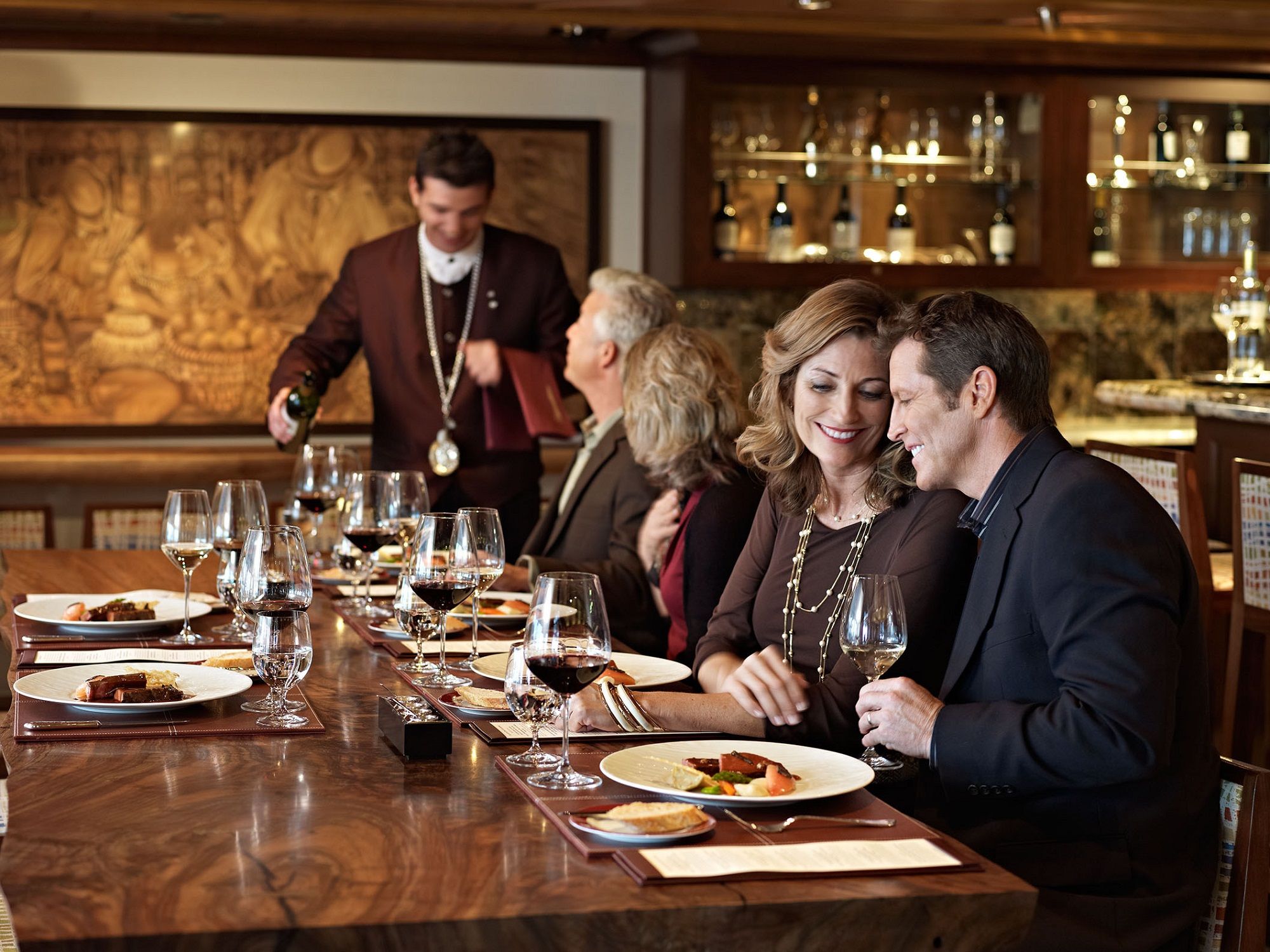 Photo Credit: Oceania Cruise Lines
La Reserve by Wine Spectator is the exclusive 24-seat wine and food pairing restaurant-at-sea featured on Oceania's Riviera and Marina ocean liners. From its dining venues to a hands-on Bon Appétit Culinary Center (all of which are driven by celebrity chef Jacques Pépin), it comes as no surprise that Oceania won the Best for Foodies award in the 2015 Fodor's World's Best Cruises list. As good as the food is, people don't just show up for the gourmet cuisine, as wine connoisseurs seek out the La Reserve venue to explore new pairings and socialize with fellow aficionados.
"At Oceania, we linked with the editors of Wine Spectator to conceive the ultimate luxury wine and food pairing experience. We defined the three menus offered—Discovery, Odyssey and Connoisseur—as unique choices for our guests," explained Senior Executive Chef, Laurent Trias. "We wanted our guests to be surrounded with the best in china, crystal, tablescape and custom furniture. We wanted to share our knowledge with the guests, [so they can] understand the rationale behind each ingredient served and the wine that complements each choice."
Photo Credit: Oceania Cruise Lines
La Reserve's Oceania and Wine Spectator collaboration results in a luxury sensory experience high on the 12th floor of the ship, which is decorated with original art and Lalique crystal sculptures. In the dining room, Brittany lobster is served on Rosenthal Versace China and is paired with vintage Champagne poured in Riedel Crystal glasses. "Our advanced sommeliers give a presentation to each table, launching the course with the logic behind the pairing—why it works [and] why the match is perfect," says Executive Cellar Master, Alejandrina Barajona.
Photo Credit: Grapestone Concepts
The Discovery menu features some unusual and unexpected food and wine pairings. Unique among these was a third course of pumpkin ravioli with crushed amaretto biscotti, paired with Washington State's Novelty Hill Viognier. The full body of the wine is an excellent match for the fruity texture of the pumpkin and the crispiness of the amaretto biscotti. The fourth course of bay scallops and jamón ibérico "Pata Negra" over Tarbais bean cream paired with Valsanzo "Vall Sanzo" Ribera Del Duero Spanish Crianza creates a match of soft tannin wine that bring out the delicate flavors of the scallops. The fifth (and main) course featured a 72-hour, slow-braised short rib with "gnocchi au jus" paired with Oceania co-founder, Bob Binder's own Napa Valley Silver Trident Cabernet Sauvignon.
Photo Credit: Grapestone Concepts
Unique to La Reserve, the 24-seat table gives diners a shared experience, meant to bring those with a common passion together. Many guests there at the time of our meal were wine collectors and some were even touring vineyards around the world.