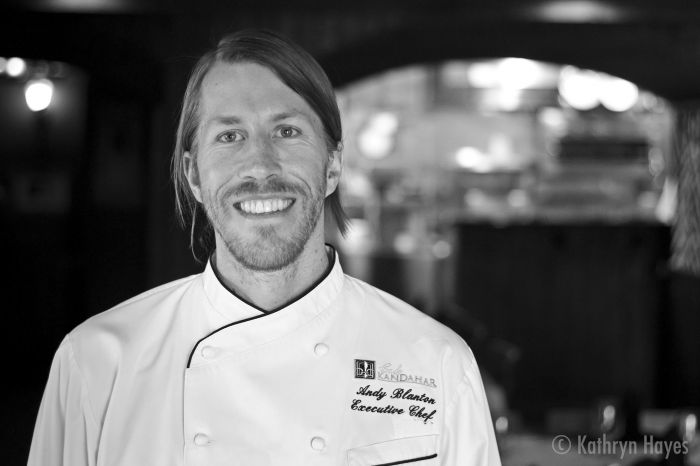 Photo Credit: Kathryn Haye
Andy Blanton got the "cooking bug" while working as a dishwasher when he was 15. From there he went on to graduate from the Culinary Arts Institute of Louisiana in Baton Rouge. Eager to explore his Cajun culinary roots, Blanton has worked at the renowned Commanders Palace in New Orleans and Brigtsen's Restaurant, where he cooked under the acclaimed James Beard award-winning chef: Frank Brigtsen.
In 1999, Andy moved to Whitefish, Montana for a change of pace and scenery. He was quickly snatched up as the Executive Chef for Café Kandahar at Whitefish Mountain Resort and just six years later, he (along with his parents) bought the restaurant. Kandahar serves thoughtfully-constructed, farm-to-table cuisine and to best appreciate it, we recommend ordering the five-, seven- or 11-course Chef's Tasting Menu.
Nominated several times for Best Chef in the Northwest by the James Beard Foundation, Blanton was even invited to cook at the James Beard House in 2012. Additionally, the Whitefish Convention and Visitors Bureau considers him to be "one of the reasons that Whitefish has become nationally known for its culinary scene." Naturally, we had a few questions for the acclaimed chef.
Photo Credit: Kathryn Haye
JustLuxe: What inspired you to become a chef?
Andy Blanton: While working as a dishwasher and prep cook, I was attracted to the idea … by the lifestyle of chefs and how much they enjoyed their work. I was fascinated with the versatility of food and began to appreciate the happiness food brings to people—for both the chef who prepares it and the guest who eats it.
JL: What is your culinary motto?
AB: "Thoughtfully-Constructed Cuisine," which I define as a conscious effort to source all my ingredients with an emphasis on seasonality and locality, creating dishes elevated by the quality of these products.
JL: What new ingredient or cooking trend has you totally jazzed?
AB: Nose-to-tail cooking, ticketed dinners with prix fixe menus (such as Lazy Bear in San Francisco) and the fact that farm-to-table is becoming mainstream. As for ingredients: Japanese Wagyu, truffles and anything foraged.
Photo Credit: Kathryn Haye
JL: Favorite culinary journey?
AB: Pretty much anywhere in Europe. France takes the cake in terms of personal experience and dining, but I had wonderful experiences in Italy: truffle hunting, tasting balsamic vinegar and seeing Parmigiano-Reggiano and olive oil being made in the traditional manner.
JL: How would you describe your restaurant?
AB: A small, rustic, fine dining establishment, featuring an uncompromised commitment to a quality experience, achieved through creative food and purposeful service.
JL: What is your proudest culinary moment?
AB: Cooking at the James Beard House in May of 2012. It was the hardest day of my life. We cooked an 11-course menu for over 60 people with only four of us (plus two culinary school helpers). It was a true test of my mettle, to perform in such a hallowed environment with so many unknowns. I was overjoyed upon the completion of the dinner [and it's] one of my greatest achievements to this day.
Photo Credit: Bruno D'Andrea/Shutterstock.com
Olive Oil Poached Tomatoes (Tomato Confit)
Not only is Blanton a great chef, he's also a culinary teacher and offers private classes in his back kitchen. This deceptively simple recipe results in four tomato by-products: pulp, sauce, juice and flavorful tomato oil with a myriad of ways to use them.
Ingredients:
- 6 vine-ripened tomatoes
- 4 sprigs fresh basil (stems only, reserve the leaves for the sauce)
- 5 cloves garlic (halved)
- 3/4 cup olive oil
- Kosher salt
- Black pepper
Directions:
Halve the tomatoes lengthwise (horizontally) and liberally season each side with kosher salt and fresh ground pepper. Place tomatoes in roasting or casserole dish, cut side down (skin side up), then add olive oil, garlic cloves and basil stems. Place in a 375-degree oven for about an hour, or until tomatoes are soft to the touch, and the skins are wilted and/or turning color.
Allow the tomatoes to cool enough to be able to touch with your fingers. Gently and carefully remove tomato skins. (Optional: you can reserve these and use for garnish by drying them out in a low oven or placing onto a griddle on low heat. The skins will become translucent and make a wonderful garnish.)
Gently strain the tomatoes and liquid from the roasting pan through a China cap lined with cheesecloth. Do not press or force anything through, just allow the weight of gravity to drain the liquid from the tomatoes. Refrigerate the liquid until cold, so that the oil will rise to the top. Skim all of the oil from the top and reserve, as this becomes tomato oil. Beneath the oil is what we call tomato jus, a very flavorful liquid to be used in a variety of ways.
The tomatoes can now be roughly chopped or puréed, depending on method of usage. Some examples are listed below:
Tomato sauce for use in pastas, pizzas, ragouts, or as an accompaniment for chicken, rabbit, veal, etc.
Tomato oil for use as a condiment for dipping bread or a medium for poaching fish, a garnish on any tomato plate, use in a vinaigrette or aioli, etc.