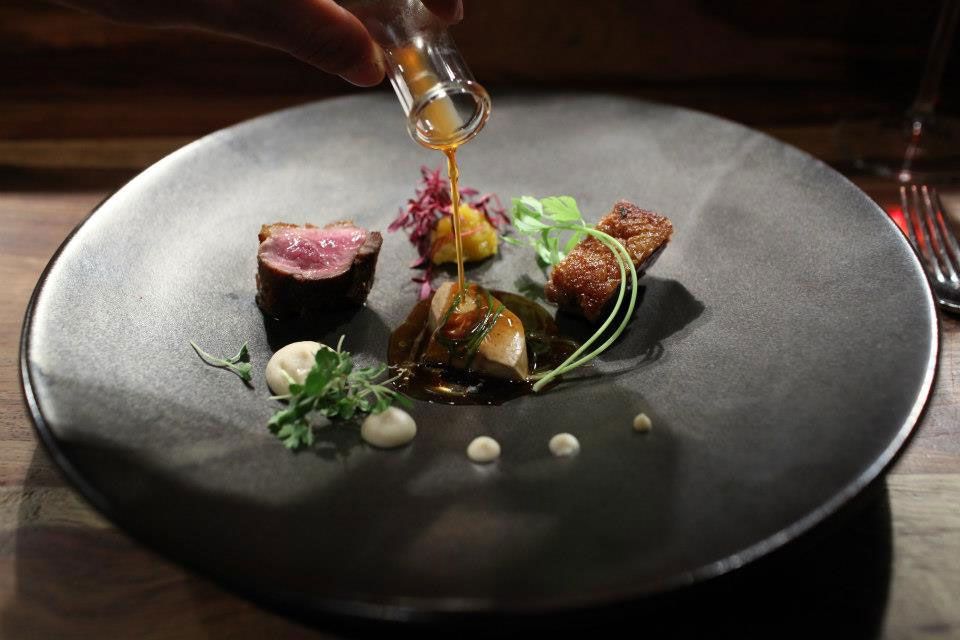 Photo Credit: The Test Kitchen
South Africa, a country known for surfing, political conflict, and safaris is now slowly beginning to be recognized as a vibrant food and wine powerhouse. While foolishly ignored by the prestigious Michelin Guide, the more in-tune San Pellegrino Best of the World list has their finger on the world's pulse and has been bringing much-deserved attention to the country's finest dining establishments. And if you've been listening, you know that two of the area's most celebrated restaurants are Test Kitchen in Cape Town and The Tasting Room in the Winelands town of Franschhoek.
Photo Credit: Test Kitchen
One of the most exciting aspects of eating in South Africa is the sheer number of ingredients you won't be able to find elsewhere, simply due to geography. Springbok, a white antelope found in southwestern Africa, is abundant on these menus and when cooked well offers an exciting, gamier alternative to steak. Kingklip is the most ubiquitous sea creature on the menu and is often touted as a whitefish. In reality, it's a type of eel, but has a texture and taste similar to cod or hake. Having access to prime farmlands as well as the sea, means there are seemingly limitless options to the diversity and malleability of South African cuisine.
Nestled in the center of Cape Town's post-industrial artisan market The Old Biscuit Mill is Test Kitchen, which is easily the most famous restaurant in the country. Upon being seated at the eclectically-designed table we were offered a choice of several signature cocktails before the tasting menu began. Starting with smoked trout, beet, saffron pickled onions and buttermilk trout crema, we then settled in over a decadent scallop with cauliflower cheese foam, caper and pine nut salsa and bacon. The next two courses involved springbok and kingklip, the former coming to life in pine oil and the latter brought to the table in a clay smoker. After a fig, smoked-milk ice cream and beer-barley fudge indulgence, we concluded with a merengue, pine nut curd and banana sorbet drowned in a coconut and rum broth. All wines were from South Africa and played off of the diversity of ingredients, highlighting the use of various pine byproducts.
Photo Credit: Jackie Bryant
The Tasting Room lies about an hour's drive outside Cape Town in the beautiful Winelands haven of Franschhoek. Part of the five-star Leeu Collection hotel consortium, it is the fine dining offering at the luxurious Le Quartier Francais hotel. The restaurant implores you to come as you are; while you may be eating some of the world's finest food, there's no need to be fussy about the rest. The result is a comfortable, inviting experience that explores the interplay between taste and vision. What you get on your plate will look like one thing but will completely surprise you when it tastes like something else entirely. On a recent visit, we were treated to their famous cornbread in a can, the most beautiful corn soup anyone has ever laid eyes on, broccoli several ways, and springbok, to name a few. The presentation was inventive, stunning and incorporated leaves, ceramics, wood and flowers and the clientele included fine dining aficionados from all over the world.
Margot Janse, Executive Chef of The Tasting Room, shared her excitement about the future of South African fine dining. She suspects that the Michelin Guide's arrival is not far off, and that there have been recent rumors of judges dining around the country. She notes that the San Pellegrino list is more in touch because it's curated by chefs and doesn't have the geographical limitations the Michelin Guide does. On the state of South African food and wine, she notes that, "The South African culinary scene is extremely exciting. There is so much more to discover as we are a country with so many different cultures and incredible history." "The diversity creates an atmosphere in which creativity thrives, both in food and wine, but also in design. The world has started to sit up and take note of what we are doing here, as we speak our own culinary language," Janse concluded.
Photo Credit: Test Kitchen
Regardless of which restaurants you choose to eat at, what's a constant is excellent wine. Between Franschhoek and Stellenbosch, there is no shortage of high-quality wine that's begging to be consumed. Obviously, visiting the country's top restaurants is one way to sample them, but visiting the wine farms (as they're called in SA) is an experience in its own right. Tasting rooms are often very tastefully designed with a luxury consumer in mind.
Photo Credit: Delaire Graff
The most famous is Delaire Graff in Stellenbosch, of Graff Diamonds fame, whose wines will be found on every top wine list and who boasts one of the most beautiful tasting rooms anywhere. You can choose to sit in an opulently-designed sitting room or a patio that looks out to the wine fields and jagged mountains just at the foot of the estate. Other first class options include Cavalli Estate, who also maintains a fine dining restaurant and thoroughbred horse stable; Morgenster, which offers an olive oil tasting; Vergelegen where you can choose between fine and casual dining; and Haute Cabriere sitting mountainside above the village of Franschhoek and boasting excellent sparkling wines and a beautiful cave-like dining room.
South Africa has come to offer engaging, enlightening, and decadent food and wine experiences on par with some of the best anywhere in the world. For those of us in the northern hemisphere, winter is the best time to visit, as it's their summer and the weather is just about perfect.