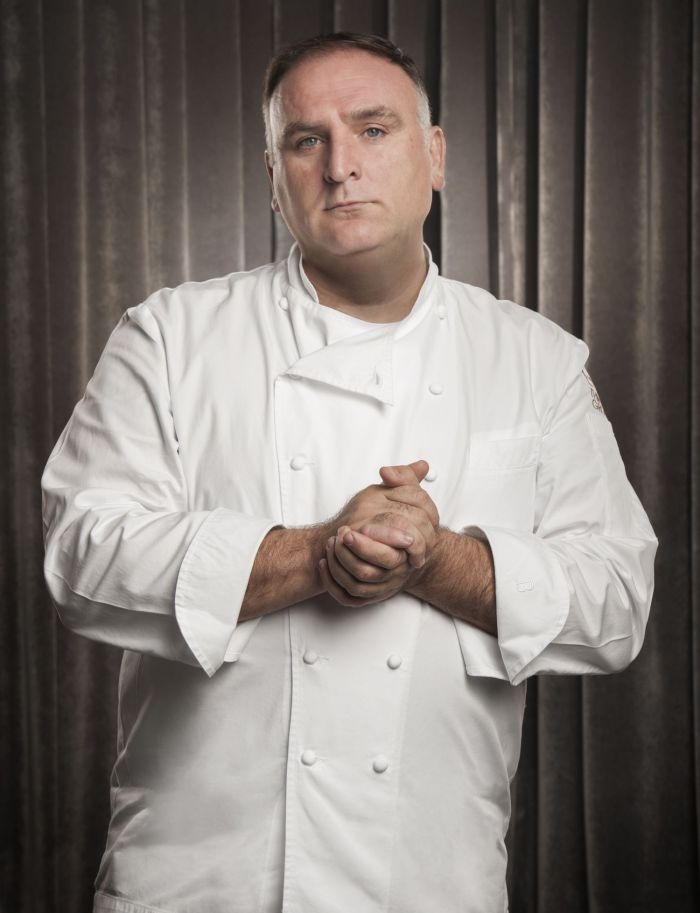 Photo Credit: ThinkFoodGroup
Spanish food is the latest trend in American dining and the United States is lucky to have a Spaniard of its very own, Chef José Andrés. He might be familiar to you if you've eaten in one of his many restaurants across the country or if you're a television fan—he's appeared on many different programs, and most notably is a recurring guest on Anthony Bourdain's travel shows. He's unmissable: effusive, passionate, creative, knowledgeable and fun, José Andrés enthusiasm is impossible to not get on board with—so much so he was once named one of Time's "100 Most Influential People," along with "Outstanding Chef" by the James Beard Foundation. In fact, that Spanish tapas craze we mentioned? It can largely be attributed to him, as he's credited with being one of the first Spanish cooks to bring quality Iberian food to the American public. JustLuxe was lucky to sit down with the Washington D.C.-based chef to find out what makes him tick.
José Ramón Andrés Puerta was born in the Asturias region of Spain in 1969. After culinary school, a stint as a chef in the Spanish Navy and an apprenticeship at world-renowned elBulli he landed in New York in 1991, where he worked at a restaurant called El Dorado Petit. At just 23 years old, José Andrés joined a new restaurant venture in Washington D.C. called Jaleo, which was the first critically and commercially successful tapas restaurant in the United States. He continued to open other Jaleo locations as well as several other restaurants, and was awarded his first James Beard award for Best Chef: Mid-Atlantic in 2003. During this time, he also penned his first of many cookbooks, Tapas: A Taste of Spain in America, and began his television career with a Spanish cooking show. José Andrés formed his current restaurant and culinary group, ThinkFoodGroup, in 2006 and began to open restaurants in Los Angeles and Las Vegas, collecting accolades, praise, and American citizenship along the way.
He is deeply proud of having become American. He mentions that there are two events in his life that influenced him very deeply, the first being when he, "was pulling into New York Harbor for the first time, when I was in the Spanish Navy. I saw America as a place of hope, of endless possibility, and I knew one day I would be back." As much as he loves the United States, he will never relinquish his Spanish identity. As a country with a serious culinary pedigree, Spain's culinary traditions inform much of José Andrés' cooking and how he runs his restaurants, though he incorporates dishes and ingredients from around the world. "I am from Spain, and it is a place with incredible and diverse gastronomy—but what every region has in common is a meal that is meant to be shared. In America, we all have dinner parties where everybody gets dressed up and visits a friend's home for the meal. In Spain, you go to your town square, and you know everybody's going to be there, and the kids are going to be playing, and you are going to be having some tapas…and maybe a gin and tonic."
This cultural difference is distinct—eating is a way of life in Spain, not just something you do. It's also intensely communal, from gathering in a public space right down to the small plates you share. To tap into Americans' dining sensibilities, José Andrés had to bring the concept to them in an organic fashion. "When I began as the head chef at Jaleo, we had to communicate that way of eating. It's all about just a couple of inches. You move a plate a couple of inches toward the middle of the table. That's sharing. And it is an idea that has gained a lot of traction, and not just in Spanish cooking," he explains.
As his biography highlights, he's really always been a chef, and he confirms my suspicion. "I don't think I became a chef—I think I was born a chef. Starting from helping my father tend the fire at paella cookouts on Sundays, all the way up to today," where, he claims, "I truly realize that I still know nothing." Continual education is a theme that runs deep with José Andrés. With so many side ventures relating to teaching—cookbooks, cooking shows, a stint teaching at Harvard with Ferran Adrià, and his becoming Dean of Spanish Studies at the International Culinary Center, among other things—it's clear that he has a lot to offer, but knows there is also a lot to gain by collaborating with others. Bringing a new way of eating from Spain to the United States was just another extension of teaching and learning for José Andrés, and is a mission he's still on. He thinks that eating and dining should be fun, "but it should also make you think. And make you realize that we can vote with our plates, with how we eat and source our food."
His commitment to learning and teaching makes sense, considering José Andrés' second most influential experience, after arriving in New York, which refers to his time working with Ferran Adrià at elBulli: "We were all [at the restaurant] all the time, working toward something that nobody knew, and yet was something we started to see would be revolutionary." His expertise from this time is best exemplified at his fine dining restaurants: minibar, é and SAAM, which he calls, "the nerve centers of my company. We look for new ways of cooking, new ways of thinking about food, about flavor. We create an experience that begins with telling a story. These are the places where everything begins."
Though he earned his chops at fine dining establishments and continues to open restaurants featuring haute cuisine, he admits his favorite thing to cook are classic dishes from his childhood. "I love to cook what I love to eat. I grew up in Spain eating arroz a la Cubana once a week. It's simple, humble. Rice, a fried egg, tomato sauce, fried banana. I love to cook what is not really even cooking. I go to the farmers' market, pick up some Aurea tomatoes—the ones that have so many nooks and crannies. I slice them in half, put some Spanish olive oil on top, some Maldon sea salt. Amazing."
It's this pursuit of life's simple pleasures that is at the core of José Andrés' soul. Just talking to him, you can tell that he finds the true essence of everything he does, whether it's cooking, relaxing or traveling. In his down time, he loves to scuba dive. "Being 100 feet below the ocean's surface is incredibly calming. I have learned so much about a world many people never get to see. And I get to go with my wife and daughters too, so I love that it is something we can do together. We love the Galapagos and the Cayman Islands, too." He again refers to his commitment to food activism adding, "I love to hunt for lionfish, which is an invasive species. You can hunt fish and do good for the ocean."
His absolute favorite place to travel, though? Unsurprisingly, that would be Spain. "Can you picture a wide, sandy beach and a town with crowded fish restaurants and these little beach shacks that open at lunch and go, go, go until the last person is done drinking and dancing and laughing? That is Zahara de los Atunes, in the southwest of Spain." Of course, there's a culinary aspect, too. "It's known for its incredible red tuna—the best of the sea! I go every summer with my family." This uncomplicated, breezy, straight-forward view of life is distinctly Mediterranean and is an ethos that continues to inform all aspects of José Andrés' businesses.
Though he's had runaway success, one accolade that has proved elusive for José Andrés is Michelin recognition, as the guide has not previously rated restaurants in Washington D.C., nor any of the other cities he operates in. In June 2016, though, Michelin announced they would begin rating in D.C. For him, mostly, it's a reflection of how much the city's culinary scene has evolved. "I am looking forward to the guide because I am proud of my city. I do believe this city deserves to be among any list of the best! Michelin's choice is a validation, it shows how far we have come and how much more we will do. It's incredibly exciting." On a personal level, it resonates with him as well. He says, "Don't get me wrong, when I was a young chef I dreamed of earning a Michelin star. Doesn't everyone? I would look through the windows of the great restaurants in Europe."
However, he's been around long enough to know it's not the be-all, end-all. "But stars or no, it's most important to never forget who we are cooking for and why we are cooking." Still, it's clear that the thought excites him, and rightfully so. "Getting a star, or two, or three we all dream of things and we all aim for better things. And Michelin, somehow, is just the reassurance that your team's lifetime of work is acknowledged. So I dream that one day I'll get one."