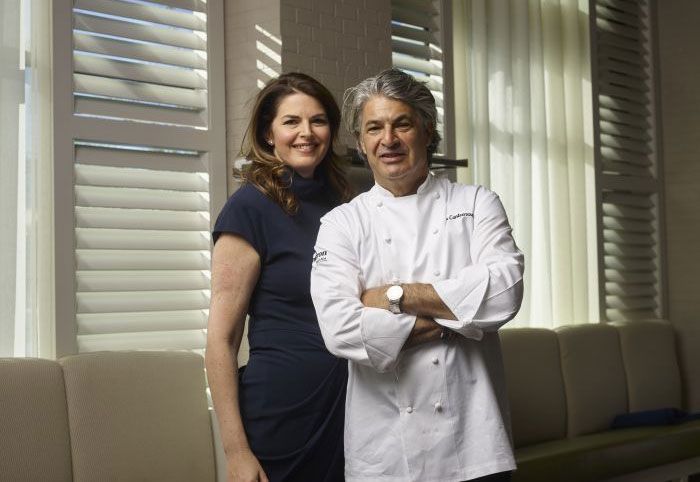 Photos Credit: Andiron Steak & Sea
Even though we dined at Andiron Steak & Sea months ago, the flavors of the meal still linger in our memory. While in Las Vegas, we had heard about this restaurant by two food writers. The eatery, which sits about 30 minutes outside of town in Summerlin, is the brainchild of Chef Kim Canteenwalla and his wife, award-winning restaurateur Elizabeth Blau. Together, their combined experience expresses itself through the restaurant's design and eclectic dishes.
Chef Canteenwalla has over 25 years of hospitality expertise with formal training at the Institute St. Denis in Montreal. He has traveled extensively through Singapore, Thailand, Bali, Dubai, Cambodia and has worked for the Four Seasons in Toronto, Raffles International Hotel Group and as executive chef of the MGM Grand in Las Vegas.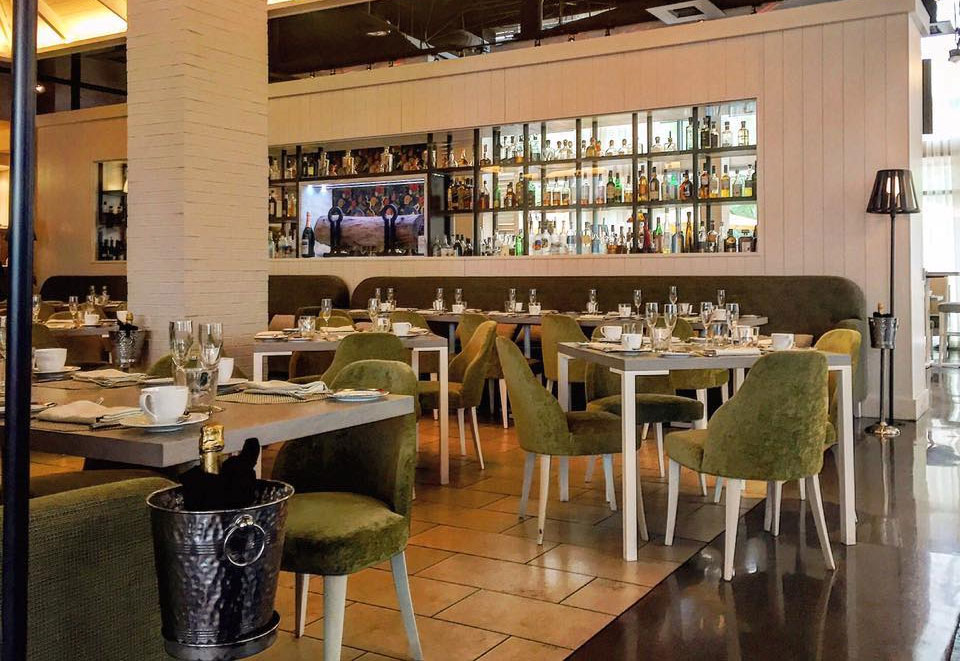 Blau, a graduate of the Cornell School of Hotel Management, began her career with restaurateur Sirio Maccioni as he expanded the Le Cirque brand to Las Vegas. She has also been nominated for a James Beard Award as the country's best restaurateur. The duo founded Blau & Associates, a firm dedicated to creating world-class hospitality experiences. Blau's client list includes New York's Rainbow Room, Montage Resorts, Ritz-Carlton hotels, NetJets, Celebrity Cruises, Trump Casinos, and Viceroy hotels among others.
In 2012, the couple embarked on their first solo Las Vegas independent venture, Honey Salt, before opening Andiron in 2015. We recently interviewed them to find out more about their background, personal ingredient preferences and the future of their business.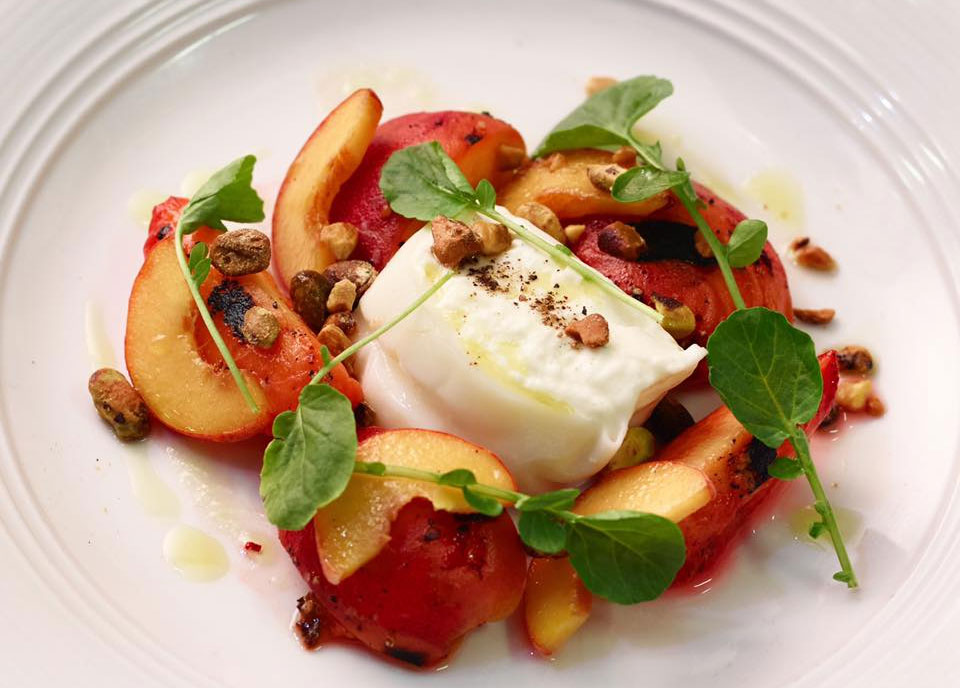 JustLuxe: What have been the biggest challenges and best rewards of working with your significant other?
Elizabeth Blau: One of the best rewards has definitely been getting to travel the world together. Travel is a passion of both of ours and having the opportunity to eat our way through new cities and explore new countries together, and call it "work" is definitely an incredible reward. In terms of challenges, I think for anyone, finding time for work and time for family, is a challenge. And when you work with your spouse it can be even harder to delineate those things and carve out that time.
JL: How long have you worked together?
EB: Sixteen years. We first worked together when Steve Wynn built the Beau Rivage in Biloxi Mississippi. We have run Blau & Associates together for 14 years.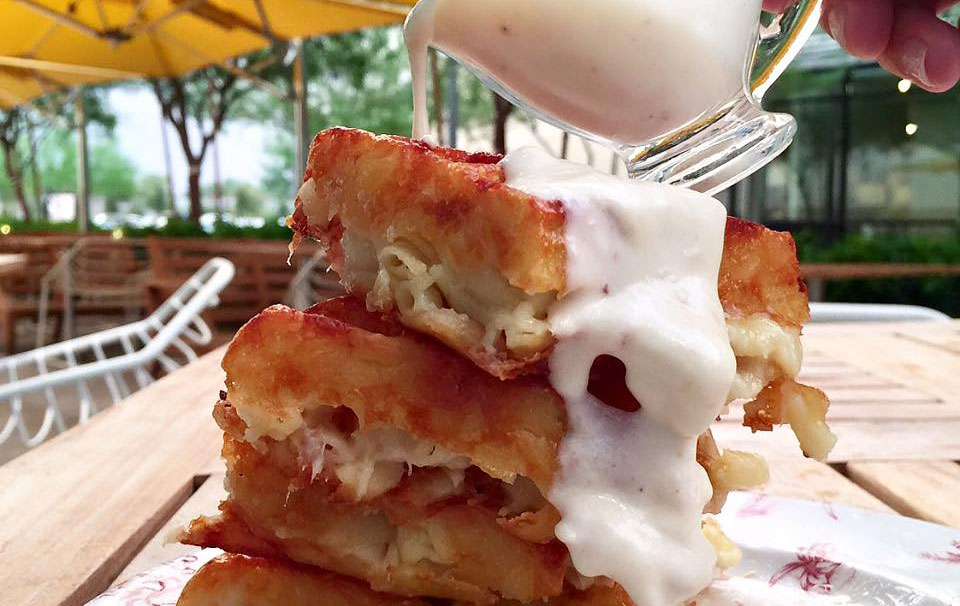 JL: What are your most creative dishes that define Andiron and your collective culinary styles?
Kim Canteenwalla: The mac 'n cheese waffle is a good example of what we do well together. It's a comfort classic with a fun twist that has some serious culinary firepower behind it. I use five different cheeses in the sauce to create it. We've had guests try to put mac 'n cheese in their waffle iron at home and be very disappointed with the results.
JL: What types of textures and spices do you like to use, when you can?
EB: I love fresh; fresh herbs, fresh chilies, I like a little heat in my food but not too much fat or butter.
KC: I'm a little more old school, so I still appreciate a great sauce and the richness of a little fat or a little butter. But with my team in Asia, I also love the bright flavors of pink peppercorns, or the freshness of chive. I think texture is incredibly important and I think you need a balance of contrast for a dish to be really successful. Also, I love the simplicity of using a variety of fresh herbs, spices and citrus to marinate proteins.
JL: When did you know that you were going to take your culinary crafts seriously?
EB: Through high school and college I had always worked in restaurants, which I loved, but it was more of a job. After college I was working as a candy maker in West Hartford and studying for my LSATs, when I realized that food, rather than law, is where I belonged.
KC: I realized pretty early on that my dream of being a professional hockey player wasn't going to pan out. I always loved cooking and the camaraderie and adrenaline of the kitchen. I also realized early on that cooking good food brought people together and made people happy, it just felt like a natural fit.
JL: We ask this of every chef we interview: Were either of you picky eaters when you were growing up?
EB: I was, I didn't like to try a lot of new things, just plain and simple, no sauces. Things have changed a lot since then.
KC: No.
JL: What are your future plans for growth in the culinary field?
EB: We have been working with an increasingly diverse group of clients from industries that are not traditional hotbeds for food and beverage. We are now working with those from arenas and performing arts and convention centers to real estate developers to colleges and professional campuses.
JL: Is there anything else you would like to share?
KC: Right now we are excited about our project in Vancouver, BC, The Parq, a first of its kind urban resort and casino right in the city center. We will have two hotels, a two-floor casino, meeting and event space and eleven different food and beverage outlets that we have been working on for five years. We are bringing our menus, our culinary diversity and our farm-to-table concepts from Las Vegas to Canada, and we are very excited about all of it.