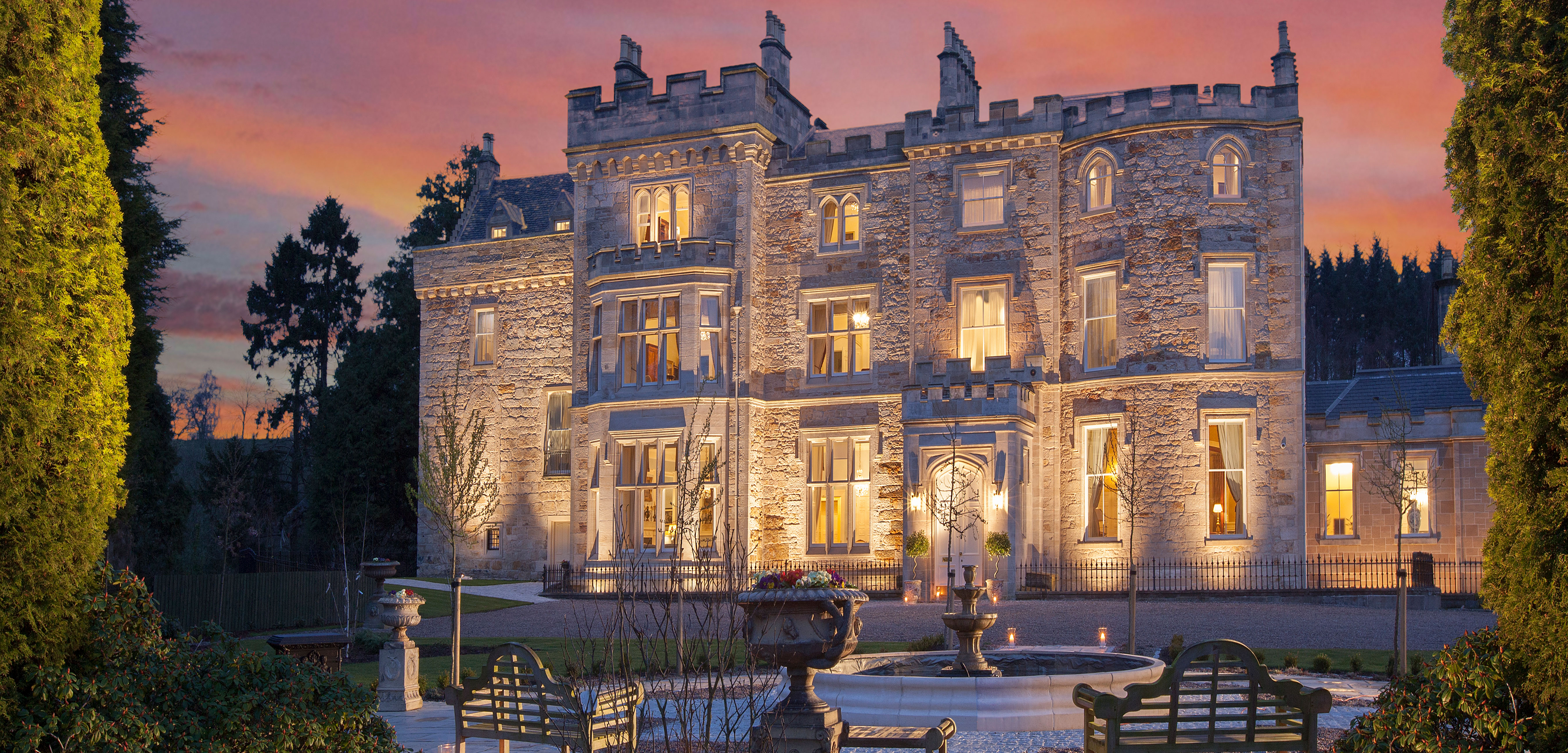 Photo Credit: Crossbasket Castle
Haggis, kippers, black pudding, clootie dumplings…Scottish food has typically been rather rustic and the butt of jokes for centuries. It is a joke no longer, though. The little nation's culinary credentials are on the rise; it now boasts 13 Michelin stars awarded to 12 restaurants scattered across the country, not just in the cities.
Dynamic chefs are returning from stints abroad to rediscover the abundance of plants and herbs their forbears foraged from the land, and are keeping much of the coveted cornucopia of fish and seafood caught in the waters right of Scotland's shores for their own kitchens.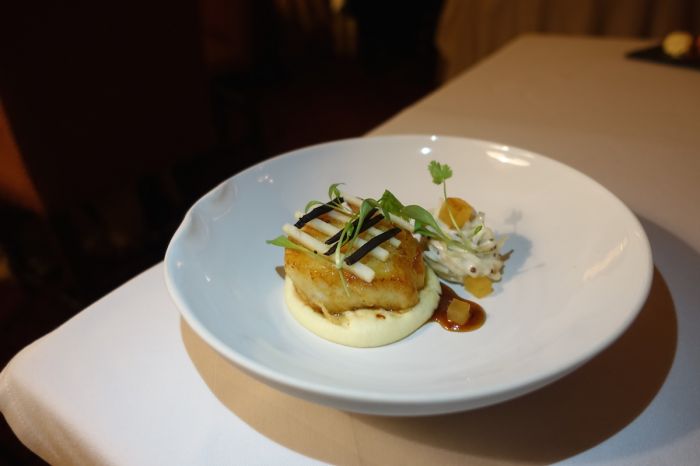 Photo Credit: Eric Rosen
A new association of upscale hotels called Luxury Scotland aims to capitalize on this rapidly flourishing foodie phenomenon, drawing together some of Scotland's most famous properties. Those include Gleneagles and Inverlochy Castle Hotel, as well as lesser-known gems like 21212 in Edinburgh and even Belmond's decadent Royal Scotsman train. The result is a network of member hotels and restaurants that can be combined into unparalleled tasting trips.
Though you could spend weeks visiting Luxury Scotland's various affiliates, consider a more restrained route along the west coast that will allow you to explore both city and countryside, with some beautiful stops (including a few whisky distilleries!) along the way.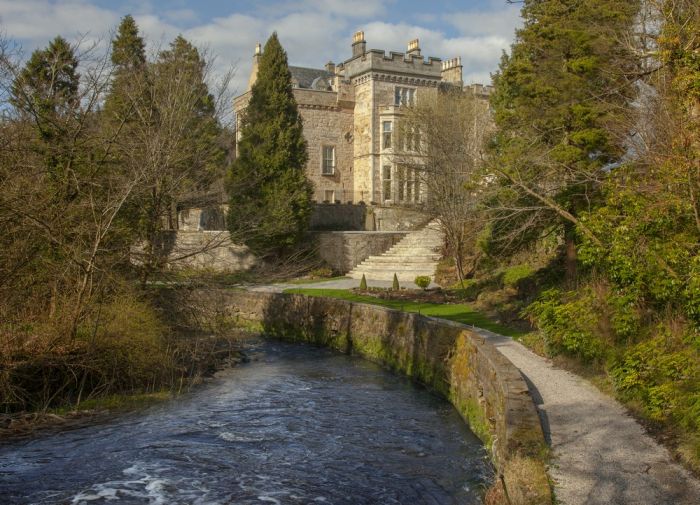 Photo Credit: Crossbasket Castle
Start your journey about 30 minutes east from Glasgow's international airport at Crossbasket Castle. Though the tower was originally constructed back in the 15th century, the current edifice mainly dates to the 18th century and was once owned by Charles Macintosh, inventor of the eponymous raincoat. The building has been beautifully restored, and now has nine palatial, individually decorated rooms spread out across four floors, each with unique touches like Victorian tiled stoves, canopy beds and claw-foot tubs. Other historical features such as original crown molding, enormous brass chandeliers and burnished wood paneling abound in both the guestrooms and the public spaces.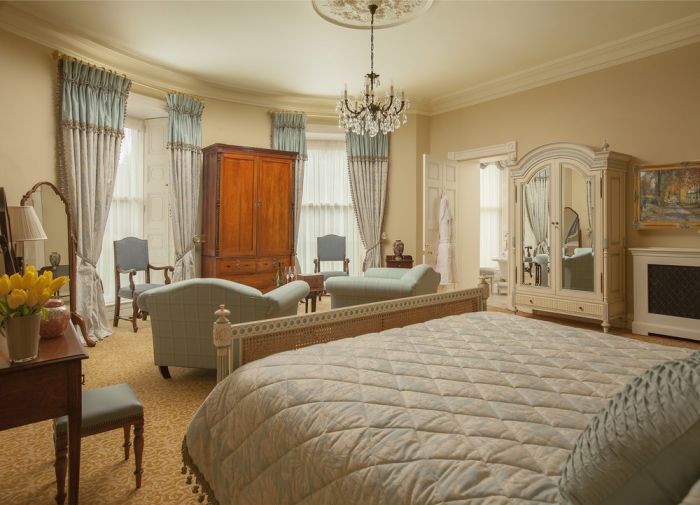 Photo Credit: Crossbasket Castle
Though guests can indulge in nature walks and exploring nearby castles such as Bothwell, the real attraction here are the fabulous tasting menus served at the castle's Albert & Michel Roux Jr. restaurant. Dinners begin with a dram of whisky from the dedicated spirits trolly, or a specialty cocktail in the library served with amuses bouche such as salmon mousse with cucumber gêlée.
Each guest can select his or her menu for the evening, then proceed into the baronial dining room, its various tables arranged by the walls and windows for privacy, with tapers casting a romantic glow in the high ceiling's far corners.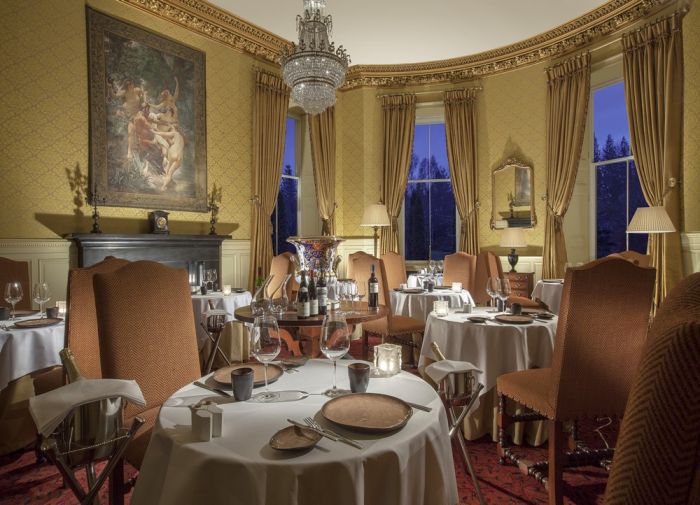 Photo Credit: Crossbasket Castle
The meal is sure to start with yet another assortment of amuses such as one with potato cooked in beeswax with foraged sorrel. Then the main event begins with small plates such as juicy Orkney scallops with celeriac purée, apple and Perigord truffle; or Skrei cod from Norway served with a croquette of baby broccoli and chicken and hearty winter mushrooms.
For a meaty main, the Highland venison loin, en-croûte shoulder, foe gras, sliced poached pear and bacon panna cotta is a succulent, satisfying dish. While dessert might include an exotic nibble such as chocolate tonka bean mousse with cinnamon-toast ice cream, guests will not leave empty handed since the friendly staff sends them packing with a trio of truffles including one made with balsamic and white chocolate, and another filled with blood-orange gel. That same staff is also happy to pair unique wines with each dish, including options like Argentine Chardonnay, New Zealand Pinot Noir, and, of course, some Tawny Port with dessert.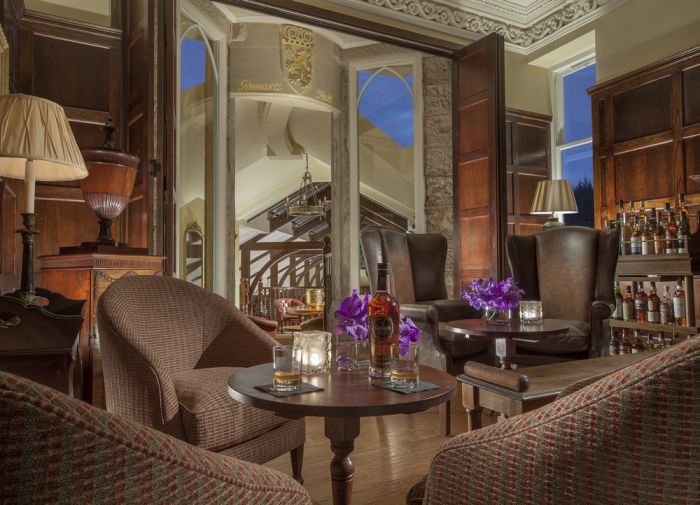 Photo Credit: Crossbasket Castle
Thank goodness the bedrooms are just upstairs, so guests do not have too far to walk before succumbing to the inevitable food coma. Hopefully their appetite will return full force in the morning, because it would be a shame to miss out on the positively indulgent spread of pastries with butter and jam, as well as made-to-order items such as Balvenie whisky-smoked salmon with free-range scrambled eggs from Kilduncan. It's like tasting the Scottish countryside for breakfast, and the perfect start to a day out exploring the area.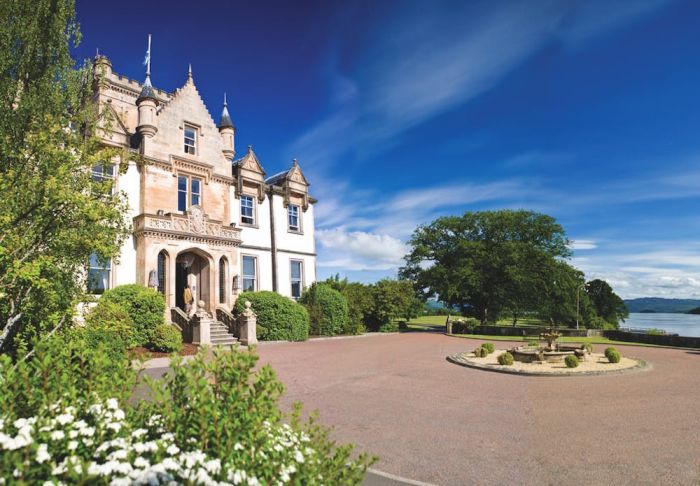 Photo Credit: Cameron House
No trip to Scotland would be complete without a visit to the bonny, bonny banks of Loch Lomond. Britain's largest lake (by surface area) is a veritable playground for watersport enthusiasts, but it is also home to phenomenal hikes and vistas. Cameron House along the southwest edge makes a perfect launching ground for an exploration of the area.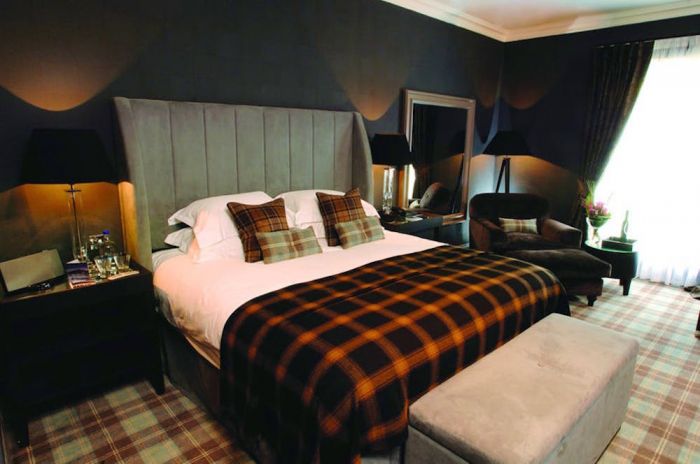 Photo Credit: Cameron House
The lodge has 110 rooms and 26 suites, all done up with whimsical tartan touches and offering gorgeous views of the lake and the surrounding countryside. The hotel is also unique for a rural Scottish setting in that it encompasses an enormous fitness center and spa complex, unique experiences like private luxury cruises on the lake, and six dining outlets including the one Michelin-starred Martin Wishart at Loch Lomond.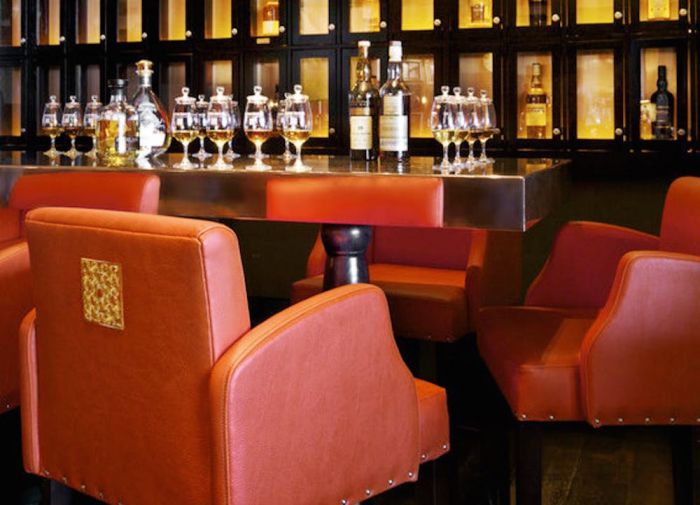 Photo Credit: Cameron House
Those who don't fancy sitting through a multi-hour meal, can consider a more casual dining itinerary that takes them through an impromptu whisky tasting in the Great Scots Bar before a dinner of sophisticated Scottish specialties in the contemporary Cameron Grill.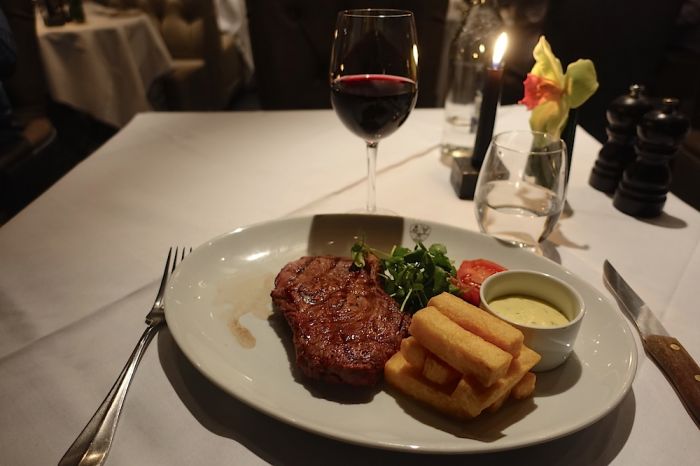 Photo Credit: Eric Rosen
Start with the savory Scottish lobster bisque with shellfish tortelloni and spicy rouille. The restaurant is known for its dry-aged grass-fed Angus Limousin steaks, which are sourced from the Carnhill Farm Estate in Ayrshire, but if you fancy something lighter, the roasted halibut in citrus butter with braised fennel is a nice choice, as is the exceedingly tender Highland deer with Roscoff onions, roasted beets, hazelnuts and rich grand-veneur sauce. Dessert is only an extra £5, so splurge on the Scottish wild berry and vanilla cream sundae to finish, or take a gander at trolley with a selection of Scottish cheeses.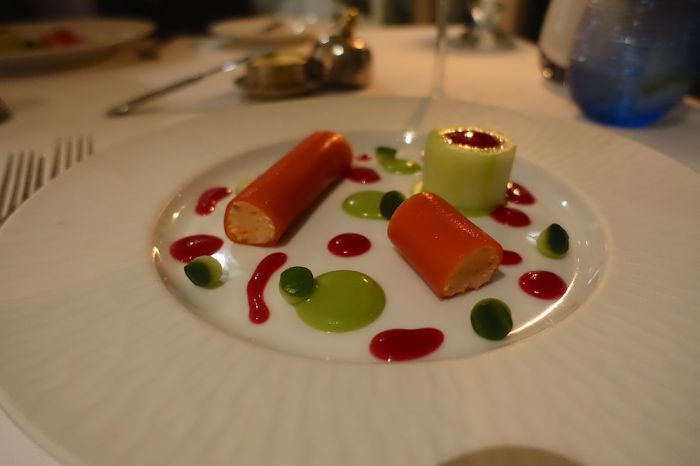 Photo Credit: Eric Rosen
Time to take a detour and experience the grandeur of the mountain passes through Glen Coe and the Bridge of Orchy on your way out to Scotland's west coast. Spend a day tasting through the various whiskies at the Oban distillery and sampling the local fish and chips stands. Then head just a half-hour farther north to take in the towering hulk of medieval Castle Stalker guarding its lone island in Loch Linnhe. From there, it's just as short drive to bunk down for the night in Appin at the Airds Hotel and Restaurant.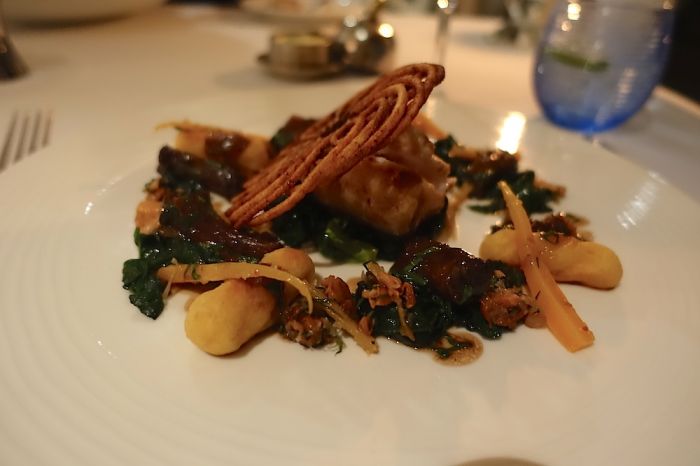 Photo Credit: Eric Rosen
Because of its out-of-the-way location, The Airds feels like a hidden gem…even though it originally opened as an inn along a busy ferry route back in the 18th century. Its current incarnation is more refined country retreat than watery way station. Guests enter through a light-filled glassed-in conservatory and are led into one of two fire-warmed sitting rooms for a glass of something and a familiarization with the hotel and local activities, which are even tempting enough to tear you away from luxuriating in one of the eleven gracious suites or the two self-catering cottages.
As with the other hotels here, though, it is the culinary quality that truly sets this property apart. Taking full advantage of its location on Loch Linnhe, the inn's restaurant serves some of Scotland's best fish and seafood, including monkfish, prawns and mussels from right off the shore, and crab from Mallaig up the coast. The result is phenomenally fresh food presented in eye-catching but unfussy combinations on seasonal menus.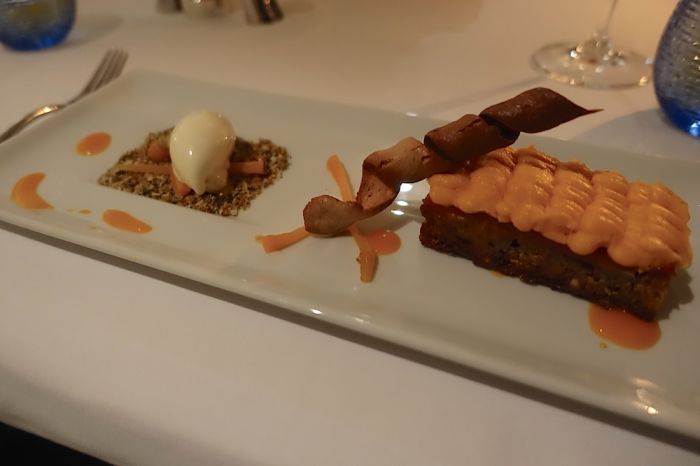 Photo Credit: Eric Rosen
Depending on the time of year, the tasting menu might include Mull crab cannelloni with an ultra-light tomato gazpacho and oyster emulsion.
Though the loin of Newtonmore venison with Jerusalem, stick to the fish and order that monkfish. It is served with braised oxtail, tender chanterelles and crispy smoked gnocchi. For dessert, the carrot cake with a chiffon of pumpkin ganache, a walnut tuille and mascarpone sorbet is masterful.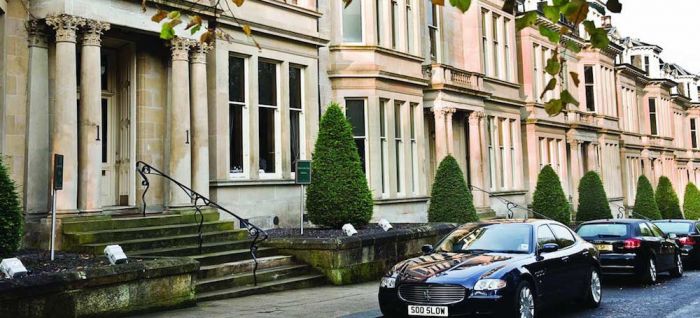 Photo Credit: One Devonshire Gardens
Time for one final night in Glasgow and a visit to one of the city's stateliest properties, One Devonshire Gardens. Located in Glasgow's grand Victorian West End, the hotel actually comprises five once-separate townhouses originally built in 1886 that have been combined into a single hotel. The stained-glass windows over the central staircases of each alone are worth a visit.
All of the 49 rooms and suites are entirely unique, though you might find more than a few with deep soaking tubs, four-poster beds fitted in fine Egyptian linens and a fireplace here or there.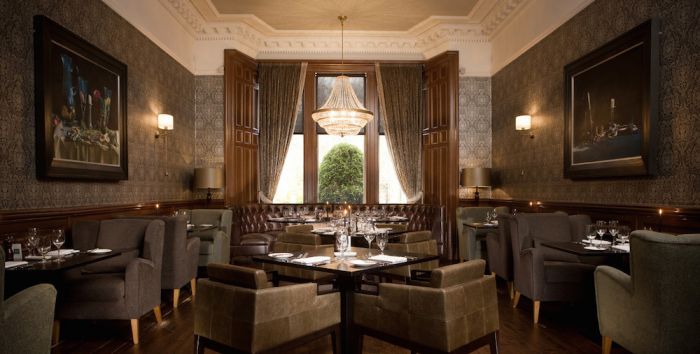 Photo Credit: One Devonshire Gardens
Downstairs in the second of the houses, the Bistro has become a Glasgow landmark thanks to its extensive wine cellar and a whisky snug pouring over 300 kinds of scotch. Though there are various prix-fixe menus, but it is the perfect opportunity to go off-road with an à la carte tasting.
Signature dishes include terrine of poached rabbit loin confit with golden raisin puree and celeriac remoulade, or the whipped goat cheese with beets, carrots and pickled fennel. The Gressingham duck breast with potatoes gratin and creamed spinach is a jaunt out to Scotland's ancient hunting grounds on a plate. The luscious salmon with pumpkin risotto and a salsify beignet is a final taste of the country's lochs.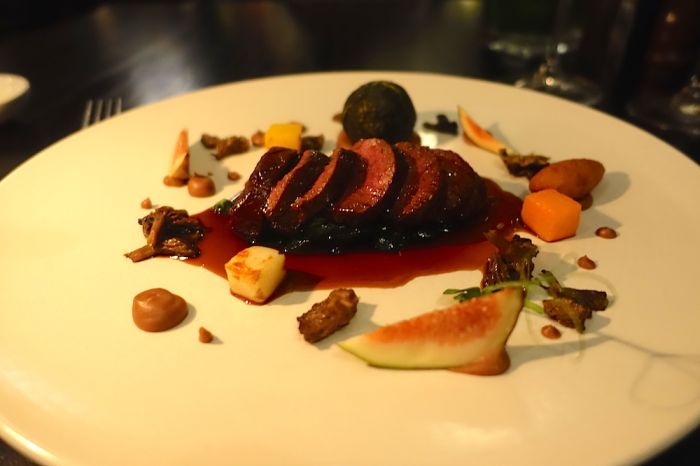 Photo Credit: Eric Rosen
Though it is not Scottish, the Devonshire sticky toffee pudding is hard to resist for dessert, though it might just be possible if you opt for the ginger beer bread cake with frosted rosemary and blueberries, a purée of white chocolate and parsnip and maple-rosemary ice cream…and maybe one last dram of whisky to toast your trip.