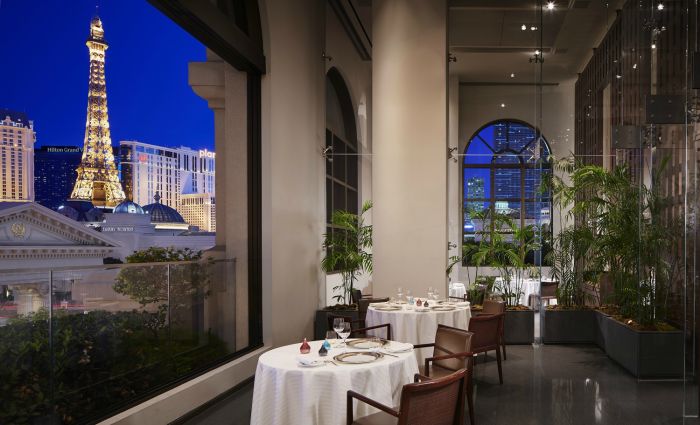 Photo Credit: Caesars Palace
Vegas is so much more than fancy casinos, gambling, hot nightclubs and shows. Sin City is filled with some of the top-billed restaurants in the country featuring high-profile chefs showing off their skills to the millions of tourists who visit and locals who want a night of glamour. It should come to no surprise that Vegas, a city where excess is celebrated, is home to some of the most expensive restaurant offerings in the country. As self-indulgence is the only acceptable lifestyle in Las Vegas, enjoy a night out and splurge at some of the most expensive restaurants in the city.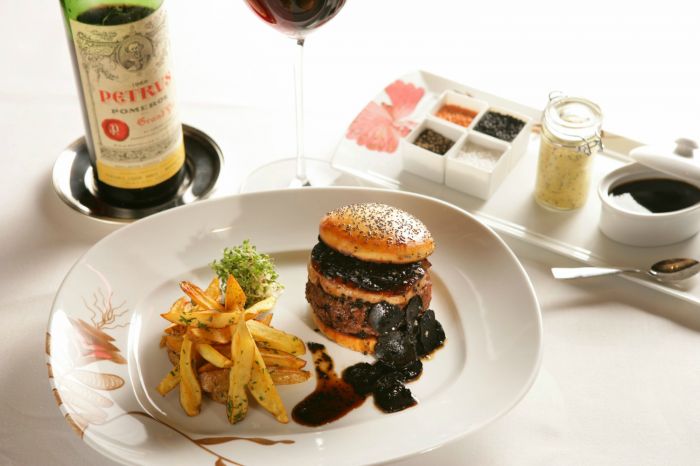 Photo Credit: MGM Resorts International
Fleur by Hubert Keller
Inspired by the global travels of Master Chef Hubert Keller, Fleur by Hubert Keller offers plates from around the world featuring intense flavors and exotic presentations in a fun, social environment. If you are looking for a decadent burger, look no further. Chef Hubert Keller's FleurBurger 5000 (priced at $5,000) is a foie gras and black truffle-topped Kobe burger accompanied by a bottle of Chateau Petrus 1995 poured in Ichendorf Brunello stemware, which the restaurant imports from Italy and will ship to a guest's home. Also, every guest who orders the burger receives a certificate signed by Chef Hubert.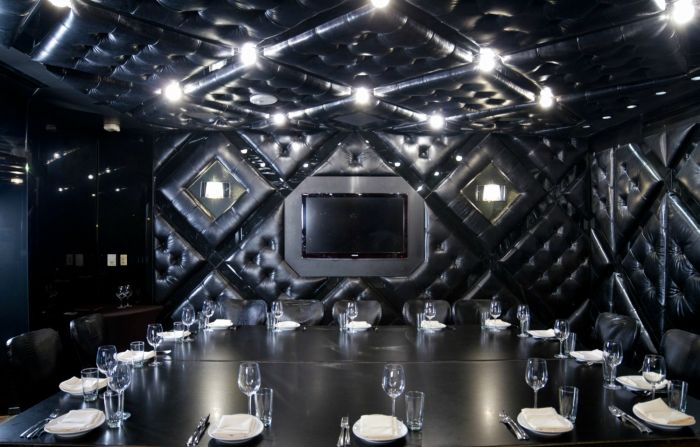 Photo Credit: STK
STK Las Vegas
STK in The Cosmopolitan of Las Vegas is a modern steakhouse which blends chef-crafted cuisine with a high-energy and social experience. Starting at $2,000 and going up $7,000, depending on the size of the party, experience an exclusive private dining experience in an intimate and modern setting with personalized service and ultimate privacy. Start the night off with appetizers and then dig into their signature steak offerings including a dry-aged, 28 oz. porterhouse "king of steaks" and more. Reserved for the most special of occasions, high-end clientele and celebrities can use STK's $30,000, five-carat, diamond-encrusted steak knives by celebrity jeweler Jason of Beverly Hills. Each knife took 300 hours to make and contains 300 sapphires weighing a total of 6.5 carats .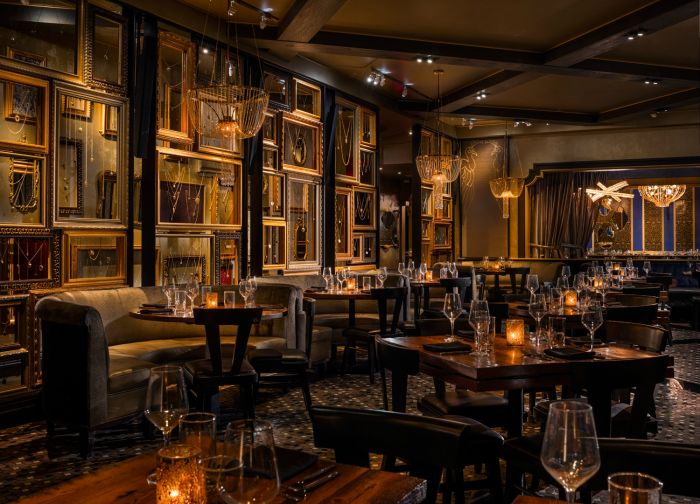 Photo Credit: Beauty & Essex
Beauty & Essex
Chris Santos' first foray into Las Vegas brings diners an extensive selection of new American sharable plates, fine wines and a fantastic ambiance. Along with their normal menu, Beauty & Essex offers their $2,000 Oysters and Pearls Package which comes complete with a seven-course dinner and a pearl necklace from the restaurant's pawn shop-inspired retail store that is served to the table with oysters and a bottle of Dom Pérignon. The menu serves four people and features Beauty & Essex's signature, multi-ethnic, share-plate dishes.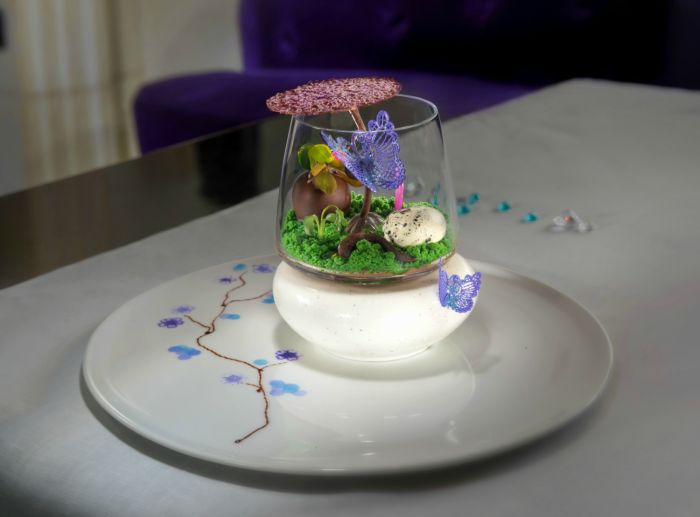 Photo Credit: MGM Resorts International)
Joël Robuchon Restaurant
The most decadent meal in Sin City comes from the only Las Vegas restaurant to receive three Michelin stars, Joël Robuchon Restaurant at MGM Grand. The astonishing 18-course meal ($445/person) is filled with seasonal signatures from the man dubbed the "Chef of the Century" by the esteemed French restaurant guide Gault Millau. Three different levels of wine pairings are available at a varying additional cost for this feast. The most expensive being the Grand Cru pairing at $995/person bringing the total dinner cost to $1,440.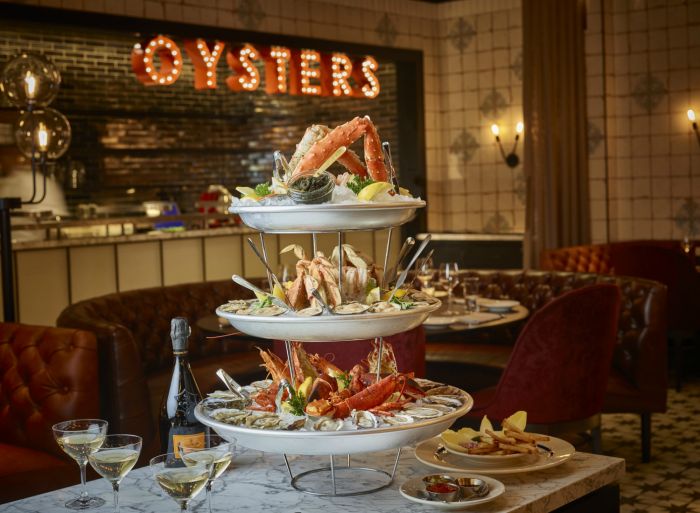 Photo Credit: Bill Milne
Blue Ribbon
Drawing inspiration from the bustling energy of the Las Vegas Strip, Blue Ribbon Las Vegas opened in The Cosmopolitan of Las Vegas in June 2017. Featuring American cuisine, the menu is a melting pot of worldly influence, and the chef's culinary education and escapades. The Asfour/Guzy-designed space is part saloon, part oyster bar, part American eatery, and part international culinary tour. For those looking for a lavish seafood dish, check out their special, aptly called The Cosmopolitan. The dish contains two dozen oysters, two dozen clams, two New Orleans shrimp, 1 pound of king crab, two shrimp cocktails, two whole lobsters, 125g Baeri Royal Siberian Sturgeon Caviar and 750 ml. Armand de Brignac "Ace of Spades", and is priced at $1,499.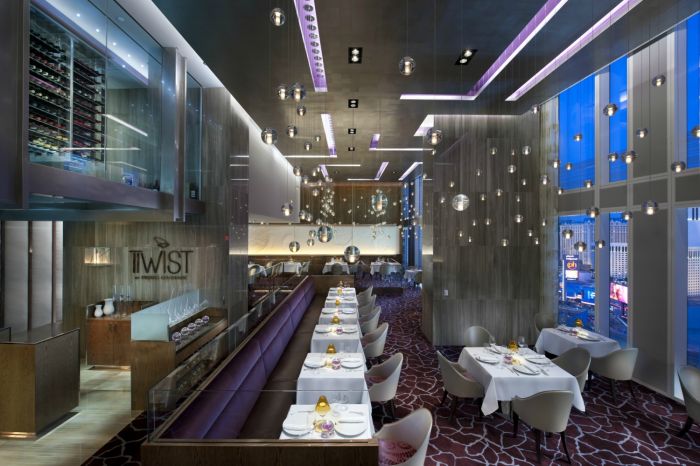 Photo Credit: Mandarin Oriental, Las Vegas
Twist by Pierre Gagnaire
Located on the 23rd floor of the Mandarin Oriental, Las Vegas, Twist by Pierre Gagnaire serves classic French cuisine with a modern twist by the three-star Michelin Chef. Gagnaire's first and only restaurant in the United States features an innovative menu that infuses the simplicity of classic French cuisine with an unforgettable modern spin. In the 67-seat restaurant, sit below more than 300 globes designed to look as if they are floating in the air across the ceiling. Head up the dramatic glass staircase and try the Lucky Number 7, their seven-course tasting menu. Chef de Cuisine Frederic Don creates a unique inspired menu paired with seven top-notch wines for $777/person.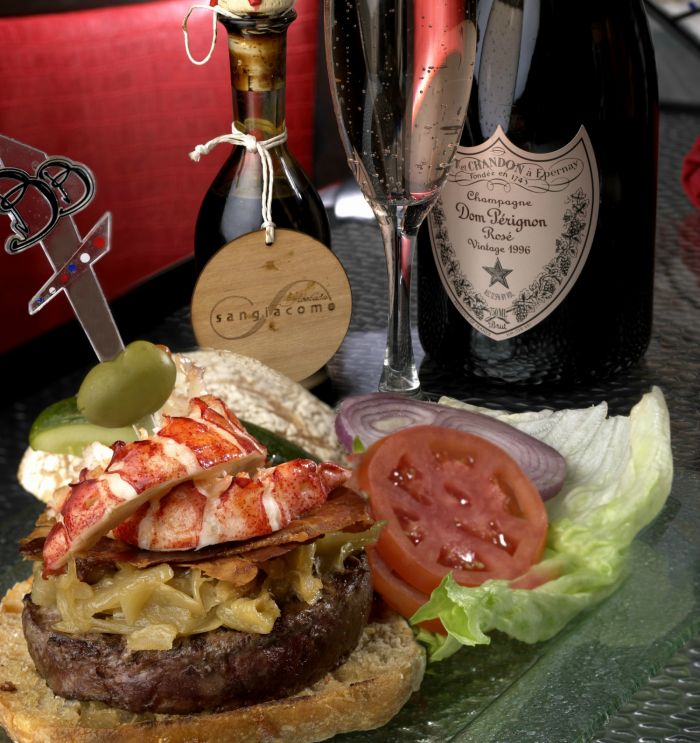 Photo Credit: Paris Las Vegas
Le Burger Brasserie
Burger Brasserie offers a French interpretation of a classic American staple—the hamburger—in a lively sports bar environment. Convenient to both Bally's and Paris, the casual menu offers creative gourmet burger combinations, specialty cocktails and beers. Drawing inspiration from Surf and Turf, their 777 Burger is an 8 oz., hand-patted Kobe Beef patty topped with Maine Lobster (priced at $777). Seared to order and served medium rare with steamed top-quality Maine Lobster, the burger also includes pancetta, goat cheese, seared foie gras, arugula and drizzled 100 year-aged balsamic paired with a BLT salad. The burger is served with a bottle of Dom Pérignon Rose Champagne making this simple burger quite decadent.
Photo Credit: Caesars Palace
Restaurant Guy Savoy
Located on the second floor of the Augustus Tower at Caesars Palace, Restaurant Guy Savoy was created by Guy Savoy, the famed Michelin-starred French chef serving contemporary French cuisine. Boasting sweeping views of the Roman Plaza and the Las Vegas Strip, the restaurant is home to the only Krug Chef's Table in the United States, The six-seat chef's table is designed for lovers of fine wine, while guests can enjoy an intimate view of the kitchen with a 10-course tasting menu curated to pair with Krug's Prestige Cuveé Champagnes ($500/person). In the Caviar Room, enjoy an exclusive menu of caviar dishes, which includes a variety of new offerings and signature dishes. A tasting menu ($170/person) inclusive of all the caviar dishes and a glass of Krug Grand Cuvée is available for guests to order as well.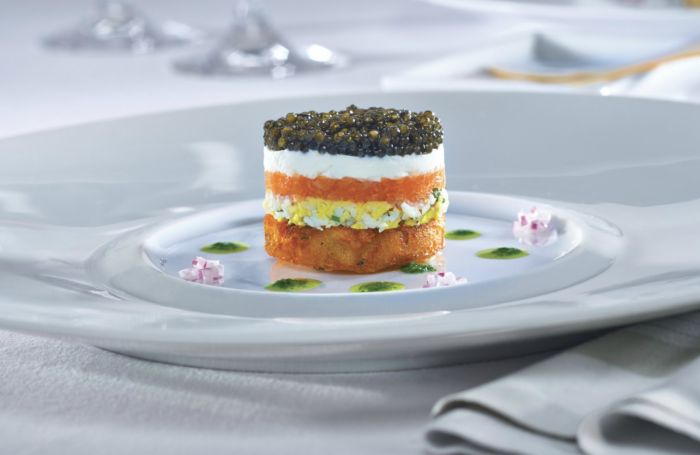 Photo Credit: MGM Resorts International
MICHAEL MINA Bellagio
Recipient of a Michelin Star and located next to The Conservatory inside Bellagio, MICHAEL MINA Bellagio offers refined American cuisine. Using seasonal products and produce, the cuisine is influenced by Japanese and French ingredients. Guests enjoy an a la carte menu with the option for a tasting menu cooked tableside. Enjoy an elegant, yet relaxed atmosphere with a blend of world music along with an eclectic wine menu. For those who love caviar, try their caviar cart which includes golden osetra ($475), Russian osetra ($275) and Siberian osetra ($175).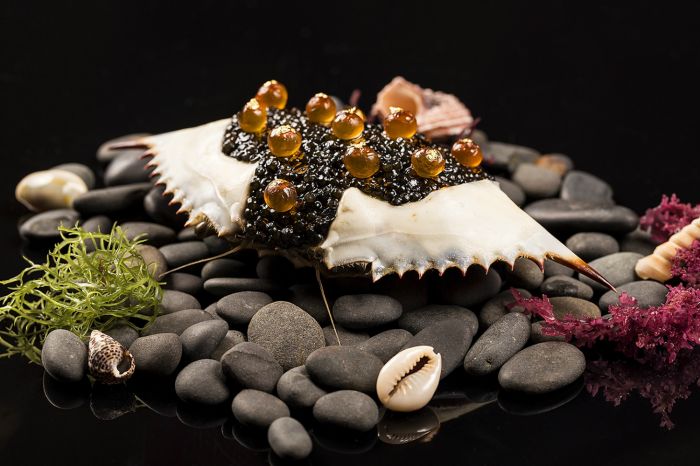 Photo Credit: MGM Resorts International
Le Cirque
With a world class wine list featuring more than 900 international selections, Le Cirque serves French cuisine with contemporary influences at Bellagio. The 80-seat restaurant features elegant, yet playful circus-themed décor, serving dinner Tuesday through Sunday from 5 to 10 p.m. Along with their Pre-Theater ($72/person), Prix-Fixe ($108/person), Vegetarian ($115/person), and Dégustation ($135/person), guests can lavish themselves with the 10-course Prestige Menu ($350/person) with wine pairing ($175). With a designed menu for the entire table, indulge in a Forbes five-star menu, or elevate your meal with selections of caviar including Siberian Beluga ($777/oz.), Russian Ooogolden Osetra ($495/oz.) or Imperial Osetr ($295/oz.).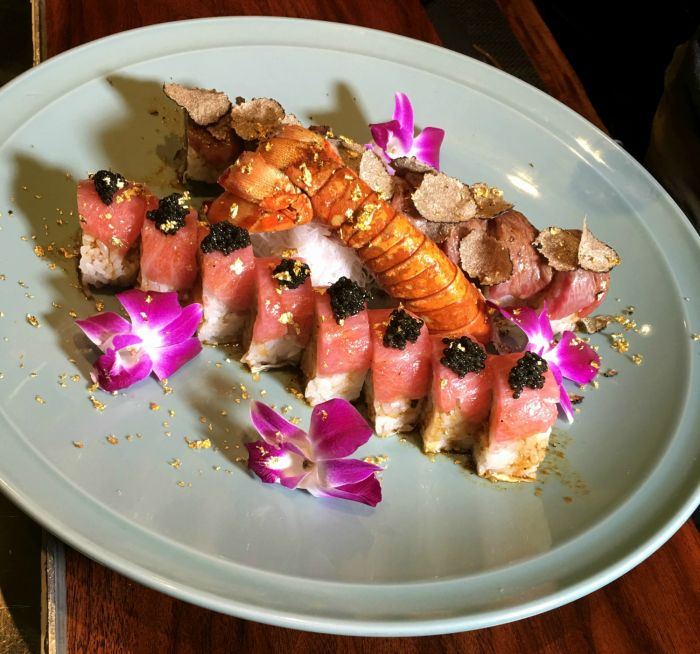 Photo Credit: Sushi Roku Las Vegas
Sushi Roku Las Vegas
Innovative Dining Group's (IDG) Sushi Roku combines the finest, freshest fish joined together with a splash of California innovation all prepared by a mature sushi chef. Sushi Roku's bold and diverse menu also offers an array of hot and cold specialty appetizers and an extensive selection of exotic entrées. Guests can be treated like a high roller, even while they aren't at the tables, when ordering the High Roller Roll, $250 for two sushi rolls. Both rolls feature tempura-fried lobster tail sautéed in sweet miso sauce, rolled with asparagus, rice and soy paper. One roll is topped with Spanish Bluefin Toro, then premium caviar while the other is topped with seared wagyu imported from Japan and shaved truffle, soy truffle sauce and gold. Pair your meal with their expansive sake list, hand-picked by IDG's certified sake sommeliers, diverse Japanese beers, specialty crafted Asian-inspired cocktails, and wine offerings.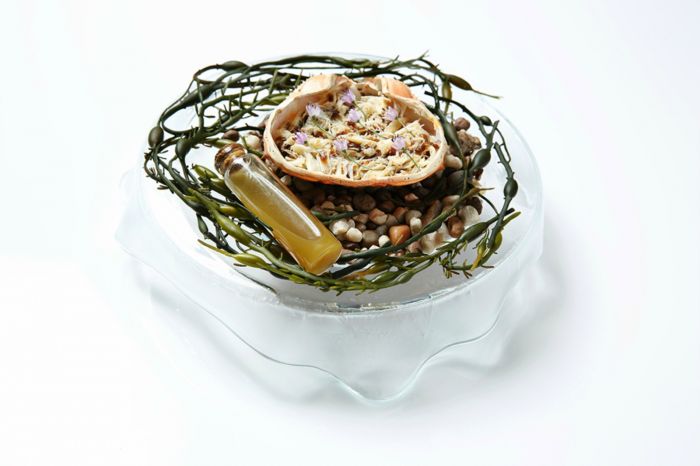 Photo Credit: Jill Paider
é by José Andrés
Tucked away in a small private room inside Jaleo, the exclusive é by José Andrés at The Cosmopolitan of Las Vegas features a creative tasting menu of avant-garde Spanish dishes. The restaurant only takes pre-paid reservations ($250 per person + supplements) and is accessed through a glass door emblazoned with the letter é. Sit at the brass-topped bar, which seats nine and is backed by a red velvet curtain, and enjoy the 20+ course tasting menu. Reservations are available on Tock.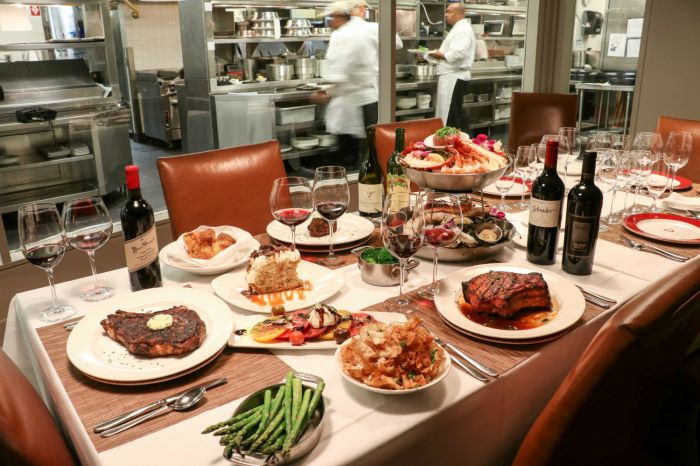 Photo Credit: Madison Freedle/one7
Delmonico Steakhouse
Delmonico Steakhouse, the premiere Vegas steakhouse experience by Emeril Lagasse, features in-house dry aging, a Wine Spector Grand Award wine list, and a whiskey library with over 700 labels. Dine at their exclusive Kitchen Table (experience starts at $210 per person) and Chef de Cuisine Ronnie Rainwater and his staff will create a tailored menu specifically to your desires, with off-menu items created for your special occasion. Throughout the meal, enjoy a view of the kitchen in action during service, while dining in private, climate controled comfort.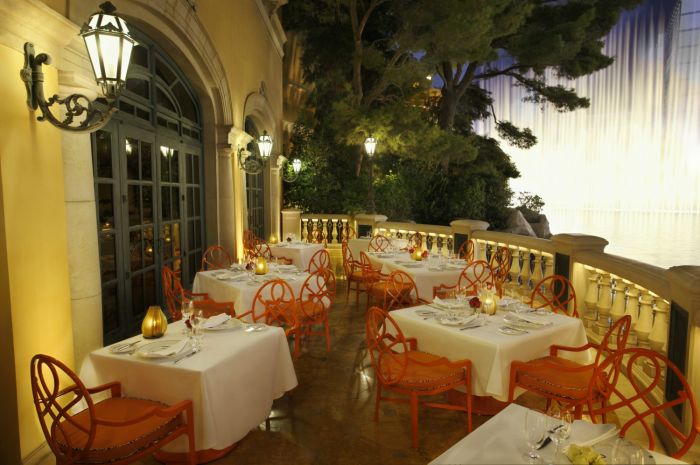 Photo Credit: MGM Resorts International
Picasso
Serving elegant French cuisine with Spanish influences by world renowned chef Julian Serrano, Picasso's seasonally prepared menu is enjoyed in a 136-seat restaurant adorned with an extensive collection of original Picasso works. Featuring an array of tasting menus along with a seasonal truffle menu, enjoy their five-course Forbes menu ($200/person) with a sommelier's premium wine pairing ($148). Select tables offer views of Bellagio's Fountains, topping off the exquisite, romantic setting which can be paired with the restaurants massive wine collection of over 1,750 selections from the finest vineyards worldwide.
Photo Credit: Eiffel Tower Restaurant
Eiffel Tower Restaurant
Eiffel Tower Restaurant at the Paris Resort & Casino offers a seasonally-rotating tasting menu, by lauded Chef Jean Joho. Offering guests an elevated French menu from the 11th floor of Paris Las Vegas' Eiffel Tower, diners can enjoy floor-to-ceiling windows which showcase Eiffel Tower's stunning surroundings and neighboring water show. Perched 100 feet above the Strip offering vast views of Sin City, Eiffel Tower Restaurant touts a decadent tasting menu offered at $145. Guests have the option of luxe add-ons such as caviar service (from $69-$290) and a tailored wine pairing ($89).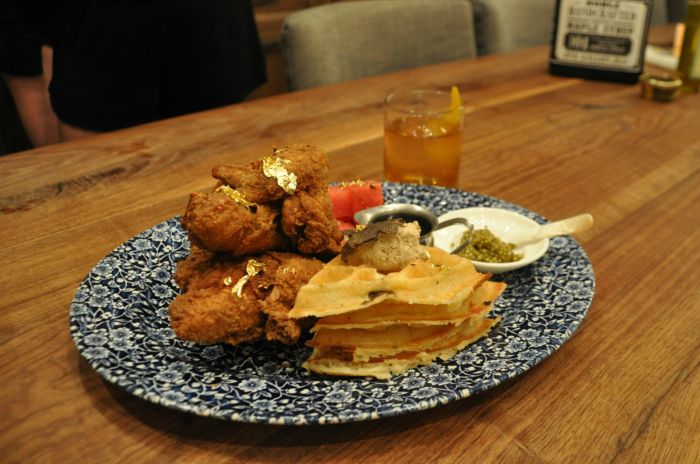 Photo Credit: Yardbird
Yardbird
Yardbird Southern Table & Bar, a 50 Eggs Inc. concept, is located at The Venetian, and is a house of worship to farm-fresh ingredients, classic Southern cooking, culture and hospitality. Staying true to its Southern roots by bringing traditional favorites of the South to Vegas, Yardbird offers classics like Chicken 'N Watermelon 'N Waffles, Shrimp and Grits and more. For those wanting to indulge in southern fried food in style, the restaurant features a $100 chicken and waffles dish that must be ordered 24 to 48 hours in advance. The dish features a Lewellyn fried chicken, truffle and bacon waffle, Russian Sturgeon caviar, maple fois gras butter, Breckenridge bourbon maple syrup and rosé compressed watermelon sprinkled with gold leaf. The dish is then paired with one of Yardbird's Old Fashioned cocktails.