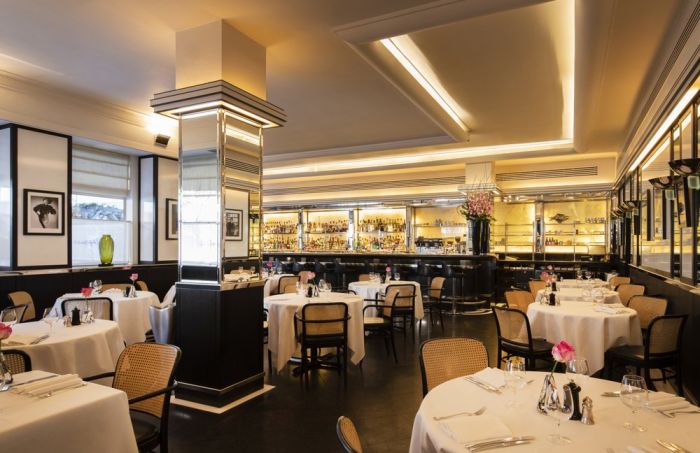 Caprice Holdings
In the roster of London restaurants, supremacy is often ephemeral. It is rare for a particular establishment to endure in popularity for months, let alone decades. Le Caprice, however, is a grande dame of the restaurant scene. Its history is as illustrious as its clientele. Princess Diana pronounced it her favourite restaurant, and it has been frequented by countless celebrities, spanning the full gamut from Liz Taylor to Mick Jagger via the champion imbiber Princess Margaret.
The restaurant was opened in 1947 by Mario Gallati, formerly maire d' of the Ivy. Its velvet-lined walls welcomed the stars from Hollywood's golden age, but by the mid-1970s it had lost its figurative and literal lustre; the candelabras weren't worth lighting and it was left to rot. Corbin and King, who would later become the royalty of restauranteurs, resuscitated the place in 1981, and Le Caprice became their first big hit. Richard Caring took over the helm in 2005, Caprice being his favourite spot to dine, and the restaurant is the flagship of his eponymous restaurant collection.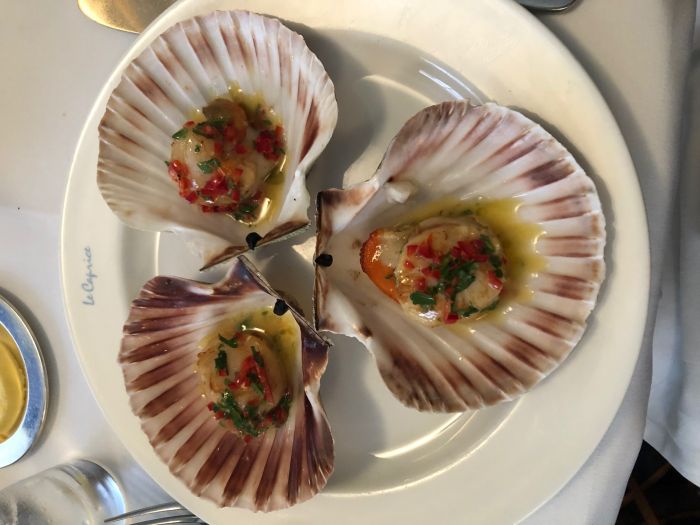 Isle of Mull scallops with chilli and garlic butter
Underpinning the restaurant's success, which spans across four decades, is a complex formula that so many restauranteurs would give their eye teeth to recreate. The ambience is incomparable. At its essence, Le Caprice is a local restaurant; it just so happens that it is located in Mayfair, and its next-door neighbour is the Ritz. It's a very well-heeled neighbourhood restaurant for those who consider this upscale end of town their stomping ground.Its discreet exterior belies its glitzy credentials. Even inside, the restaurant is low-lit and effuses effortless, understated glamour: an 80s take on art deco, with glimmering mirrored wall.
When I visited with my husband, one unseasonably wet and windy August afternoon, the place was packed, with plenty who looked like regulars. One, armed with red wine, draws Jose Torres, who has spent 28 years as General Manager, and later, Maitre d' of 18 years, Paul Stabbins, into the rattan bistro chairs for a chat. They are courtesy incarnate. The room reverberates with atmosphere.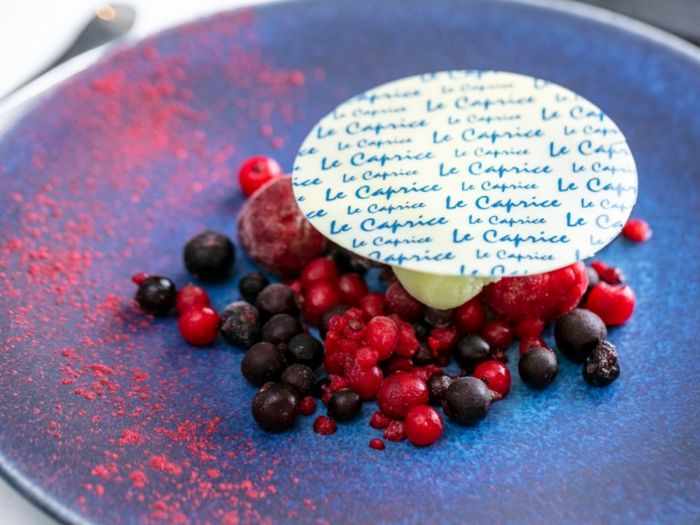 Caprice Holdings
With this in mind, food isn't necessarily the main point here. It is, nevertheless, excellent. The menu is expansive; encompassing everything from macaroni cheese to miso salmon. Most of the fare is unchallenging, but Le Caprice plays to its strengths, and does so admirably. My husband, who is vegetarian, chooses two dishes from the impressively extensive vegan and vegetarian menu: the butternut squash soup followed by the cauliflower curry. Both were executed to perfection. I opted for two fish dishes, starting with the scallops, which were presented delightfully in their shells, followed by the sensational sea bass. Our puddings were sublime. I enjoyed the frozen Scandinavian berries, accompanied by a little jug of molten white chocolate sauce, which Paul poured with practised panache. My husband picked the ultimate comfort food crowd pleaser: warm chocolate cookie with milk ice cream. The dish was served attractively in a little cast iron skillet.
Coming here is subtly ostentatious; there's no pomp and circumstance. Go to Sexy Fish on the other side of Piccadilly and you tell the world you have diamonds on your Rolex and possibly also on your Range Rover. Le Caprice is more for those who don't mind if the cabbie doesn't notice their vintage Patek Philippe. Its winning formula is an amalgam of retro pizzazz with a shot of contemporary flair. If you want a fabulous meal in a restaurant dripping with sophistication, there is no classier choice.
Le Caprice
20 Arlington Street SW1A 1RJ
020 7269 6629
Visit our London City Guide for more