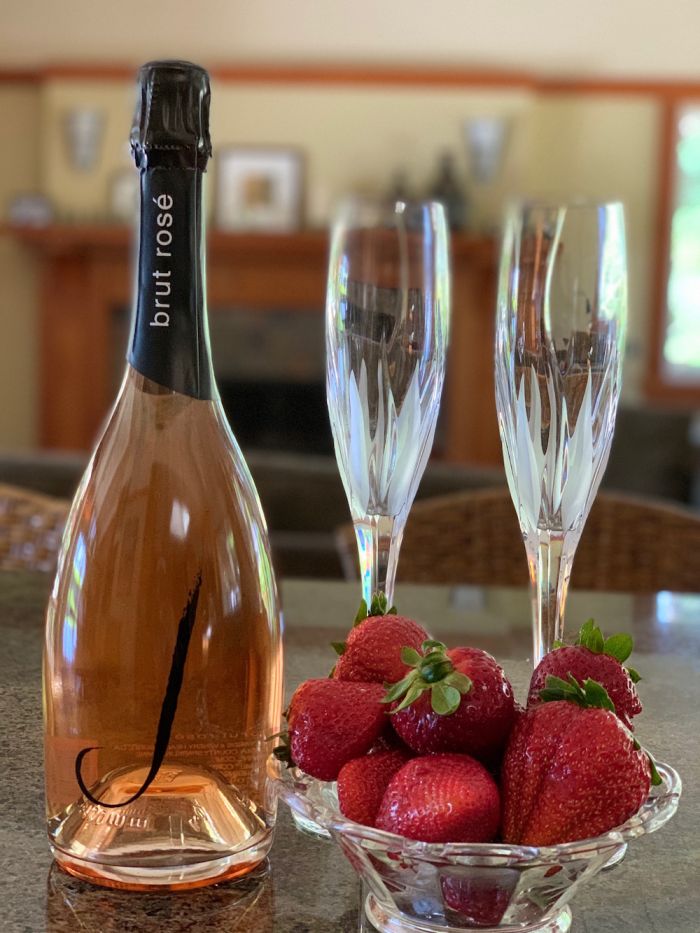 Photo, Fran Miller
Several of California's sparkling wine producers choose their grapes from Sonoma County's Russian River Valley AVA, a region beloved for its terroir diversity and climate variations. One such 'in-the-know' sparkling maker has known the area's appeal for years. For nearly three and a half decades, J Vineyards & Winery has made the Russian River Valley its home. From this eight square mile AVA in which cool and dense fog results in high-quality grapes, J Vineyards & Winery crafts complex and age-worthy sparkling wines that are a celebratory fit for any of life's occasions.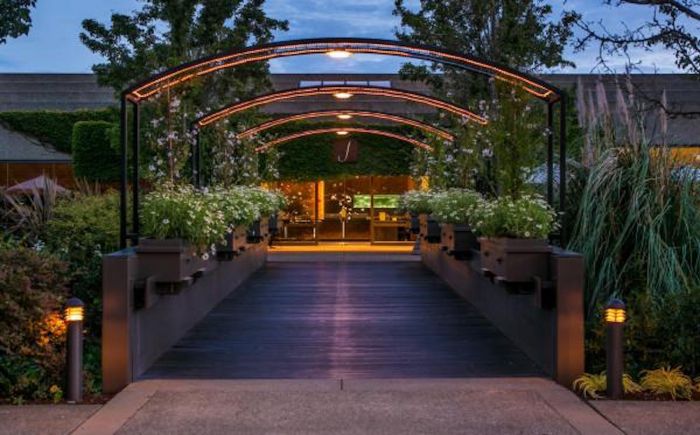 Their story began in 1986 with entrepreneurial founder Judy Jordan, who, inspired by the traditions of centuries-old French sparkling houses, established J as a thoroughly modern, distinctively Californian producer of exquisite sparkling wines. A trained geologist, Judy searched the West Coast for her ideal vineyard sites, finding the cool, foggy climate and the wide diversity of soils in the Russian River Valley perfect for grape growing. By 1994, the J team understood enough of the nuances, strengths, and promise of their 200+ acres of exceptional estate vineyards to begin making terroir-driven varietal wines.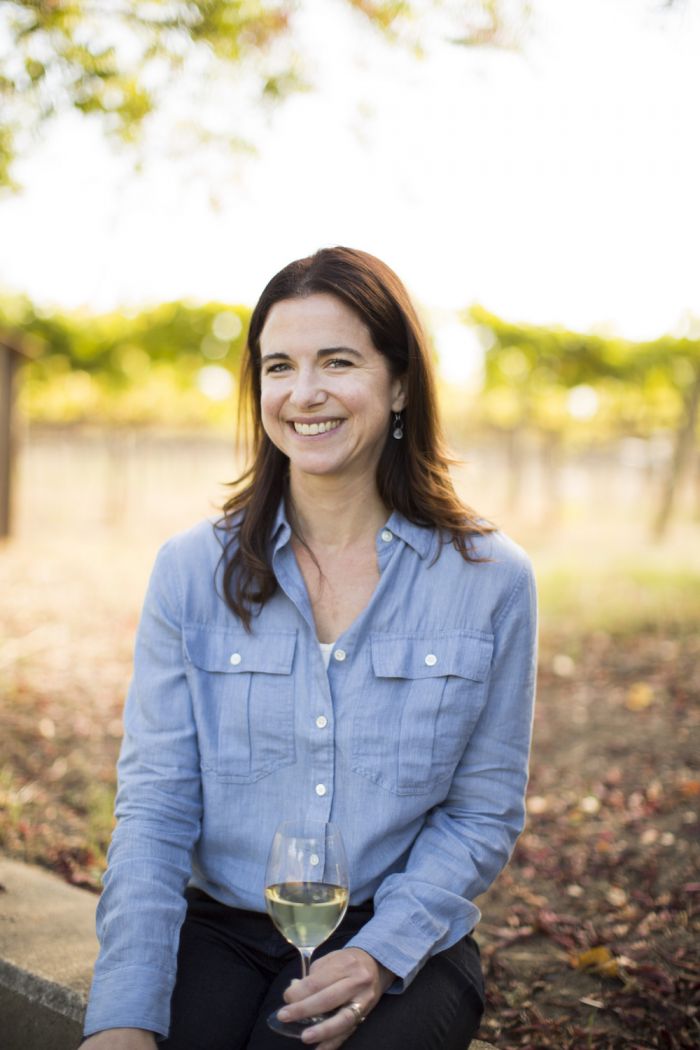 Nicole Hitchcock
Today, winemaker Nicole Hitchcock leads J in crafting their acclaimed wines. She and her team hand-harvest and hand sort using rare Coquard presses, small open-top tanks, small-lot fermentations and strict adherence to the time-honored traditional method of sparkling winemaking. Born and raised in Carmel, California, Hitchcock first discovered her passion for wine while working alongside well-respected restaurant sommeliers. She was taken with the worldwide appeal and diversity of wine. "Wine is like a universal language," says Hitchcock, who earned a degree in viticulture and enology from the University of California, Davis, and an MBA from Sonoma State University. "It can transcend physical and cultural boundaries, and it ultimately brings people together. Early on, I was enamored by all parts of the industry and process, the journey from vine to glass, the varying tastes, and the cultural aspects."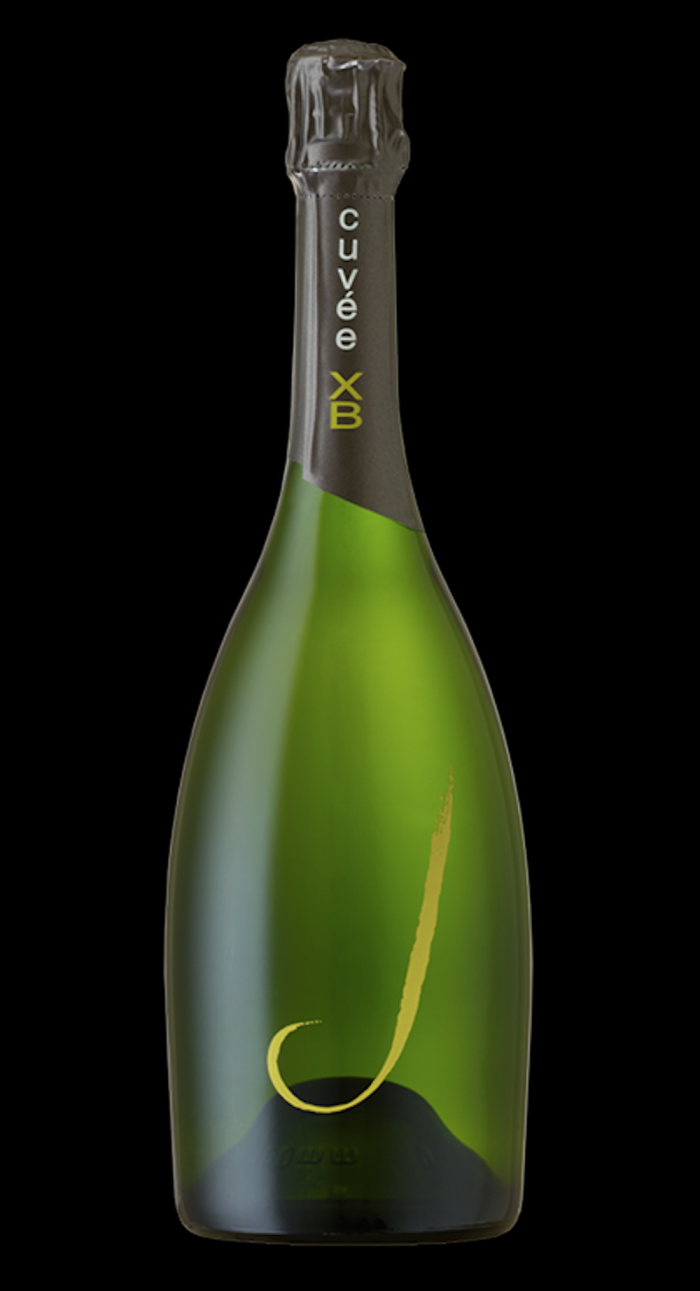 J offers a full portfolio from which to explore the depth and breadth of sparkling styles. The 12-wine sparkling collection is led by the refined citrus-and-brioche notes of Cuvée 20, the zesty California Cuvée, and the plush Pinot Noir-led red fruit flavors of the vibrant Brut Rosé. But sparkling is not the only wine that J produces. Their wine portfolio includes Pinot Noir, Chardonnay, and Pinot Gris, each of which offers either a focused taste of their estate vineyards or for blends, a sampling of the complex, comprehensive flavors of a region.
Long well known for their sparkling choices, J is also well known for its world-class hospitality. Currently closed due to shelter-in-place orders but soon to re-open, the winery's centerpiece is the celebrated J Visitor Center, where the bountiful Sonoma Country region is highlighted. Offering experiences to suit every taste, J features several unique venues in which Executive Chef Carl Shelton and his culinary team create innovative dishes that enhance and complement J wines. The Bubble Room features the only tasting experience of its kind in Sonoma County, an inventive and intricate five-course seasonal exploration of Sonoma-inspired food and wine. The J Legacy Tasting in the Legacy Lounge offers a relaxing, seated tasting flight of five wines, with an optional pairing of five artisanal cheeses and accoutrements, and the elegant Signature Bar, features flights of five Russian River Valley wines.
Executive Chef Carl Shelton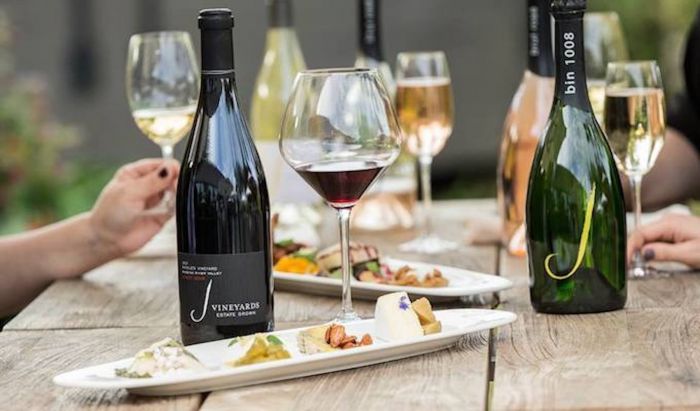 As fans wait for the reopening of J's beautiful visitor center, they can bring the bounty of J Vineyards & Winery into their homes with the purchase and delivery (free shipping with the purchase of six bottles!) of any or all of the J line-up. Click here for choices.
Photos courtesy of J Vineyards & Winery, unless otherwise noted.