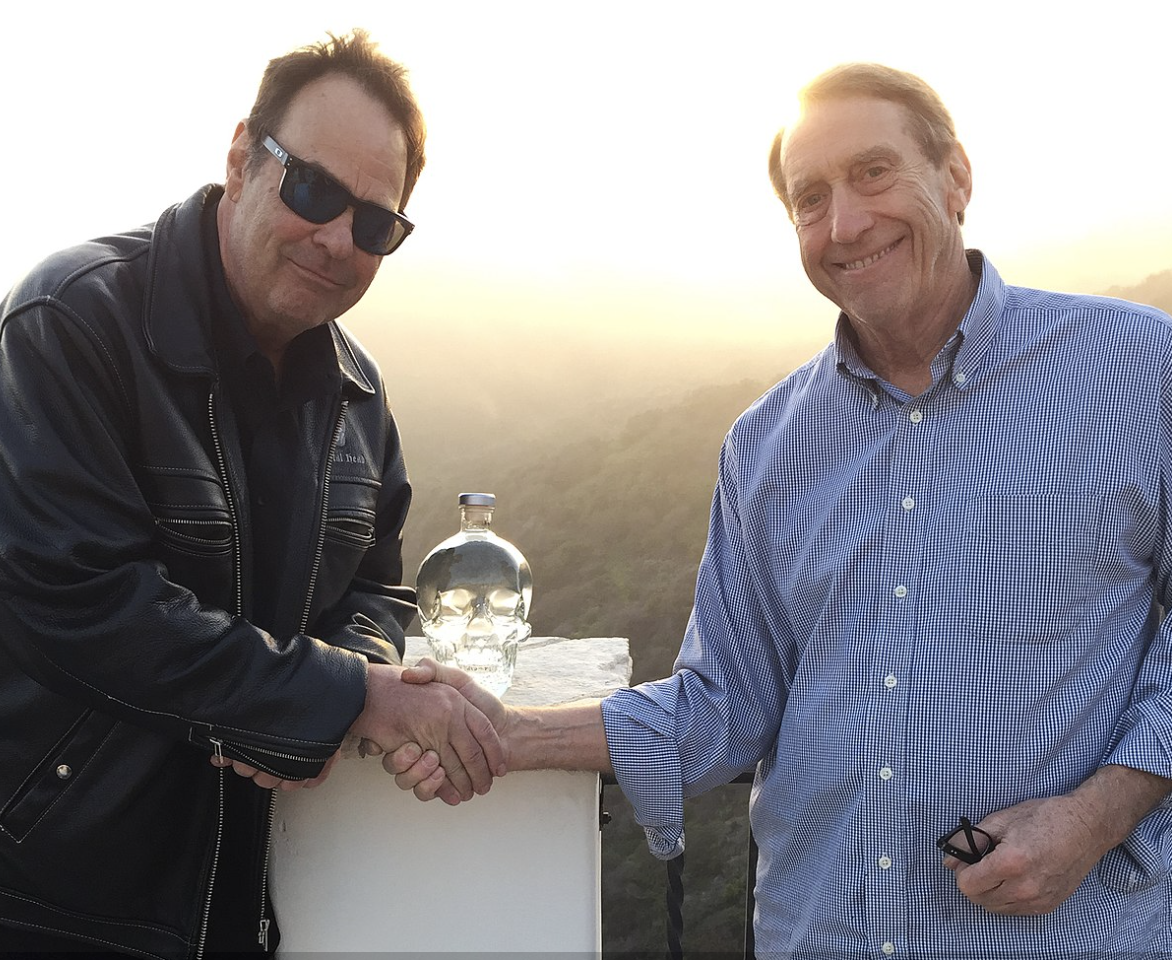 Dan Aykroyd and John Alexander Crystal Head Vodka
Before 2007, Canadian actor, producer, comedian, musician, and filmmaker Dan Aykroyd couldn't find an additive-free vodka spirit available to drink, so he decided to make his own. He used the highest quality grain, Canadian sweet corn, peaches and pure water from Newfoundland, Canada to craft an additive-free and gluten-free vodka. Aykroyd's process of distilling quadruple times and filtering seven times, with the final three filtrations through Herkimer diamond crystals makes this vodka easy drinking. It's slightly sweet, silky smooth, and offers a hint of vanilla.
Seeking a designer to create an eye-catching bottle, he met world-renowned American portrait artist and landscape painter John Alexander. His work is featured in the Metropolitan Museum of Art in New York City, the Corcoran Museum and the Smithsonian Museum in Washington, D.C.
Together they discovered that they both have a fascination for the legend of the thirteen crystal skulls, so this creative duo came up with a crystal head-shaped bottle. The legend is that Native American Navajo and other tribes believed that crystal heads project positive energy and enlightenment. Akyroyd and Alexander agreed that a crystal head was the ultimate vessel to hold their clean, additive-free "Pure Spirit" vodka.
Their creative clear glass skull bottles are manufactured by Bruni Glass in Milan, Italy in 50 mL, 700 mL, 750 mL, 1.75 L and 3 L bottles.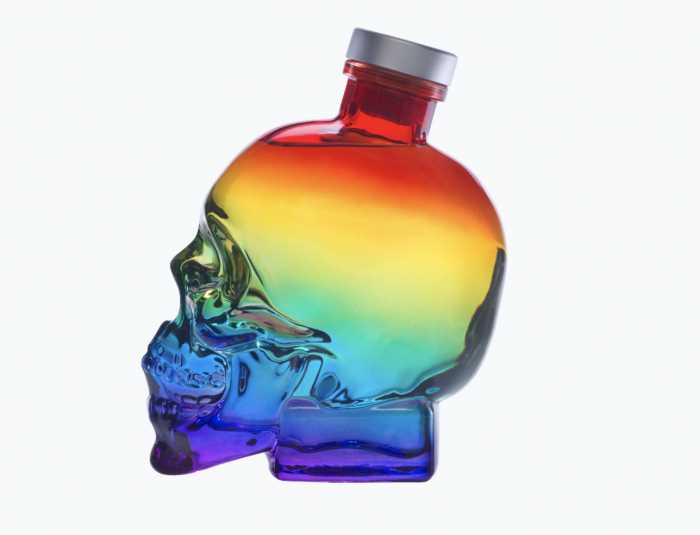 Crystal Head Vodka
This ultra-premium vodka has won 12 International Gold Medals. Recently this duo colored their glass skulls to release a special PRIDE BOTTLE in celebration of diversity and equality. According to a Crystal Head spokesperson, 'Color plays a vital role in the world we live in, often used as a powerful communication tool and a form of expression. Color evokes feeling and has a direct link to creative thinking, and this beautiful rainbow bottle shines proudly & brightly to celebrate Pride.'
Tune into weekly Instagram Live on Mondays and Tuesdays Crystal Head Vodka's #MADEWITHPRIDE brand ambassadors to celebrate Pride together virtually and worldwide. On Tuesdays it goes live at 5:30 p.m. EDT (now through June 30) and Mondays at 6 p.m. EDT, starting June 1 through July 6.
Crystal Head Vodka plans to release this bottle annually. A limited-edition of 2020 Crystal Head Vodka Pride Bottles are available in select U.S. markets, Canada and Europe in 750 mL format and priced at $49.99. Go to their website or click here on 'Where to Buy'.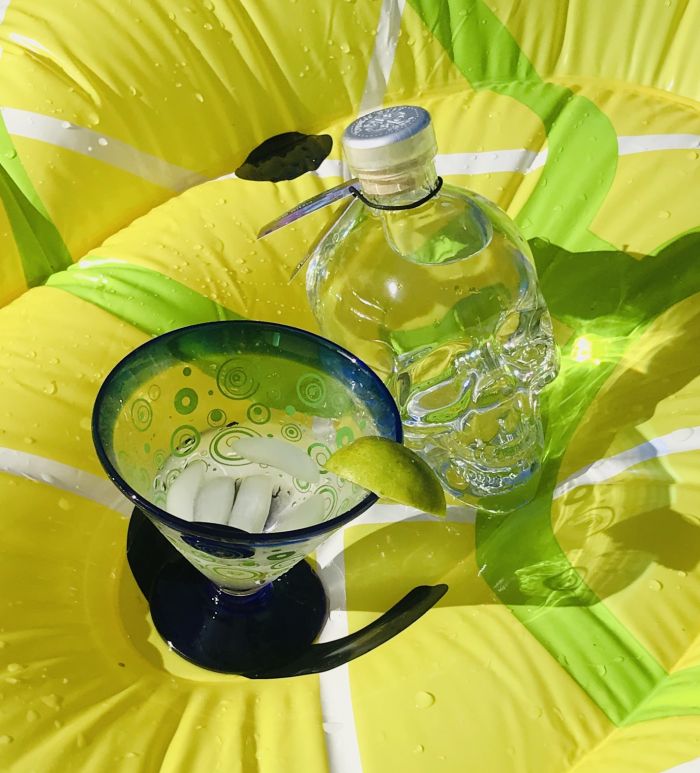 Jill Weinlein
On the Crystal Head website are cocktail recipes. Here's one of my favorites:
LEMON PEEL MARTINI
INGREDIENTS:
2 oz. Crystal Head Aurora
1/2 oz. Dolin Vermouth de Chambery Extra Dry
Lemon peel (Organic, unwaxed lemons with white pith entirely removed)
HOW TO MIX
Add all ingredients to a mixing glass. Stir until ice cold. Strain into a frozen martini glass or similar. Zest lemon peel oil on and around the glass. Garnish with lemon peel or discard.