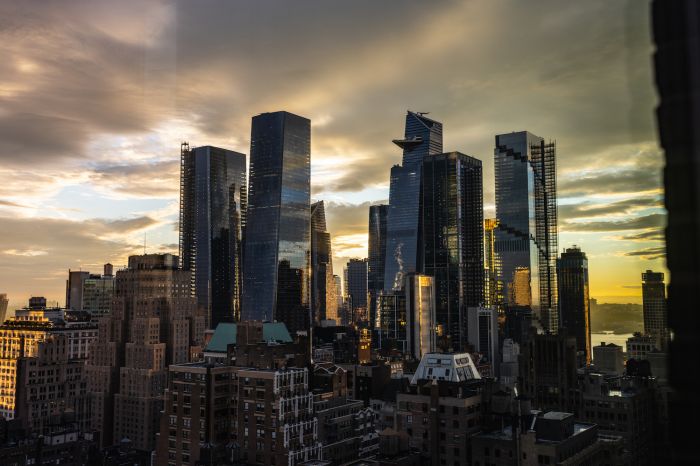 The Manhattan Skyline as Viewed from The Skylark
Looking for a reason to plan a Manhattan getaway? The Skylark, Midtown West's elevated bar and lounge, offers several. A collaboration between hospitality veteran David Rabin and premier catering and hospitality group Abigail Kirsch which offers "Dinner by the Bite" dining, The Skylark features seasonally-inspired, classic cocktails served with breathtaking 30th-floor, New York City vistas. The all-season, multi-level destination includes a sweeping outdoor terrace and roomy indoor lounge, each with spectacular views of the Empire State Building, Hudson River, Times Square, and Hudson Yards. The panorama alone is intoxicating.
But the cocktails are not to be missed. Swet's new seasonally inspired cocktail menu takes inspiration from autumn's bounty and includes the Maple Walnut Old Fashioned, Warm Spiked Apple Cider, Beet Negroni, Pumpkin Spice Mule, Spiced Mexican Chocolate, and Cinnamon Sazerac. Swet, a 25-year veteran of New York City's bar and restaurant scene, has led The Skylark's bar program since it opened nearly a decade ago. Rabin himself boasts 26 years as one of New York City's restaurateur and bar pioneers and is a partner at destination spots like American Bar, The Lambs Club, ModernHaus SoHo's Veranda, the much-buzzed-about Sona, and the iconic Temple Bar.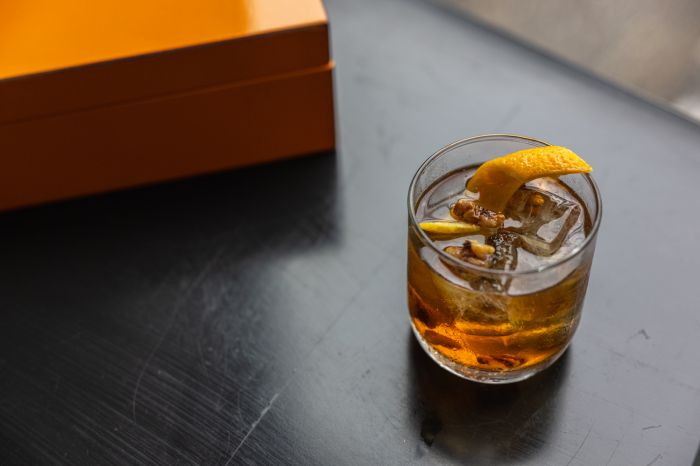 The Skylark's Maple Walnut Old Fashioned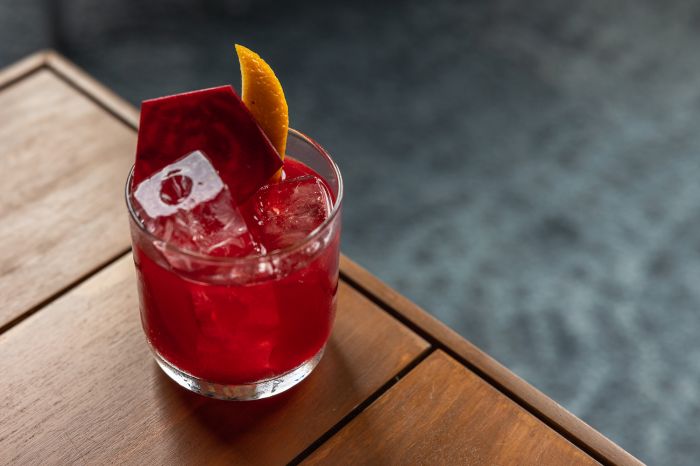 The Skylark's Beet Negroni
"Autumn brings with it a beautiful and bountiful harvest of pears, apples, pumpkins, cranberries, beets, maple syrup, and walnuts," says Swet. "Our cocktails celebrate these evocative ingredients to reimagine classics with a more seasonal touch."
The elevated fall cocktail menu (ea. $20) includes:
Maple Walnut Old Fashioned - The classic Old Fashioned gets a new perspective with Wyoming Whiskey, maple syrup and walnut bitters with an orange twist and candied walnuts as garnishes
Warm Spiked Apple Cider - Jack Daniel's Honey Whiskey and agave nectar bring a touch of gentle sweetness to this comforting Hot Cider served warm
Beet Negroni - A twist on Italy's gift to mixology, the Negroni, this libation combines Nolet's Gin, Singani 63, Aperol and sweet vermouth, and gets a hint of beet juice to add fall earthiness to this legendary libation
39th Street Dirty Martini - A bold take on the Dirty Martini with Tito's Vodka, dry vermouth, muddled olives and olive brine, with Maggi Seasoning adding a savory note
Spiced Mexican Chocolate - Banhez Mezcal and Tanteo Chipotle Tequila dance with sweetened dark chocolate sauce and lime juice in this Margarita variation
Harvest Cocktail - This herbaceous and fruity Sour salutes autumn by marrying Ketel One Botanical Cucumber Mint Vodka, St. George's Pear Brandy, muddled pear, lemon juice, simple syrup, with red grapes and rosemary as garnishes
Pumpkin Spice Mule - The classic Mule of Tito's Vodka and ginger beer is emboldened with Faretti Liqueur, lime juice, orange juice and pumpkin butter
Cinnamon Sazerac - Templeton Rye Whiskey-infused with cinnamon sticks adds a seasonal twist to this iconic New Orleans cocktail further enriched with cinnamon simple syrup, Peychaud's Bitters and Angostura Bitters, served in an absinthe-rinsed glass
Cranberry & Sage Tonic - A Beefeater Gin & Tonic is elevated seasonally with muddled sage, cranberry sauce and cranberry garnish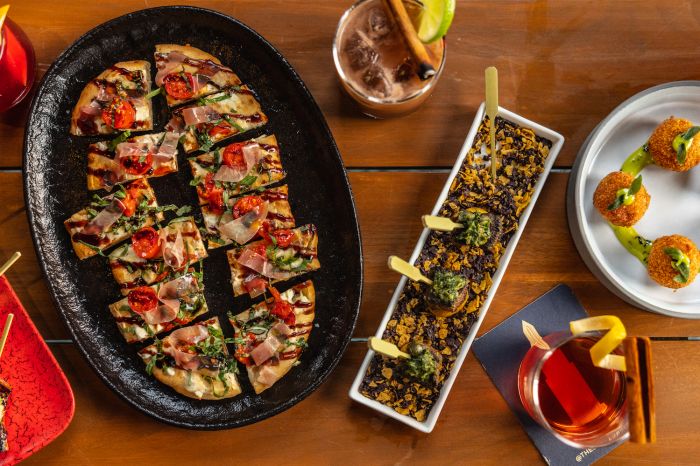 The Skylark's 'Dinner by the Bite' Offerings
The "Dinner by the Bite" menu includes:
Charred Edamame & Shishito Peppers ($16) - sesame, yuzu
Guacamole ($19) - queso fresco, spiced pepitas, plantain chips & tortilla chips
Mezze Platter ($32) - beet hummus, marinated olives, Greek feta, spiced almonds, blistered tomatoes, cucumber, garlic flatbread
Cheese & Charcuterie Board ($36) - assortment of local New York cheeses & meats, housemade pickles
Spicy Salmon on Crispy Rice ($21) - spicy mayo, serrano pepper wasabi, cress
Tuna Tacos ($24) - togarashi aioli
Miso Glazed King Mushrooms ($19) - jicama bok choy salsa, black garlic aioli
Duck Confit Empanadas ($24) - duck confit, caramelized onions, cranberry orange chutney
Butternut Risotto Fritter ($19) - butternut, winter squash, purple basil, aioli
Flatbread ($20) - heirloom cherry tomato, whipped ricotta cheese, balsamico di modena glaze, basil; with prosciutto di parma ($22)
Fried Chicken Sliders ($21) - pickled cabbage, potato bun, spicy mayo, cilantro
Skylark Beef Sliders ($25) - onion jam, cheddar cheese, pommery sauce
Hanger Steak Satay ($24) - house chimichurri, fingerling potatoes
Herbed Dusted Fries ($15) - house ketchup, truffle aioli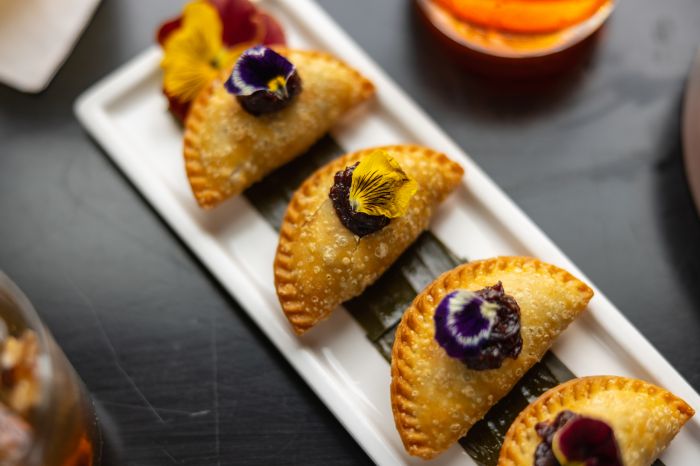 The Skylark's Duck Confit Empanadas
The Skylark's Hanger Steak Satay
"We are very excited about the changing season, and The Skylark is an ideal spot for celebrating it," said Rabin. "With its incredible views of the Empire State Building and nestled between the Theater District and Madison Square Garden, The Skylark embodies the excitement and dynamism of New York City any time of year."
200 W. 39th St., Midtown Manhattan
Photos courtesy of The Skylark Bar & Lounge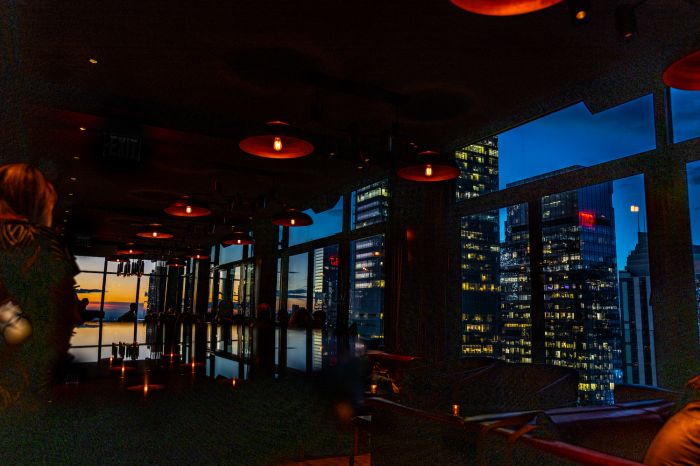 The Skylark's Nighttime Panoramas