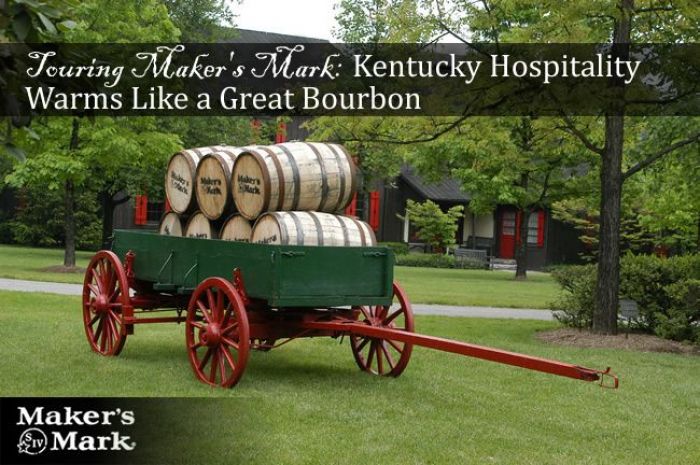 Food & Spirits:
Kentucky is synonymous with whiskey, and whiskey from Kentucky is called
Bourbon
. And I'm on my way to
Maker's Mark Distillery
, in the hamlet of Loretto to learn about some industry-shaking news. As their website says, "Our 2nd Big Idea" (in about 50 years).


Launch Slideshow >>

Green patches of the immense quilt that is Kentucky begin to reveal their details as we descend toward the Louisville airport. Fields of new grain, tobacco, and geometrically precise horse farms seem to bask in their role in the state's economy. More state pride vies for retail attention along the airport concourse, including life-size replicas of a derby-worthy thoroughbred horse and a white suited eponymous purveyor of Kentucky fried chicken. The Louisville Slugger store is crowded with youngsters eager for summer vacation to begin.

About 30 miles south of the airport a sign on the Kentucky Bourbon Trail announces "Welcome to Historic Bardstown, Founded 1780". Under graceful deciduous canopies, the drive past stately Federal style homes of dark brick, crisp white columns and well-tended lawns sets a tone of quality and craftsmanship. I arrive at the Beautiful Dreamer B&B, am warmly greeted by Proprietors Dan and Lynell Ginter, and again give thanks for air conditioning.

The Beautiful Dreamer is directly across the street from My Old Kentucky Home State Park. The B&B's name is taken from the well-known Foster poem and song. Antiques abound throughout the house, and my favorite is a chamber pot underneath my four poster bed. There are four rooms available, with varying degrees of luxury, including in-room Jacuzzis and access to stately porches with views of the park.




A Maker's Mark mint julep is a great way to begin dinner at Kurtz Restaurant, a short walk from the B & B. The picture-perfect mint sprig has been picked from the garden outside the back door. Kurtz has been serving homemade, Southern style food for 73 years. Ownership of Kurtz is a family affair - I have the pleasure of being served by Patrick Dick, great grandson of the founder. I decide that each item will be at Patrick's recommendation. Kurtz coleslaw, followed by skillet fried chicken, and Kentucky country ham, served with green beans and spiced beets are all local favorites and are beyond delicious. A Bourbon soaked bread pudding is the natural end of a fantastic sampling of Southern hospitality and cuisine.

Launch Slideshow >>

An evening drive around Bardstown is enchanting. The air has cooled from hot to balmy, folks stroll along the streets, lightning bugs are everywhere, punctuating the twilight with magical dots of light, just as crickets add their tone to the tempo of the evening. The occasional deer and turtle along the roadside remind me of the closeness of nature to this urban setting. The main thoroughfare is called 3rd Street and one section is known locally as Distillers Row. Over the years, families associated with many distilleries in the area have lived on, or very near, "The Row". The Civil War Museum's recreation of Old Bardstown Village is nestled in a quiet corner of downtown. It reminds me of Old Williamsburg. Before returning to the B&B, I stop by the state park's amphitheater and peek in on a performance of The Stephen Foster Story. The sets and costumes take us back to the 1850s, when Foster was writing such American classics as "Old Susanna", "Camptown Races", "Beautiful Dreamer", and "My Old Kentucky Home".




During the seventeen twisty miles from Bardstown to the distinctive dark brown, trimmed in red distillery buildings of Maker's Mark Distillery, I'm thinking about THE NEWS. Since 1958, the distillery has made only one product – small batch, premium Bourbon, sold in the iconic red wax sealed bottle. Now, there is a second expression – Maker's 46, commercially debuting in July 2010. I'm looking forward to my time with Kevin Smith, Master Distiller and VP-Operations as being enlightening, "spiritual" and delicious! Kevin does not disappoint. In his tasting room, we compare traditional Maker's and Maker's 46. The color and aroma are pretty much the same, but the taste … Kevin explains, "We started with a concept of trying to get the whisky to taste a certain way. Our solution was developed from an original idea from Brad Boswell, owner of our barrel maker, Independent Stave." Kevin explains that the prime criteria for the new creation was that the liquid should develop naturally, from grains and wood. In December 2009 they succeeded, and Kevin describes the new product, basically named for the 46th profile whisky the team created: "It's not as much a sibling, it's more of a cousin. Flavors are reminiscent of traditional Maker's, but we've changed a few things – none of which make Maker's 46 better than Maker's Mark … I can see enjoying each on different occasions."

So, what's the secret? Quite simply, to make a superlative new product, start with a superlative existing product. In the early 1950s, Bill Samuels, Sr. developed the "mash bill" (list of grains) that made his new Bourbon truly unique. Together with corn and malted barley, Bill Sr. substituted soft red winter wheat as the flavoring grain, in place of the traditional, and more bitter, rye. This recipe created the philosophy of combining "taste good" with "good taste", and continues to be at the core of Maker's guiding principles.




The process developed by Kevin and Brad to make Maker's 46 involves starting with fully matured Maker's Mark. The liquid is removed from its barrel and then the empty barrel is opened and ten seared, French oak wooden staves are affixed to the inside. The barrel head and hoops are replaced and aging continues for several more months. Searing the staves caramelizes the sugars in the wood, adding a unique flavors in fulfilling the vision for this new Marker's Mark expression.

Tasting Notes for Maker's 46: Age: To maturity; Aroma: Sweet, toasty oak with caramel overtones; more intense aroma without an alcohol nose; Taste: rich, creamy, seared oak flavors, caramel and vanilla notes; Finish: big, mouth-watering oaky finish, long with a little spice, without bitter bite. Proof: 94.

I realize the remarkable story of Maker's Mark, and its rich, 8-generation saga of the Samuels family, will make a future article by themselves. For now, I'm closing with a favorite memory of my visit. Margaret Samuels (Bill Sr.'s wife) was a collector of fine pewter pieces. Margaret's personal copy of a favorite reference book is on display in a place of honor in the conference room. As a collector, Margaret treasured Fine Pewter – It's Makers and Marks. In 1958, when it was time to name Bill's new Bourbon, it was Margaret who came up with the name. By the way, it was Margaret who also came up with the idea of sealing each bottle with red sealing wax. I would love to have spent time with her, over a Maker's on the rocks, of course.

By Ray Pearson