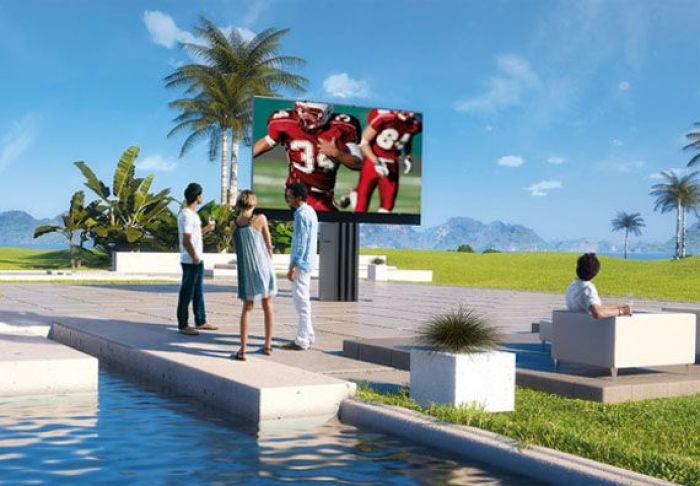 Photo Courtesy of C SEED
The C SEED 201 is the largest outdoor viewable
television
in the world with its 201-inch backlit LED screen. When the television is not being watched, it is stored underground in a waterproof shaft. The touch of a button on the TV?s remote control opens the lid of the storage shaft. A pillar-shaped support column then rises to as high as 15 feet. Once the stand reaches its set height, seven large screen panels unfold to form the 201-inch LED television.
The set can be rotated up to 270 degrees to capture the optimal viewing angle. It takes less than a minute from the remote-control activation to the TV being ready for use. Just the screen alone of the unit weighs 1.4 tons. 
The Porsche Design Studio designed the C SEED 201, while it was made by C SEED Entertainment with LED technology provided by Lighthouse Technologies, an LED-display technology firm. It is the technology developed by Lighthouse Technologies that makes the picture on the screen so extraordinary.
The water-resistant screen?s 100,000 HZ refresh rate is 500 times the performance of a standard TV set. Additionally, this is the only LED TV screen with a six-millimeter pixel pitch. It is that low-pixel rate that ensures a perfect picture even on the brightest of days. 
A multisource media server that uses Windows 7-based software enables the C SEED 201 to accept input from both digital and analog video sources. It handles HDTV, Blu-ray DVD players and game consoles. The big unit also can be integrated with home-automation platforms. For security purposes, the unit?s remote control contains a fingerprint-recognition system to keep 201-inch big-screen TV under control at all times. 
In its July 2011 issue,
Wallpaper*
magazine reported the price of the C SEED 201 at €500,000 (or $687,775 U.S.). It also reported that at least 50 units of the handmade product are already pre-ordered. For more information, visit
Porsche-Design.com
and
CSEED.tv
. 
{start-jlvideo}666{end-jlvideo}