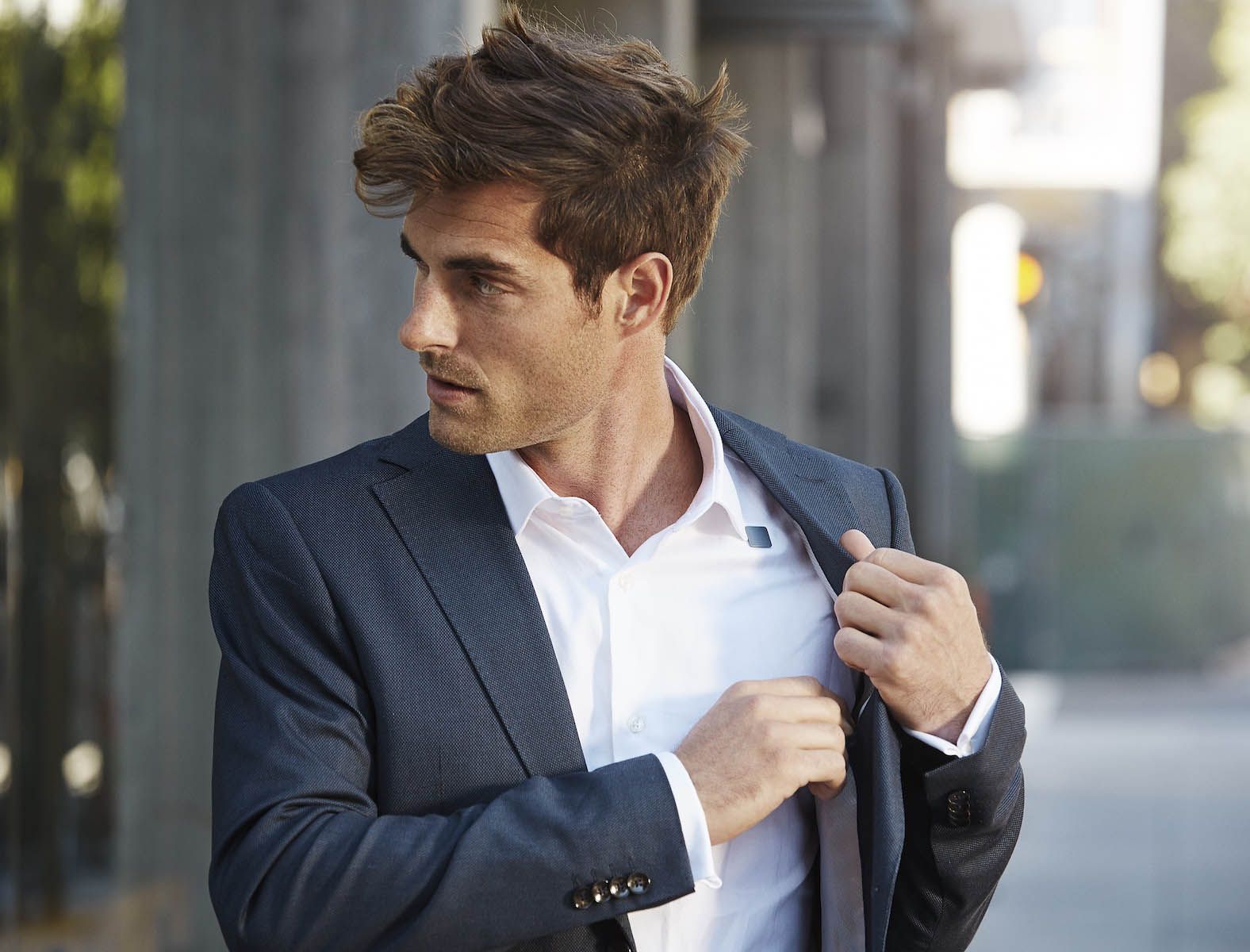 Photos Credit: Frederik Hermann/Lumo Bodytech
Despite working in an office all week, I like to think that I have pretty good posture, but it's always interesting to see if what you assume is actually correct—which is where the posture-correcting gadget Lumo Lift comes in. To make things a little more interesting, I had JustLuxe's editorial teammate Djani Schafer (whose mother constantly demands she sit up straight) try it with me, so we could compare our stats.
Meant to sit near your collar bone, the small device attaches to your clothing via a magnetic square and once you calibrate it by pressing down on it twice, it will use that position as your desired posture. If you slouch (or even lean back), it will buzz you. Throughout the day, it will keep track of your progress (as well as count your steps, distance traveled and caloric loss) and then give you progress reports via the accompanying app.
Wearing it is really easy, but calibrating it is a bit of a learning process. The human body moves through a lot of positions and angles throughout any given day, and Lumo Lift will think that any deviation from the control position is slouching. You can turn the buzz (or Coach) setting off, so it will stop bugging you when you lean back in your chair at work, but it will still collect that data and classify it as bad posture. To fix this, you have to remember to calibrate the device many times throughout the day.
With the goal of four good posture hours, we were both hyper-aware of the Lumo Lift on the first day and were constantly checking up on how we were doing. By the end of the work day, I had seven good posture hours (which the app calls remarkable) and Djani hit three good posture hours (which is considered slouchy)—to be fair, her device struggled to find solid footing and buzzed her constantly throughout the entire experiment. The second day saw more improvement, with myself getting nine good hours and Djani getting five. Unfortunately, the results weren't consistent with either of us due to the calibrating issue, which ends up being pretty frustrating. No one wants to be told they're doing something wrong when they're not.
We both noticed that we had more accurate readings when we switched from the included bra strap magnet to the regular t-shirt one (there are various colors and styles available at additional cost).
One major drawback for anyone who uses other fitness tech, is that Lumo Lift may interfere with the collected data. For instance, when Djani used it simultaneously with Runkeeper during a routine run, the numbers were skewed for both gadgets—Lumo Lift collects some fitness data but isn't really meant for it. There were also a couple days where our data was empty or incomplete, either from user or hardware error.
After wearing it for a week, we both noticed that even though the Lumo Lift has some issues recognizing body movements, it did make us a lot more aware of how we sit and stand. When it buzzes for bad posture, you have to make the conscious decision to straighten up or cheat by calibrating it for the slouch. Despite Djani's frustrations with getting spotty data, after a week she started getting comments on how much she'd noticeably improved and she plans to continue using it. For me, even though I enjoyed seeing proof of my remarkable posture, I will probably only use it when I'm feeling back pain that could be corrected by sitting up straighter.
The verdict? If you actually need to work on your posture, Lumo Lift is totally worth its paltry $80 price tag. It may have issues, but it makes you take responsibility for how you carry yourself and that definitely outweighs the learning curve.