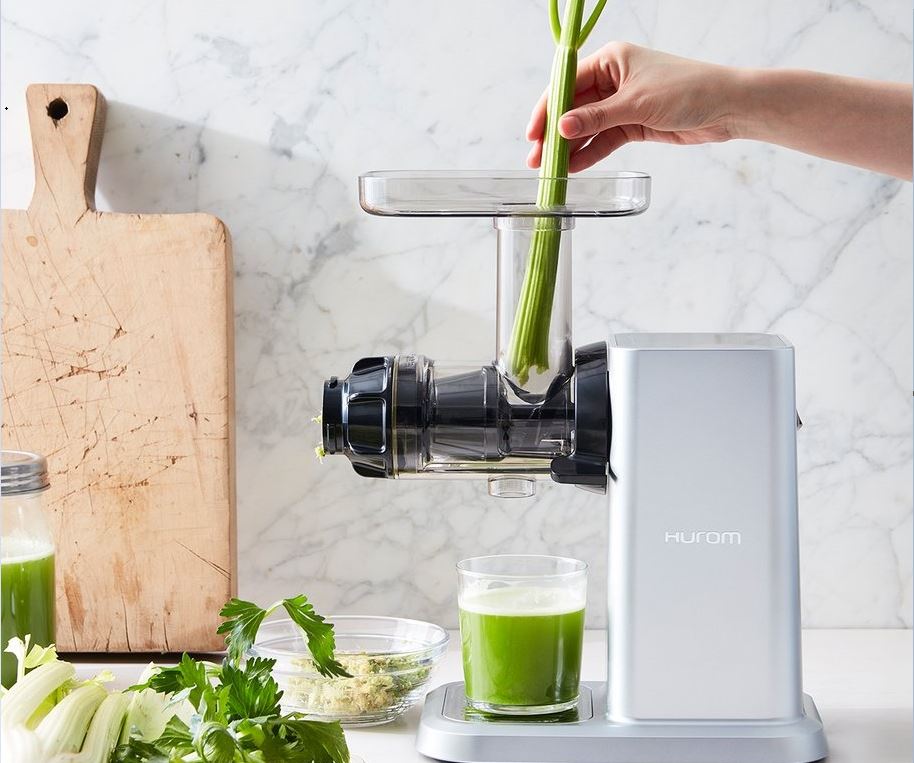 Photo Courtesy of Hurom
People have many different reasons for juicing, whether it's to get more nutrients into your diet or simply because you love watching vegetables get ground to pulp, and the product itself will definitely determine the overall benefits. Especially for those who love green juices and need a gadget that will be able to handle the trickiest of greens, like celery and kale. Well, Hurom's Celery & Greens Horizontal Slow Juicer is basically the answer to all of your needs.
Specially made with green juice in mind, Hurom's juicer was designed for grinding up celery, wheatgrass, leafy greens, and root vegetables (like beets and ginger). Since we actually tried all of those, we can confidently say that this gadget squeezed out every bit of juice from the vegetables, pushing out dry pulp. And by the way, don't be so quick to toss out the pulp, since there are plenty of ways it can be used. In fact, Hurom even includes a cute little recipe book that features a few snack ideas that make use of pulp, like hummus.
Hurom states that due to its patented slow squeeze technology that's designed to "minimize the breakdown and oxidation of fruits and vegetables," the resulting juice ends up with tons of nutrients and stays fresher for longer. It's also surprisingly quiet, with an AC motor in a casing that's 27% smaller than other horizontal juicers on the market today.
And like I already mentioned, you can do so much more with it than simply make juice. Aside from hummus, we also used it to shape pasta noodles, mince garlic, and put together a smoothie. Though we haven't tried it yet, you can even make your own organic nut milks.
The juicer itself is surprisingly small and looks wonderful on a kitchen counter. We went with the Matte Black, but there's also Silver and Champagne options. The Hurom Celery & Greens Horizontal Slow Juicer is priced at $499.