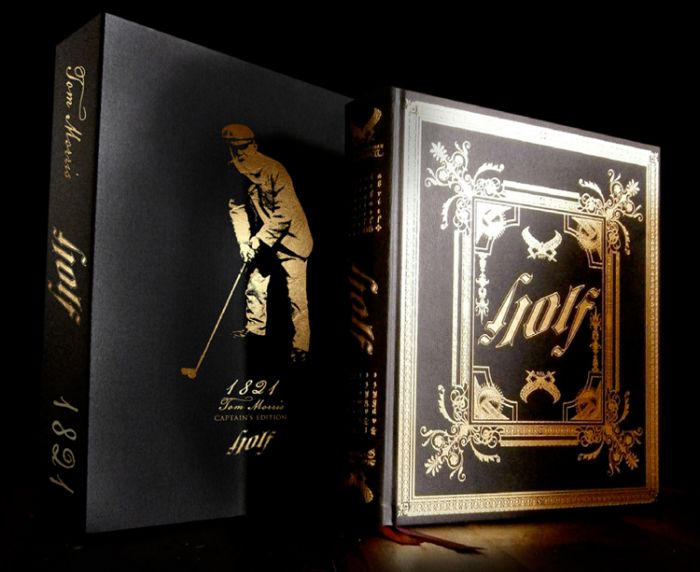 Photo Courtesy of Wonderland Publications
Golf
and rare books don't often cross paths, which is why we were excited to see "GOLF. The Tom Morris 1821 Edition." Being sold by Wonderland Publications, The Captain's Edition of "GOLF" (often referred to as the "Golf Bible") is priced at $2,000 and would be a great addition to any library, whether you're a golf connoisseur buying it for yourself or for your club's collection.
Thomas Dunne, well known golf journalist, says, "Few golf books in recent memory have gotten the synapses firing with anything like the intensity of this unique and provocative volume."
"GOLF" stemmed from the minds of Paul Skellett and Simon Weitzman, who were relative novices when they first began creating the large book. "Golf is an amazing game. It's utterly unique in how it's crafted upon the landscape and in what it teaches us in terms of life skills and our emotions," says Skellett. With the men having backgrounds in production, art, and music, they approached the project with a very unique mindset. With intentions to capture and restore historical images, they approached many famous golf clubs and private collectors, offering to digitize their collection at no cost. The plan worked and they gained access to a whole world of rarely seen golf memorabilia.
"The model was of mutual benefit to everyone involved. We gained access to some truly wonderful and rare material for our publication, much of which was in a grave state of disrepair - and those kind enough to let us in received a fully digitized and restored archive in return," says Weitzman. "We didn't want to just license stock material, we wanted to discover things that may well have otherwise faded away. So the legacy side of our work was a vital part of what we wanted to achieve with GOLF."
According to Wonderland, this book rests in the collections of greats such as Arnold Palmer, Jack Nicklaus, Colin Montgomerie, and Tony Jacklin. Aside from tons of rare photographs of golf legends, the book features over 50 written contributions (including Augusta Masters and voices from the PGA and World Golf Foundation), signed art pieces by the book's creators, and a wide selection of the world's most loved golf courses. The pages are filled with bold, bright colors and scrawled text, creating a layout that appears chaotic, yet isn't.
The 584-page book is bound in leather and features gold gilded pages. Each book comes in a gold block archive case, individually numbered and unique, with many having its own special one-off box sets depending on the corresponding year.
The Captain's Edition of "GOLF" is limited to only 2,100 copies, with only 1,500 released in America and Canada. What makes this edition so great (besides the special signed print that comes with it) is that it is numbered 1821, which is the year of Tom Morris' birth.
Tom Morris (1821-1908) basically established what we know as professional golf today. Born in St. Andrews, Scotland, he began golf at a very young age of ten and soon found himself an apprentice to Allan Robertson. Together they played matches and were a formidable team. Over the course of his life, Morris was a greenkeeper, golf instuctor, course designer, clubmaker, ballmaker, and family man. He apparently even held the record for the largest margin of victory in a big championship before, in 2000, Tiger Woods took it.
For more information visit
WonderlandPublications.com