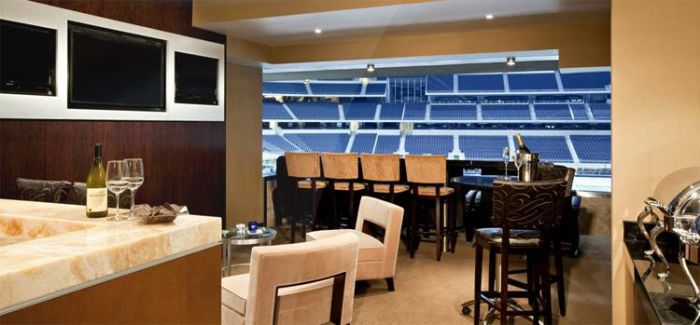 Photo Courtesy of Cowboys Stadium
NFL teams have a wide array of options at their home stadiums in terms of luxury suites and here's some of our favorites that allow you the ultimate game day experience. From the endzone to the 30 yard line, fans can enjoy an array of amenities from flat-screen TVs and gourmet food to private stadium entrances and access to team events.

According to Forbes.com NFL teams have been spending huge amounts of cash on new stadiums, from New York's $1.6 billion stadium and Dallas' $1.2 billion stadium to San Francisco's home turf, which came in right under $1.2 billion. With prices like those, it's no surprise that the luxury suites generally go for a decent price.

Scott Spencer, president of Suite Experience Group told CNBC.com that you can lease a suite at your favorite stadium, which could cost you from $800,000 to $1 million a year, and some teams, like the Dallas Cowboys, make you sign lengthy 20 year leases. Instead of leasing one, you can also always take the second route of using a middle-company, like Suite Experience Group itself, which will allow you to buy your way into a suite for individual games. While prices run high, you do get perks like special parking right beside the stadium or underneath with the players. Suite Experience has suites available for single games in stadiums all over, including Lambeau Field and Cowboy Stadium.
Photo Courtesy of Lucas Oil Stadium
2012's Super Bowl was held at the Lucas Oil Stadium, Indianapolis, and according to CNBC.com, some suites cost fans $500,000. Of the 137 luxury suites available at that stadium, including 12 Super Suites and eight Fields Suites, all of them were totally sold out months prior to the game. The Super Suites come with a personal TV between each seat so you don't miss a thing, the Field Suites place you ten feet from the end zone, and the Quarterback Suite has 200 seats for a shared experience. All of their suites come with leather chairs, luxury furnishings, flat screen TVs, bar stools, and suite holders get Indianapolis Colts season tickets, VIP parking, and access to private suite level concourses and club lounges.
Photo Courtesy of Cowboys Stadium
The average price for a ticket to a Dallas Cowboys game will cost you around $215, according to Michael B. Sauter of WallSt.com, and while cheaper than a suite, you'll definitely feel the difference if you opt for a suite. Cowboys Stadium offers a choice between Field Level Suites (found 18 inches below the field), Hall of Fame Suites (with 20 rows of outdoor seats between the suite and the field), Silver Suites (with 50 rows of outdoor seats between suite and field), Ring of Honor Suites (includes access to Main and Silver Club), and the Star Suites. Luxury suites at the Cowboys Stadium are rife with amenities, like premium ticket access, menu tasting events, access to team events, a draft day party, and suite holder appreciation events. Each suite features marble floors, club access, special parking, and much more.
Photo Courtesy of Gillette Stadium
According to Sauter, Gillette is one of the most successful NFL stadiums, generally selling every seat and helping the Patriots - their home team - to be one of the most valued teams in NFL. The stadium offers private suites with attendant service, private entrances and parking, access to the Putnam Club, gourmet food and drinks, retractable glass windows, and leather armchairs. Having a suite also allows you post-game field visits, access to press conferences with Patriots players and coaches, priority access to ticket sales and various special events that take place all year round.
(Photo Courtesy of MetLife Stadium
Found on four separate levels, the suites at MetLife Stadium were designed by David Rockwell and range in size allowance from 12 to 30 people, depending on how big your party is. Along with your suite comes VIP parking, a private entrance to the stadium, a private lobby, many different high-end TVs, and a wet bar and refrigerator.
Photo Courtesy of Lambeau Field
If you're a Green Bay Packers fan, you should check out the luxury suites at Lambeau Field. With great views of the field, you'll be able to take advantage of amenities like theater-style seating, catered food and drinks, operational windows to help with crowd noise, concierge service, VIP parking and access to the Associated Bank Club Level. You'll even have access to the suite on non-game days. The stadium is also gearing up to reveal their new Terrace Suits, which will be found on the new South End.
Photo Courtesy of Mercedes-Benz Superdome
New Orleans Mercedes-Benz Superdome
The New Orleans Mercedes-Benz Superdome has a total of 152 suites, with 64 of them found on the 400 level with exterior seating for up to 40 people, and 88 of them found on the 300 level with exterior seating for 20. At SB Tickets there are six different kinds of luxury suites you can choose from, fitting 12 to 32 people. In terms of location, you have a choice between the endzone, corner, 40/45 yard line, and the 30 yard line. Some are shared suits but all of them come with catering and beverages.