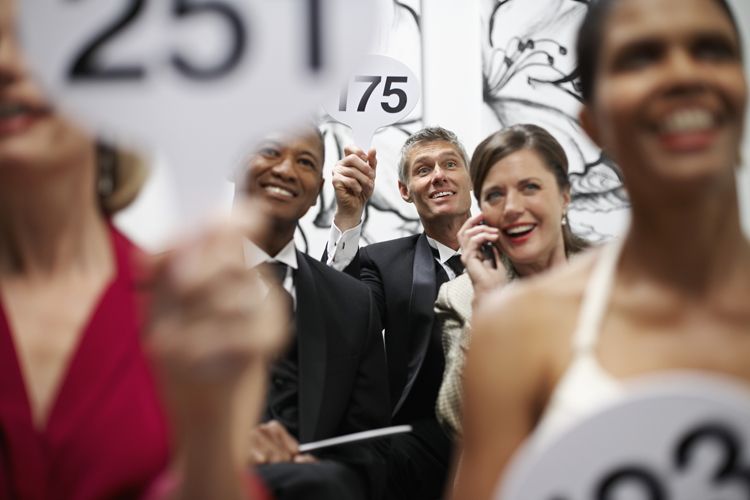 According to
Guinness World Records
, the most expensive piece of football memorabilia to ever be sold at auction was an original 1871 Football Association Cup. Sold in May 2005 from Christie's, UK for £420,000 ($773,136), the cup was one of four made for the first competition in 1871 and in 1911 was presented to Lord Kinnaird to celebrate his 21st anniversary as President of the Football Association.
In December 2010 Sotheby's in New York auctioned James Naismith's Founding Rules of Basketball for $4.3 million. Spanning two pages and signed, the 13 rules were, according to Sotheby's, typed up the same morning Naismith introduced the world to the new sport. (Photo Courtesy of Sotheby's)
Baseball star Mark McGwire's 70th home run ball sold at a Guernseys auction in 1999 for $3 million, which was far more than the expected $1 million. According to
CNN.com
, the ball was originally caught by research scientist Philip Ozersky, who was at the game with office buddies, and is typically called the "Hope Diamond of baseball" by historians.
For $1.3 million baseball legend Babe Ruth's bat was sold at a Sotheby's auction in 2004. What makes this particular bat so special? It was reported on
SFGate.com
that not only is it in great condition and signed by the player himself, it was the bat that Ruth used to hit the very first home run at Yankees Stadium. Bought on behalf of an anonymous New York collector by Mastronet Inc., a Chicago-based sports memorabilia company, the artifact was sold as "The Holy Grail of American sports memorabilia." (Photo Courtesy of Babe Ruth Official)
As one of the first five players to be inducted into the Baseball Hall of Fame, Honus Wagner was nicknamed "The Flying Dutchman" due to his speed and German heritage. Winning eight batting titles, Wagner is many historian's choice for the greatest shortstop, which makes it no surprise that a man paid $1.2 million for a Wagner 1909 baseball card that was auctioned by
Goodwin & Co.
in April 2012. The "Holy Grail" T206 Honus Wagner card was part of an auction that featured a total of 528 baseballs cards, with the rare 1909 Wagner card beginning with a starting bid of $300,000.
In 2005 Soethby's and SportsCards Plus auctioned off Babe Ruth's 1920 signed contract which effectively sold Ruth to the New York Yankees, which stunned the fans of his previous team, the Red Sox. The Red Sox traded him to the Yankees for $100,000 in 1920, and the contract sold to Peter Siegel (owner of Gotta Have It Collectables, Inc.) in 2005 for nearly the same amount at $996,000, according to
PA Sports
. (Photo Courtesy of Goodwin & Co.)
Considering Babe Ruth is probably the most famous sports star in history, it's not shocking that he's all over this list. In 2005 a uniform worn by Ruth was sold for $771,000 at an auction put on by Mastro Auctions. The uniform was apparently worn by the star during an off-season tour to Japan and was later sometimes worn for an exhibition game. Because the uniform wasn't worn too often, the condition was kept pretty pristine, which helped drive the bidding up.
In May 2006
Heritage Auctions
sold a baseball signed by New York Yankees player Joe DiMaggio and actress Marilyn Monroe for $191,200. At the time of sale, it was considered to be the finest signed baseball ever found. The ball was signed by the duo in the early 1960's when a news photographer came across the couple, who were at the time believed to be considering reconciliation while on vacation in Florida, and just so happened to have a ball for them to sign. Their marriage was brief and artifacts related to DiMaggio and Monroe go for top prices due to the rareness of them and DiMaggio's refusal to sign anything related to Monroe after her death. (Photo Courtesy of Heritage Auctions)