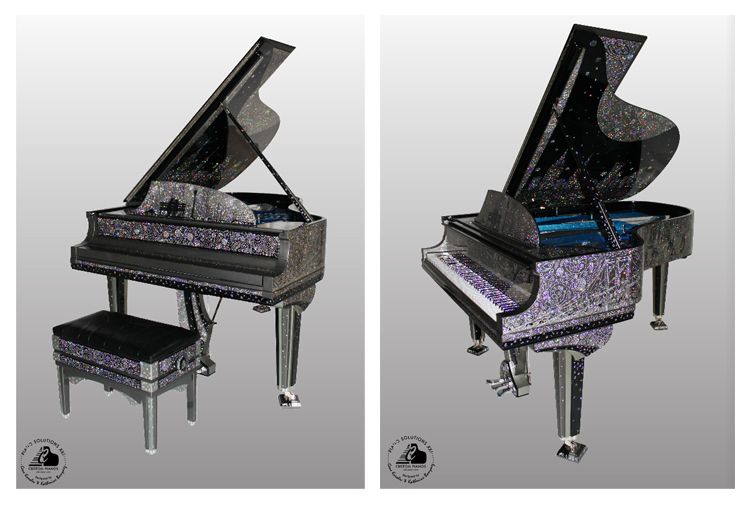 Photos Courtesy of Piano Solutions XXI
North Hollywood-based
Piano Solutions XXI
, a custom piano restoration company, announced the launch of their New York Serenade piano. This million-dollar restoration of a 1917 Steinway & Sons grand piano was inspired by Fabergé and designed to invoke memories of the famous musicians of New York's jazz era. The
luxury piano
and matching bench are adorned with over 171,500 hand-set cubic zirconia stones.
The restoration, which took over a year to finish, was done by Gene Korolev, president and founder of Piano Solutions XXI, and his daughter Katherine Banyasz. Each stone was individually overlaid, drilled, and placed under a glass-like polyester finish to ensure that the pieces would endure for generations to come.
"To achieve a beautiful glowing effect and portray the energy of the 'City That Never Sleeps', the piano was adorned with lab-made diamonds throughout. The piano, especially, reminds me of that tune sung by Frank Sinatra, New York, New York," said Ms. Banyasz. "It was essential for my design to reflect the independent spirit of the Roaring 20s, when both jazz and the American dream were rattling the world."
The piano was designed to be a tribute to everything New York, with each leg mimicking the city's famed skyscrapers and the lid reminiscent of the New York skyline — complete with a moon symbolizing the popular big-band tune Moonlight Serenade.
Lab-made diamonds arranged in an art deco style cover the instrument's body, forming images of such New York landmarks as Grand Central Station and the Brooklyn Bridge. The background tells the story of a couple enjoying their time in the big city, set amid overlapping images of swing dancers.
In addition to being a work of fine art, the piano has superb sound quality courtesy of cutting-edge technology that allows it to play music from any wireless source, including computers and tablets. A Live-Performance Model LX high-resolution player system is built in and it comes with a mini iPad that contains an unlimited music library.