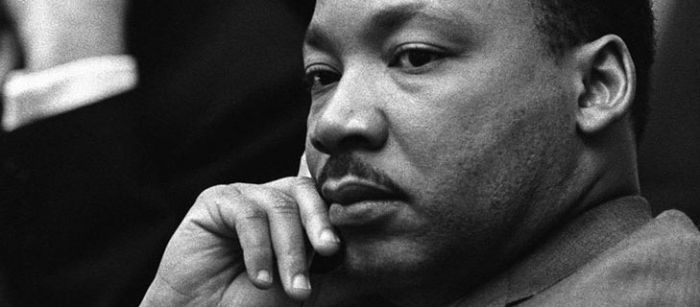 Photo Courtesy of Nobel Media
On October 17, over 100 of Dr. Martin Luther King Jr.'s personal handwritten materials sold at an auction for more than $130k. The sale was part of Heritage Auctions' Historical Manuscripts event. Maude Ballou, Dr. King's personal secretary and friend, was the owner of the documents, which stayed in her possession for over 50 years. A portion of the proceeds from the sale will be donated to Alabama State University.
Photo Courtesy of Heritage Auctions
Eight index cards featuring Dr. King's handwritten talking points for his "Dexter Avenue Church Farewell Address" netted $31,250, making them the top selling lot of the collection.
Photo Courtesy of Heritage Auctions
Additional auction highlights included two letters written by Dr. King to Ms. Ballou while the civil rights leader was in India learning about the passive resistance techniques of Mahatma Gandhi. The letters realized $18,750 and $17,500, respectively. Additionally, two draft chapters from King's first book, "Stride Toward Freedom," a first-hand account of the Montgomery Bus Boycott, sold for $8,125 each. Both King's and Ballou's "Distinguished NAACP Volunteer" cards, with a letter from the NAACP, sold for $3,250.
Photo Courtesy of Heritage Auctions
"This was simply an unprecedented auction of amazing, evocative material that provides a ground-level perspective of the civil rights struggle," said Sandra Palomino, director of historical manuscripts for Heritage Auctions. "There was worldwide interest in the material and the emotional response to it was huge."
Photo Courtesy of Heritage Auctions
Also scheduled for auction was what was believed to be a contemporary copy of the final page of the "I Have a Dream Speech." However, while the item is authentic to King and the collection, it was determined that further research was required to date it definitively to the actual speech. Therefore, the item was withdrawn pending further investigation.
Photo Courtesy of Heritage Auctions
Photo Courtesy of Heritage Auctions