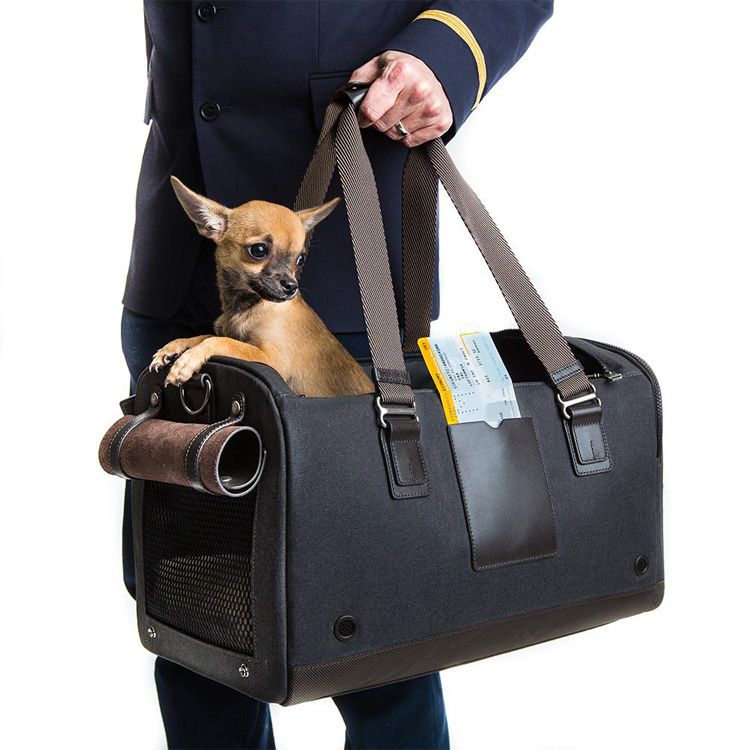 Photos Courtesy of TUMI
Tumi has a long tradition of crafting beautiful, useful luggage, bags and travel accessories for us, but dogs and cats were fairly ignored by the travel brand other than 2012's notable Tumi Alpha Pet Carrier. Things have changed however, with their recent collaboration with Berlin-based Cloud7, producing a new collection of accessories designed to make flying with Fido stylish and comfortable.
The Cloud7 for Tumi Flight Carrier offers a sturdy, classy and comfy travel container for your furry friend. The carrier is equipped with a number of air vents, expandable width, plush lining, pockets for accessories, and a side pocket perfect for holding a plane ticket or other travel document. The shoulder strap also detaches to make a great leash for when the dog is out of the carrier. Measured at 9.5"x18"x10", it will be able to accommodate many cat or dog breeds, but large breeds like greyhounds or German shepherds will still need to ride in traditional crates.
If you have a big dog though, don't fret, because they're shown some love too. The upcoming plush, wool travel bed comes in two sizes, medium and large. The bigger bed will not only be a comfy spot for a large dog to rest while out and about, but has enough room for a second (albeit smaller) pet. The medium bed is great for your smaller pup who may be traveling without a friend (other than you, of course), and both beds offer a great way for your pooch to sleep after a day of visiting international sites.
Of course your pets also need to eat, so Tumi rounded out the collection with a travel bowl set, just in case you are a stickler about having everything match. With waterproof lining and able to collapsible into a thin profile, your little friends can live like true jetsetters wherever your adventures might take you. The bowl set, as well as the rest of the travel collection, also has a monogram patch on the side for your pet's initials.
The items retail from $95 to $375 and can be purchased nationwide at Tumi stores or through their official site.