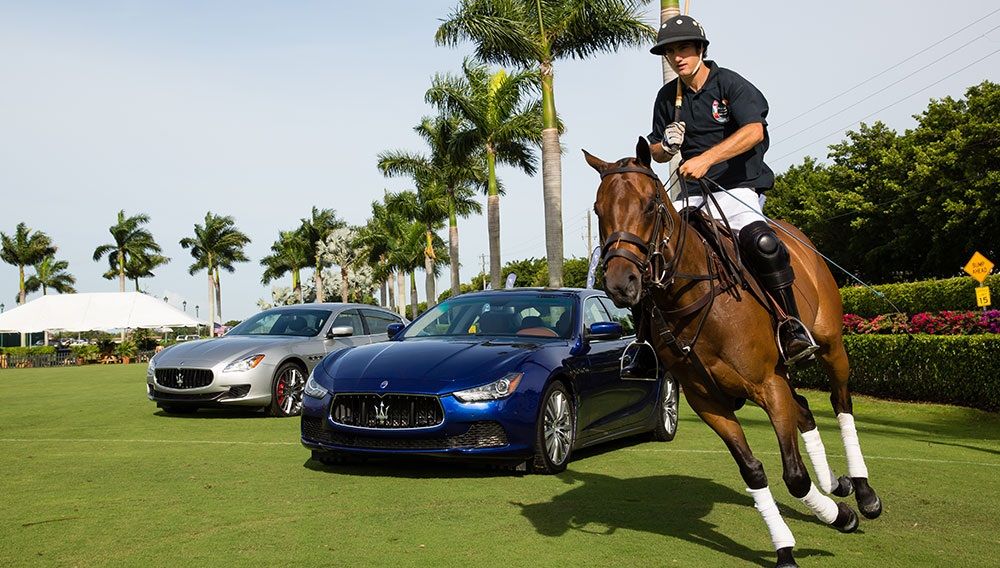 Photos Credit: Maserati
Maserati is celebrating its 100-year anniversary and reaffirming its presence in not only the automotive industry, but also the polo playing fields. Along with their official supplier La Martina, they are revving up support for the historic sport with their very own team at five international tournaments across three continents. To celebrate, the two iconic brands have collaborated again to launch a stylish new capsule collection of men's and women's active-wear.
In September, guests and enthusiasts had an opportunity to gather in Santa Barbara at the Silver Cup to witness polo's finest outfitters and players. Maserati rolled out its full 2015 vehicle line-up at the Santa Barbara Polo Club—including its flagship Quattroporte super sedan and Maserati Ghibli sport sedan, alongside its sleek signature GranTurismo and GranTurismo Convertible models—while their sports team battled it out on the field.
The sporty collection is inspired by the "Polo Player Kit," as well as the quintessential off-field style of La Martina's all-star brand ambassador athletes, including Nacho Novillo Astrada, Singapore-born Ameer Jumabhoy and Brit Malcolm Borwick, whose favorite professional La Martina piece is the Evolution Helmet. "It's protective, but still very light, and mine is specked out in my color—bright red," he says.
Naturally, Borwick is also fond of Maserati Capsule Collection items like the red La Martina Jacket ($336), featuring the oval auto logo. The top-end of the collection features a post-match blazer made of micro-fiber with a zipper under the lapels and a signature bomber jacket with subtle stitching. Two versions of the polo shirt are similar to the Maserati match jerseys, a après-tournament look, with patches of real leather and silver printing.
Other standouts include La Martina's Blue Men's Field Jacket ($436) with embroidered logos above the breast pockets and the Black Quilted Jacket ($744), featuring sporty inserts and company branding neatly embroidered on the chest. Echoing the iconic polo shirt, the Polo-Duvet La Martina for Maserati is an innovative pullover with "cashmere insulate" for the winter months and, in the long-sleeve version, is the collection's top ticket at $1,238.