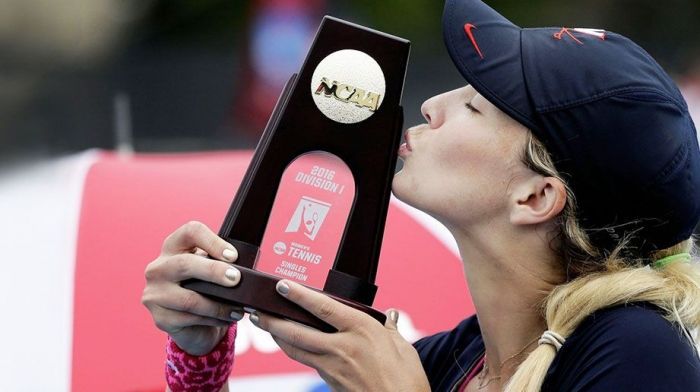 Photo Credit: IMG Academy
In 2014, Time published an article entitled, "What It Costs to Raise a U.S. Open Champion." The article dove into the competitive world of tennis players and broke down the price tags of getting your child into the best academies, private lessons and tournaments. "In the United States, families of elite tennis players easily spend $30,000 a year so their kids can compete on the national level," Tim Donovan, founder of Donovan Tennis Strategies, a college recruiting consulting group told the magazine. "That can start as early as age 11 or 12. At the high end, Donovan says, some parents spend $100,000 a year.
As with most sports, becoming a professional tennis player is no easy feat, even with all the talent in the world. Your young athlete will need to log hours upon hours of court time and competing in tournaments (20 a year), while you spend the dollars required to access the best of the best. On the heels of Wimbledon from June 27-July 10 this year, we took a look at some of the most elite academies around the world. If seeing your child one day be named among the tennis greats is your goal, these are seven of the best schools you'll want to invest in:
Photo Credit: Evert Tennis Academy
Evert Tennis Academy
Intended as a more personal environment, the small-scale Evert Tennis Academy in Boca Raton, Florida is the perfect place for a student wanting more one-on-one time. The institution has been around since 1997 and offers a well-balanced program focusing on nutrition, physical and strength training, and mental coaching. The academy offers both weekly and year-round programs with a ratio of 4:1 and 1:1 developmental. Its faculty includes Director John Evert, Tennis Hall of Famer Chris Evert, & a USPTA-certified staff. Past students Peng Shuai, Jesse Levine and Madison Keys are among its most notable players. Yearly tuition for the Jr. Academy is priced at $30,000-$48,000.
Photo Credit: Good To Great Tennis Academy
Good To Great Tennis Academy
Owned and run by former pro players Magnus Norman, Nicklas Kulti and Mikael Tillstrom, Good to Great Tennis Academy's roster of former students-turned-professional-players speaks for itself. Located in Sweden, a country known for producing powerhouse players, the academy offers six different programs depending on how much time your child has to commit to training. The most all-encompassing option, the full-time Elite Program, is for players with more flexible school schedules. Teens will train nine to 16 times each week over six days. Performance group training will take place three to four times per week and individual fitness programs are customized per student. Coaches follow players to tournaments, and there's an option to add on an individual personal trainer. Past students have included Grigor Dimitrov and Stanislas Wawrinka. Yearly tuition is unlisted.
Photo Credit: IMG Academy
IMG Academy
The roll call of past students who've attended IMG Academy in Florida is like a Who's Who of the tennis world: Andre Agassi, Boris Becker, Jim Courier, Jelena Jankovic, Sabine Lisicki, Kei Nishikori, Monica Seles, Maria Sharapova, Serena Williams and Venus Williams (to name a few). Its successful coaching has earned it a reputation for being the world' best destination for improving your game. With over 30 years of experience, IMG was founded by legendary tennis coach Nick Bollettieri and is led by former Dutch Technical Director Rohan Goetzke. Bollettieri prides himself on being able to spot a champion. It's been said that after Bollettieri learned that Andre Agassi's father couldn't afford the school, he offered him a free ride, claiming he was the most naturally gifted player he'd ever seen. Along with athletic training, IMG is also known for its intense academic curriculum. The academy is home to over 50 coaches as well as 50 hard, clay and indoor courts. Yearly tuition is $73,900 for middle schoolers and $75,900 for high school students.
Photo Credit: Mouratoglou Tennis Academy
Mouratoglou Tennis Academy
Olympic Gold Serena Williams was a former pupil of Mouratoglou Tennis Academy which was previously situated near Paris, but now sits in the south of France. Founded by Patrick Mouratoglou in 1996, his reputation for coaching is a major draw for budding tennis stars. Mouratoglou has had a hand in the success of Jeremy Chardy, Laura Robson, Marcos Baghdatis, Anastasia Pavlyuchenkova, Grigor Dimitrov and Aravane Rezai. His most famous pupil of course is Williams who, after losing in the first round of the French Open in 2012, sought his expertise. Three Grand Slams and Olympic gold later, his coaching definitely paid off. The academy underwent renovations last year and now boasts a 32,291-square-foot accommodation center, an indoor/outdoor multisport and gym training center, eight indoor courts, 34 clay and green courts, Play Sight video equipment set up on six courts, an athletics track, outdoor pool and center court for shows and tournaments. Yearly tuition including a single room, academics, custom training programs, private lessons and other personal amenities is around USD $70,000.
Photo Credit: Spartak Tennis Club
Spartak Tennis Club
If your child is serious about going pro, Spartak Tennis Club in Moscow is worth the overseas venture. Built in 1971, the legendary club's 18 outdoor courts are only available four months out of the year because of Russia's weather. The rest of the year, players practice on two indoor courts. Because of its limited enclosed courts and rigorous training methods, competition for a spot at the club is high. If you do make it in, expect to eat, sleep and dream tennis all day, every day. Most kids start young here and specialize early, participating in demanding training schedules that cater to growing working athletes. Among its notable pupils are Grand Slam winners Elena Dementieva, Anna Kournikova, Yevgeny Kafelnikov, Anastasia Myskina and Marat Safin. Yearly tuition is unlisted.
Photo Credit: Sanchez-Casal Tennis Academy
Sanchez-Casal Tennis Academy
Originally only in Barcelona, the Sanchez-Casal Tennis Academy now includes a Florida location. The dual campuses can be combined for an international program that allows students to travel back and forth between facilities. Founded by Emilio Sanchez Vicario and Sergio Casal, the pair pioneered many training techniques such as Spanish drills in which players are fed ball after ball from proximity. With the intercontinental study program, players have access to a wider tournament circuit, opportunities to improve language skills and the benefit of training in the best weather conditions at all times. Past students have included Wimbledon champion Andy Murray; French Open champions Svetlana Kuznetsova and Ana Ivanovic; and tennis stars Daniela Hantuchova, Juan Monaco, Feliciano Lopez and Janko Tipsarevic. Yearly tuition is $52,000.
Photo Credit: Saviano HP Tennis Academy
Saviano High Performance Tennis Academy
Nick Saviano has a knack for producing elite tennis players. Boasting over 50 ATP and WTA players, Grand Slam champions, and number one players, the internationally-renowned coach has been a household name for the past 31 years. Saviano High Performance Tennis Academy located in Florida follows an exhaustive program following the Saviano method which is taught exclusively at his school. The full-time program consists of four hours of tennis and one hour of physical training per day with the option to add on private lessons. Featuring hand-selected instructors at all levels, the facility's junior level students have won just about every title including the USTA National Junior Championships, Junior Wimbledon, the US Open and the French Open. Among its former and most successful students are Sloane Stephens, Eugenie Bouchard and Mallory Burdette. Yearly tuition is $28,500.