Cynthia Dial
Prior to landing when circling above the Okanagan Valley, the birds-eye view is simply a peek of this portion of the province famous for its abundant agriculture, plentiful vineyards and acres of golf—all complemented by lakes, beaches, Aboriginal culture and an average of 2,000 hours of annual sunshine.
Located approximately 240 miles from Vancouver and 360 miles from Calgary, arrival into Kelowna International Airport is simple. Welcoming and easy to negotiate, it's a 180-degree departure from most airfields—unexpected for one of Canada's busiest hubs with more than 1.6 million passengers a year.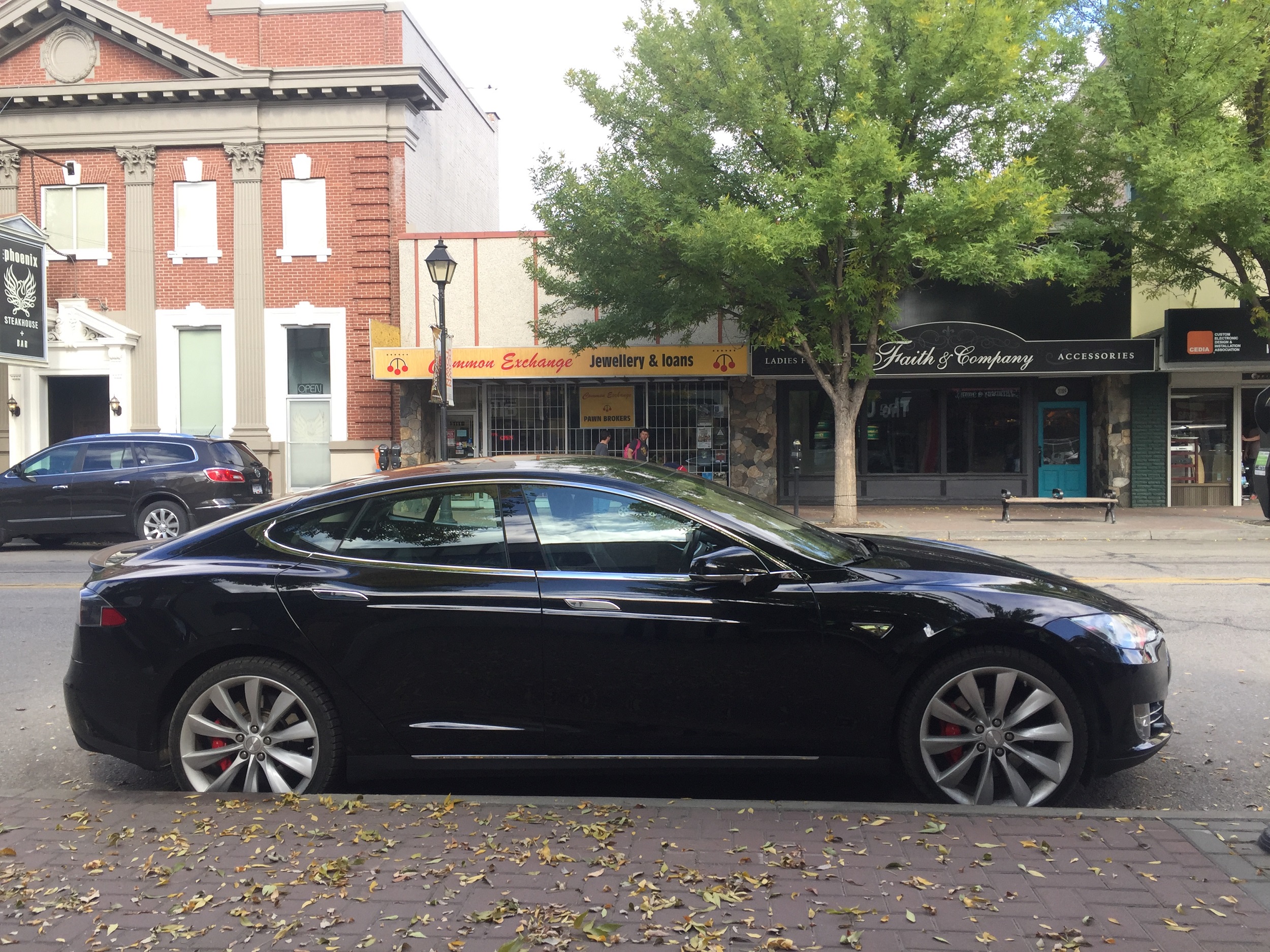 Cynthia Dial
When the goal is to visit three destinations (Kelowna, Vernon and Penticton) in four days, what better way to quickly navigate this corridor than from the copious confines of a Tesla Model S? Called the safest, fastest car on the road (with an acceleration capability from zero to 60 mph in as low as 2.5 seconds), airport pickup from Power Trips—a local company specializing in electric, luxury vehicle rentals and providing the driver with a list of charging stations along the route, eliminating "range anxiety"—is effortless.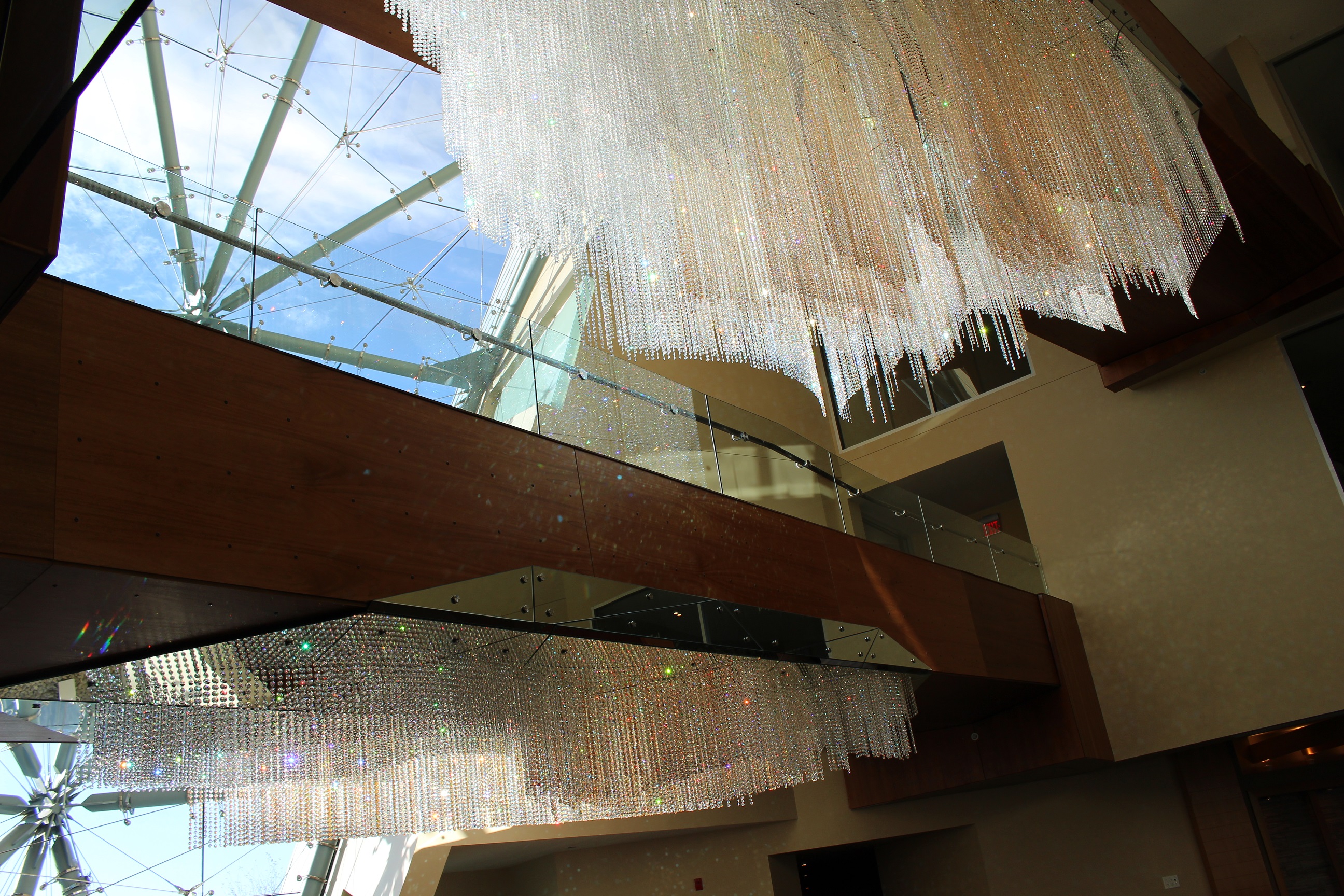 Cynthia Dial
On and off Route 97 throughout the visit, the first stop is an exclusive one. Located in Vernon, Sparkling Hill Resort represents the continent's first getaway to invest $10 million in the incorporation of 3.5 million Swarovski crystals into its design elements (even the spa's restroom signage). From the cascading crystal chandelier hanging high above the hotel's entrance to its behind-the-front desk 60,000-crystal art piece, the initial welcome scintillates. As the vision of Mr. Gernot Langes-Swarovski, patriarch of the Swarovski crystal family, Sparkling Hill embodies his dual desire to bring European-style wellness to Canada and situate his top-of-the-line facility within the lavish landscape of the Okanagan—specifically atop Mt. Royce on a granite bluff overlooking Lake Okanagan.
Making its debut in 2010, Sparkling Hill has since been recognized as one of America's Top 100 Spas, Okanagan's Best Romantic Weekend Getaway and the Number One Destination Spa Experience in Western Canada, all in no small part due to its rooms, its spa and its restaurant.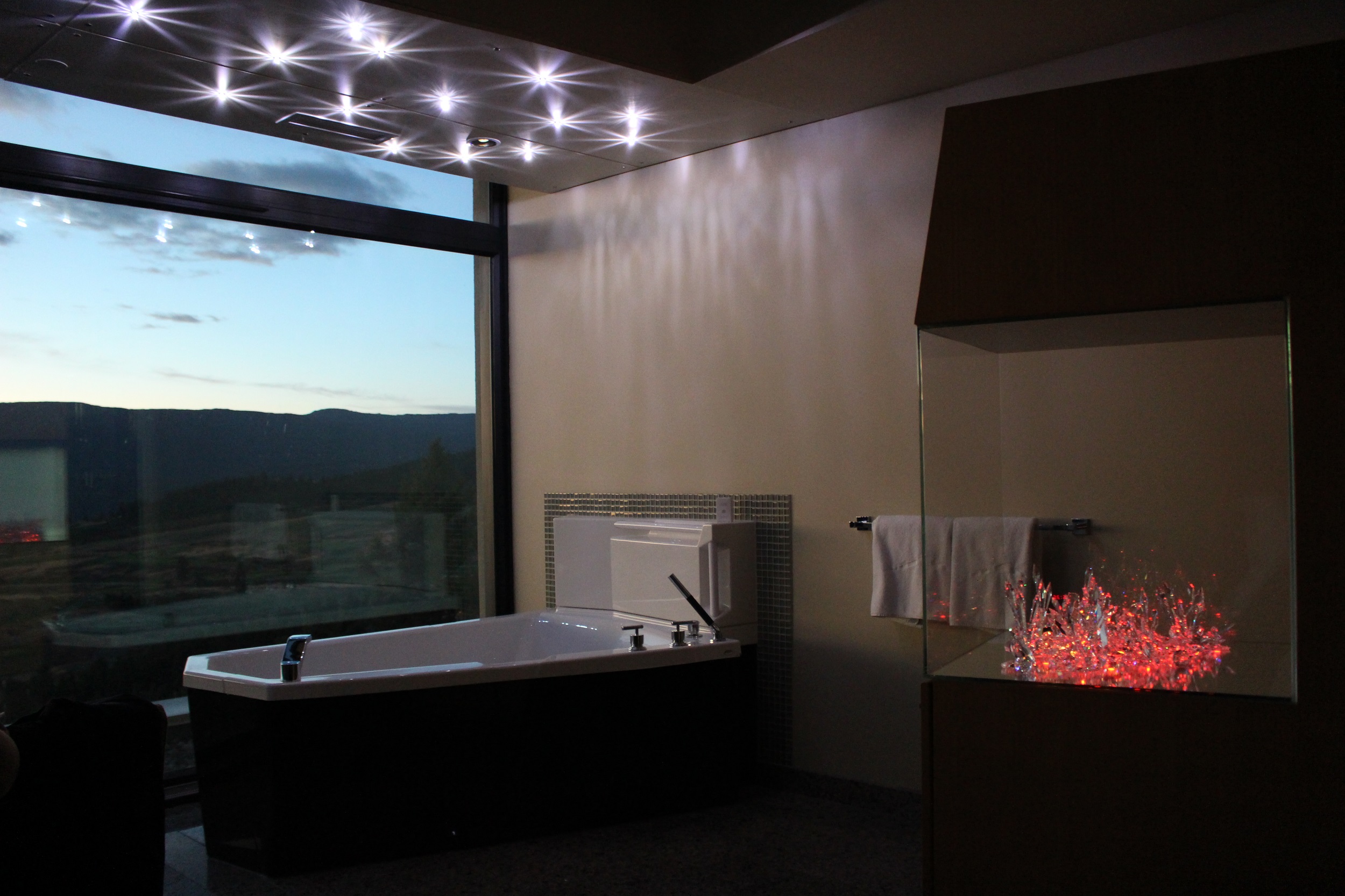 Cynthia Dial
Among its one-of-a-kind room amenities are a floor-to-ceiling sliding window wall, crystal faux-fireplace, crystal-shaped two-person soaker tub and the illuminated "starry sky" ceiling, which at night mirrors the pattern of stars viewed through the window.
At 40,000 square feet, KurSpa is Canada's largest luxury wellness escape, offering such niceties as seven uniquely themed steam rooms and saunas, four nature-themed experience showers, an outdoor infinity pool, an indoor saltwater pool, a signature Cryo Cold Chamber treatment (North America's only) and an on-staff psychologist, kinesiologist and naturopath.
Described as a "delicious blend of European culinary practices and West Coast plus local seasonal fare," the resort's PeakFine restaurant is guided by Chef Romaine Newell, a Jamaican national known for his global palate.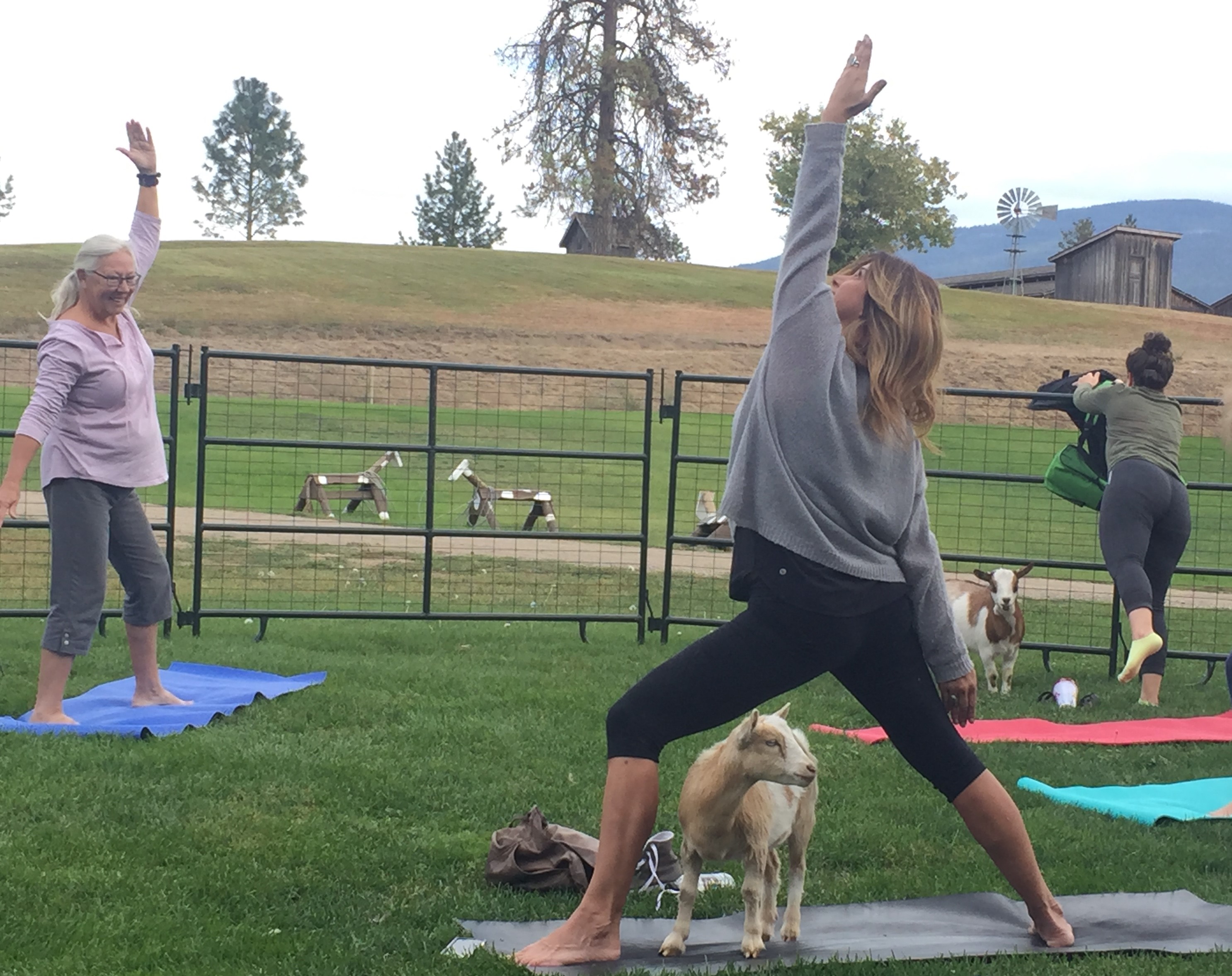 Cynthia Dial
With more than 550 businesses, 52 restaurants and 150 retailers in downtown Vernon, it's said that "everything comes together at the intersection of Highway 97 and 30th Avenue." One such eatery is Midtown Bistro. Projecting a hometown feel with homestyle comfort dishes, owner Kelly Lacroix serves such fare as blue cheese and bacon jam sliders.
Miles from the town square is the Historic O'Keefe Ranch. Celebrating 150 years of cowboy heritage and Victorian tradition, among its offerings are horseback tours, stagecoach rides, a renowned cowboy dinner show and yoga with the goats—an outdoor yoga class among the friendly, curious animals.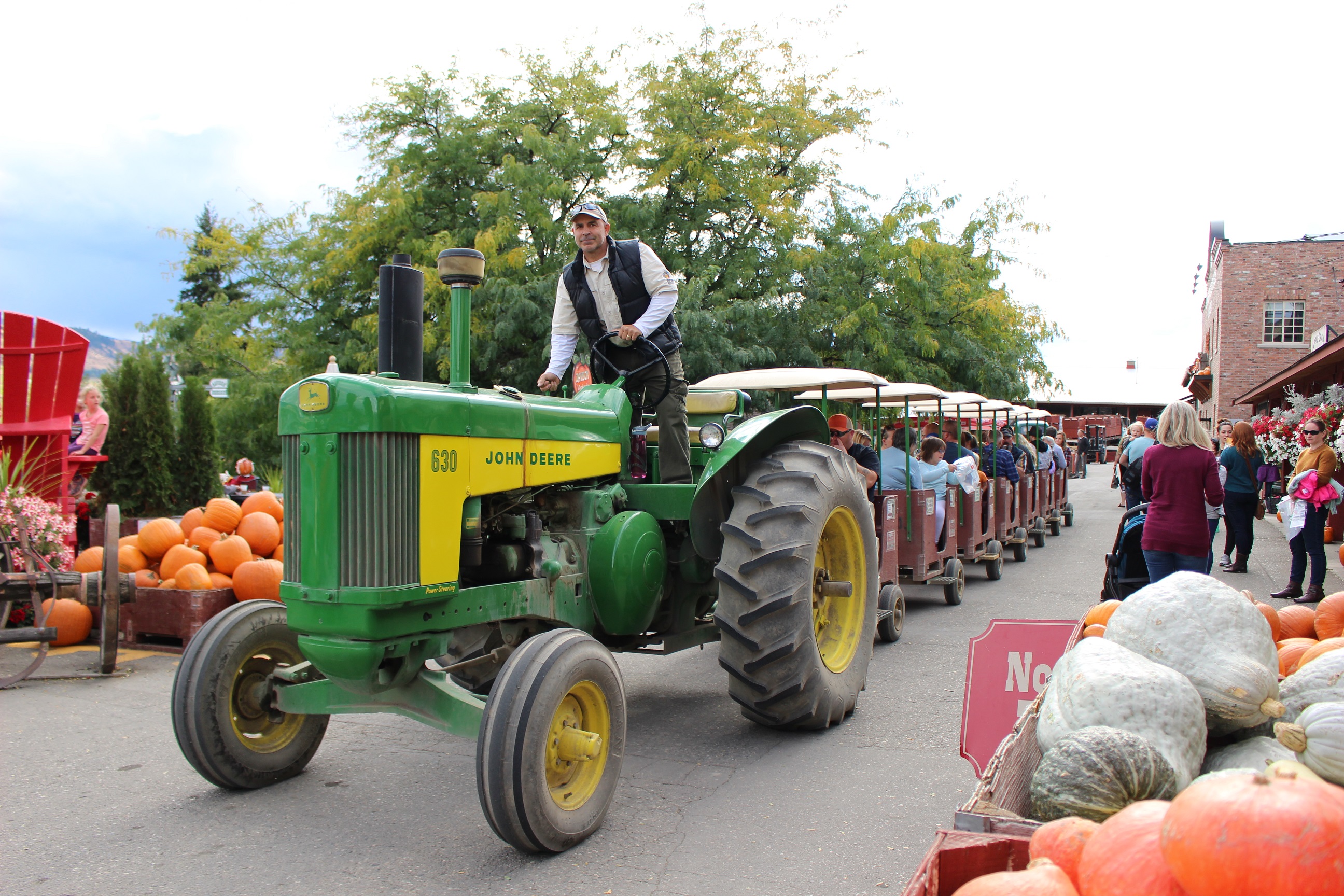 Cynthia Dial
Showcasing the region's popular produce—apples, peaches, plums, tomatoes, corn, pumpkins and more—is Davison Orchards Country Village, an 84-year-old family-owned and operated farm business where Nana still teaches piemaking. Known for its 25 varieties of apples, freshly pressed juices and farm-baked pies (sold only at Davison Orchards), its seasonal orchard tours are from a tractor-drawn train.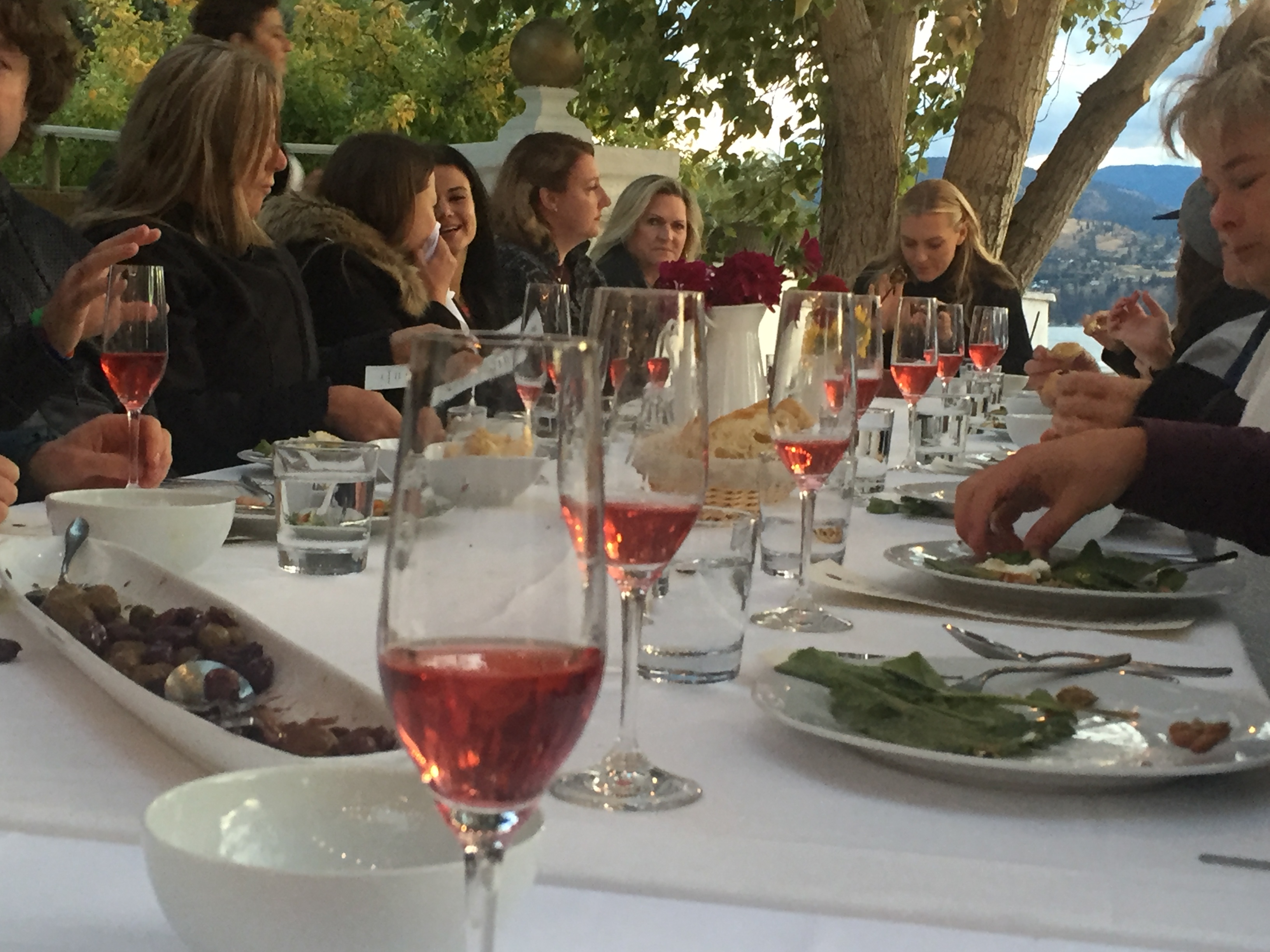 Cynthia Dial
Traveling in the Tesla it's just more than an hour along Highway 97 to Penticton and its plentiful perks, from biking the Kettle Valley Railway to wine tasting to long-table dining. Perched atop a cliff overlooking vineyards, mountains and Skaha Lake, an alfresco evening of great wine, food and conversation at a communal table for 30 within God's Mountain Estate is akin to an Under the Tuscan Sun experience.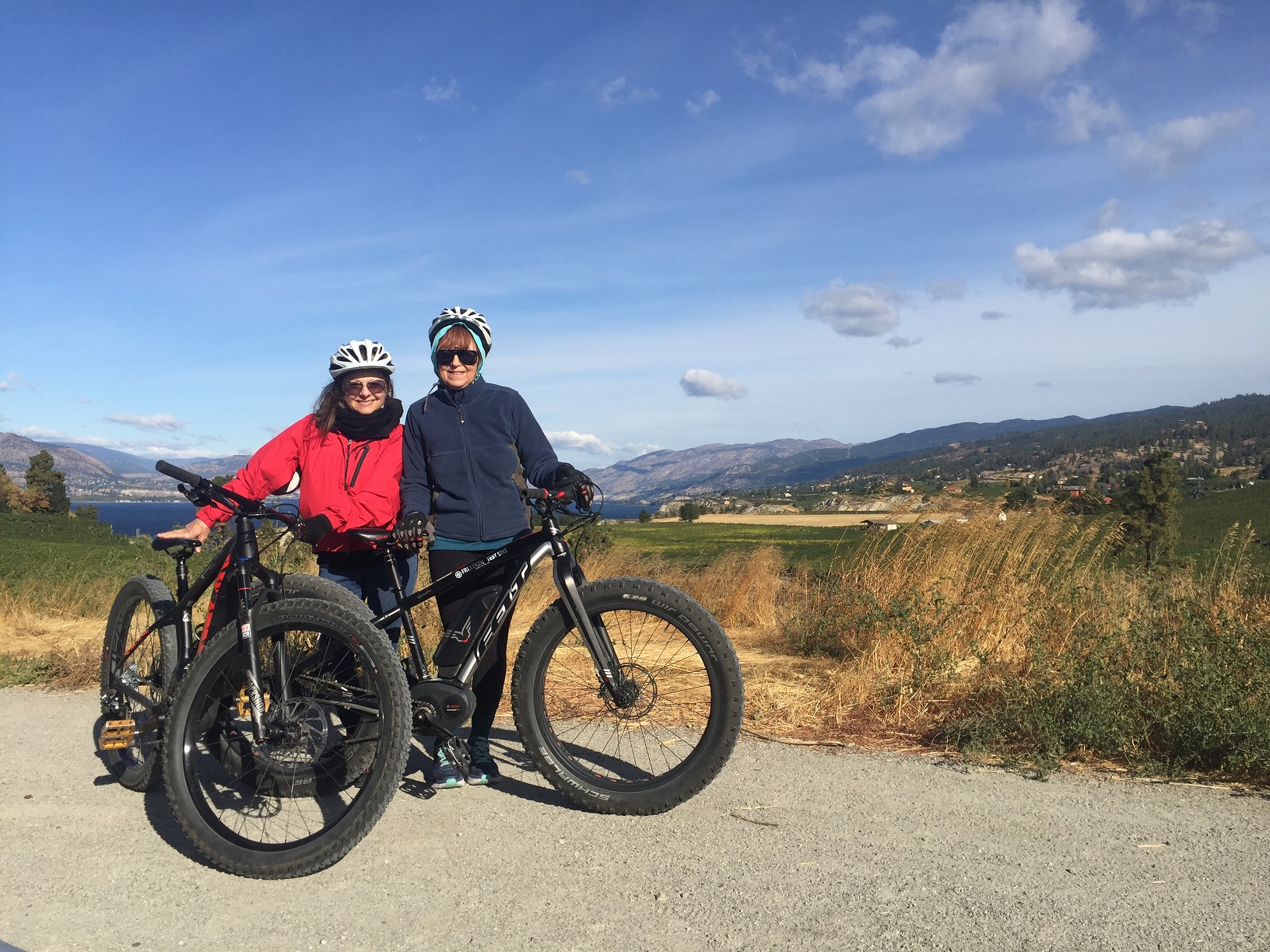 Cynthia Dial
Perfect for pedaling, the Kettle Valley Railway—an abandoned railway bed originally built in the early 1900s—its Myra Canyon portion is a 12-mile round trip trek across 18 wooden trestles and through two tunnels with grades never exceeding 2.2 percent. Continuing the "electric" theme, cycling atop the east bluffs high above Okanagan Lake by electric bike (retailing from $2,800 to $10,000 and available for rental at the Freedom Bike Shop), wine tasting is an easy bike trek away. One such visit is to Hillside Winery, a charming and award-winning stop (note the many medal-adorned bottles in the tasting room), now helmed by winemaker Cathy Malone.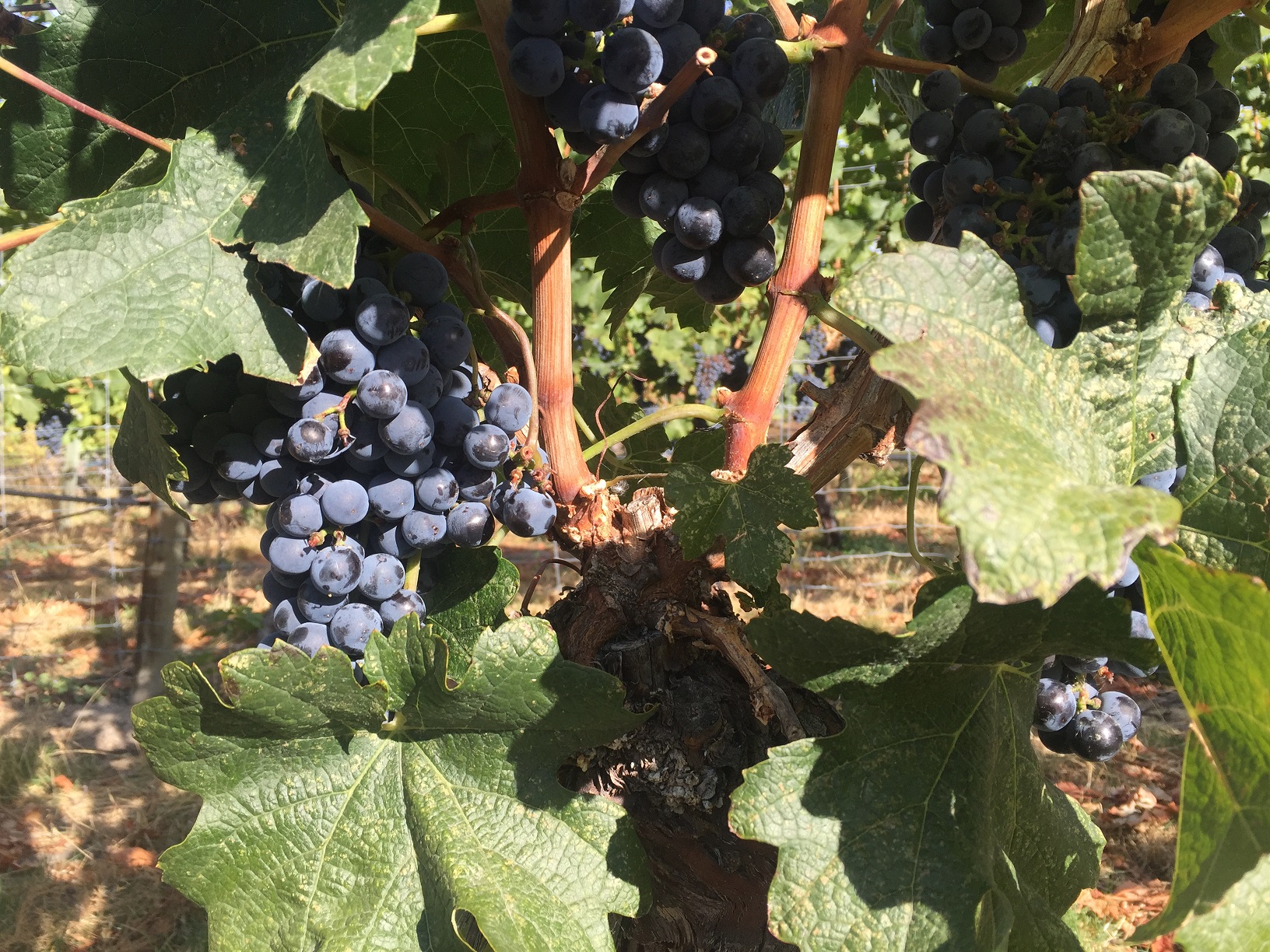 Cynthia Dial
Once called "Napa North," though now simply referred to as "The Okanagan," it is home to more than 120 wineries and vineyards. Found along some of the region's variety of wine trails, here are only a few Okanagan opportunities.
Called the region's "finest authentic rural experience," Lake Country is home to The Chase Winery (Scenic Sip Wine Trail). A low production operation of exciting wines, Chase offers an overlooking-the-lake view and tasting bar in the round.
Known for October's 10-day Okanagan Fall Wine Festival (noted as one of North America's top 10 festivals) is Kelowna. Found here is Summerhill Pyramid Winery (Lakeshore Wine Route), Canada's largest certified organic winery and the country's foremost producer of sparkling wine. Reflective of its name, it is renowned for its four-story pyramid (said to be second only to the Great Pyramid of Egypt for alignment and precision)—the place where its wines are aged.
Nearby is Tantalus Vineyards (Lakeshore Wine Route), BC's first LEED certified wine-making facility. Recognized by its clean, sleek, contemporary architecture and guided by a terroir-centered philosophy, Tantalus produces less than 10,000 cases each year.
Cynthia Dial
Greeted by its expansive manicured grounds adorned with sculptures from such masters as Henry Moore and a 12-story bell tower is Mission Hill Family Estate (Westside Wine Trail). Sporting an international reputation, its signature Bordeaux-inspired wine, Oculus, is only one of its highly acclaimed wines. A Greek-style amphitheater seating 1,200 holds summer concerts (think Chris Botti, Michael Bolton and Jewel), and apropos of the setting is the snack—reserve chardonnay paired with white cheddar truffle popcorn.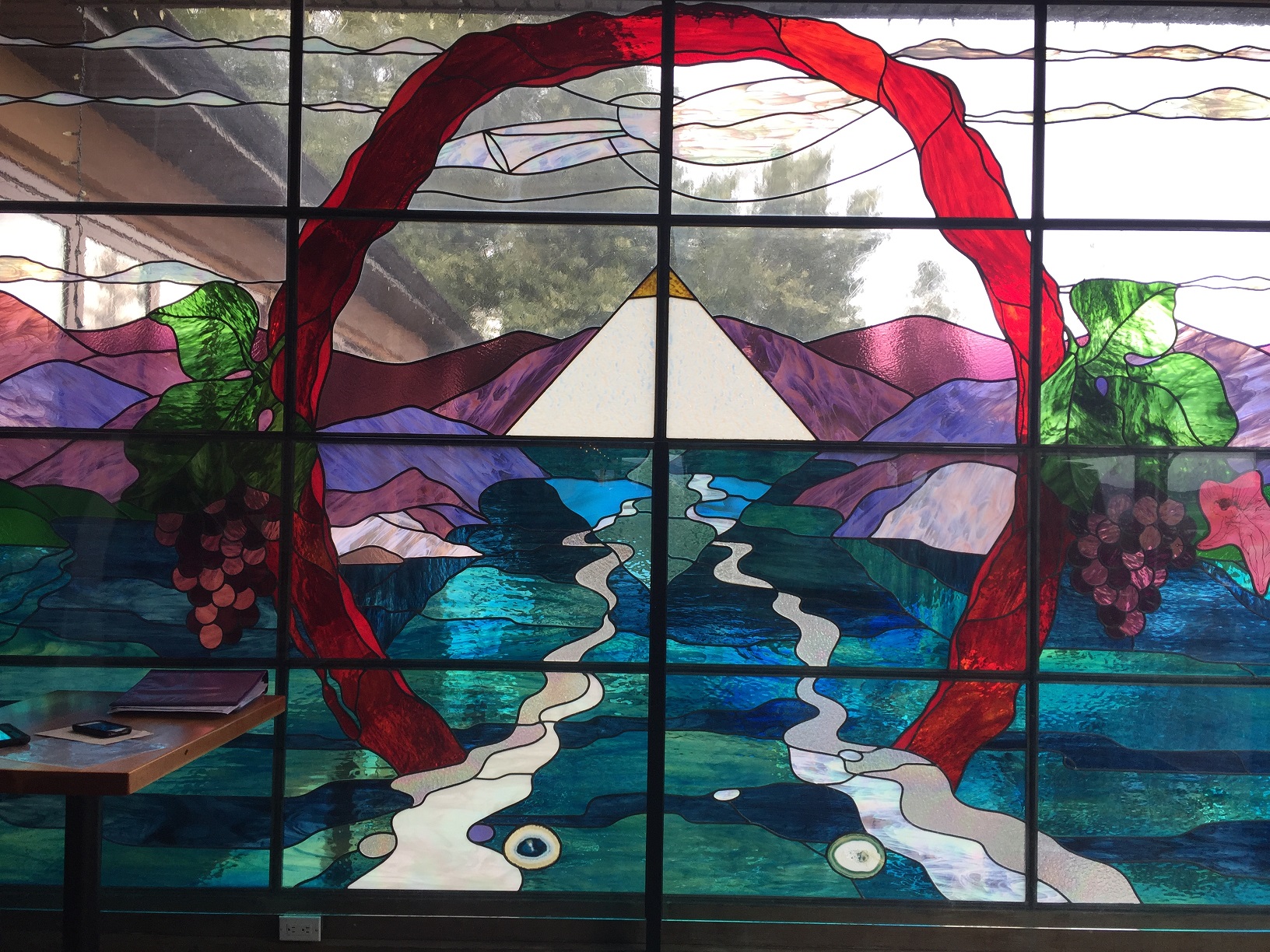 Cynthia Dial
As the largest city on Okanagan Lake, Kelowna is a historic, bustling downtown with countless eateries, more than 30 golf courses within an hour's drive and (like its surroundings) a definitive four seasons. Colder weather is the time of downhill skiing, dog sledding and snowmobiling; and with warmer temps come such activities as sailing, hiking and biking. Temperate months also bring out roadside produce stands and fresh-from-the-land farmer markets. And throughout every season are such festivals and events as February's Canadian Culinary Championships, May's Great Okanagan Beer Festival, August's Kelowna Dragon Boat Festival and December's New York New Years.
In the end, whether the visit is spring, summer, fall or winter, when it's time to turn in Tesla and reflect, perhaps a local brochure says it best: "This is life, the Okanagan Way."