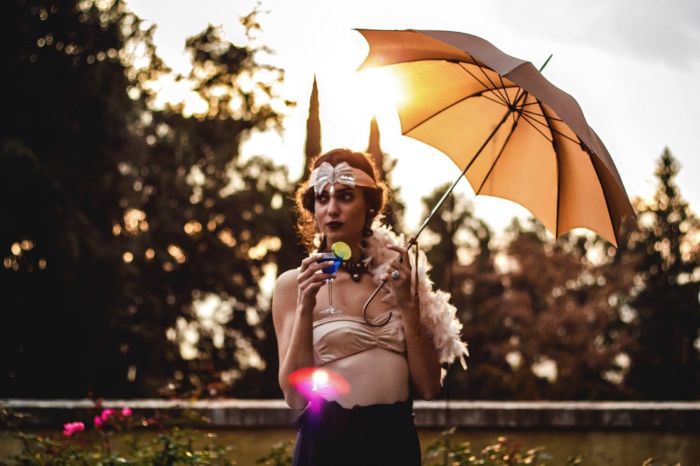 Photos courtesy of Il Salviatino
One could easily argue that Italians are the most artistically gifted people on earth. Italians can take the most mundane and functional thing, like a car, clothes, or a boat, and turn it into something of indescribable beauty. One look at a Lamborghini, Armani suit, Mangusta yacht, or the frescoed walls and marble fountains found in squares of Italy's cities are irrefutable proof. Nowhere is there such man-made beauty as in Italy's artistic and cultural center, Florence. This is the birthplace of the Renaissance period where millions of art thirsty travelers flock each year to see firsthand the works of the masters. Amongst this backdrop is a hotel that has taken the mundane and basic need of rest, shelter and food and brought it to the heights that rival the art collections found throughout this fantastical city. It is Il Salviatino and a testament to the art of living in one of the most beautiful cities in the world.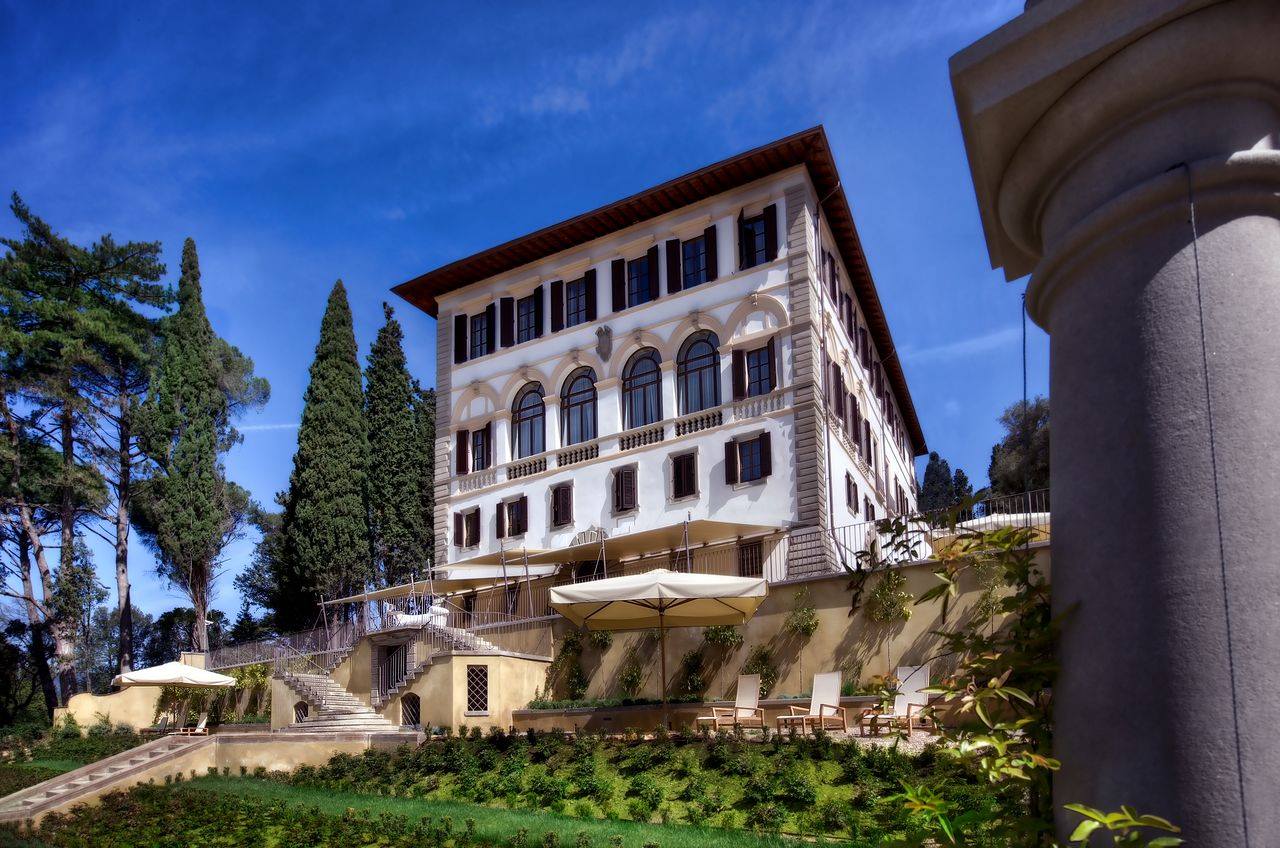 The Tuscan style villa is nothing less than a work of art which has been meticulously renovated and restored from its 14th-century beginnings to become one of the world's top luxury hotels as reported by the purveyors of posh travel such as Conde Nast, Andrew Harpers and Mr. and Mrs. Smith. This a stylish abode where the beau monde relis the ornate grounds, stunning artwork, gourmet dining, and, of course, the stunning views of the Florence skyline.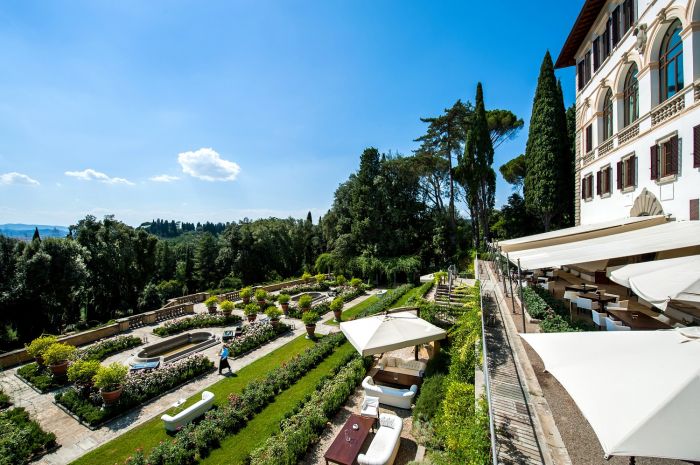 Il Salviatino has a rich history dating back to the fourteenth century. This medieval country house has changed hands over the centuries from aristocrats, to renown authors to a college with each putting their mark on the beautiful estate. Today the hotel has been restored beyond its former glory and upgraded with the latest modern conveniences. It has rich tradition and heritage yet never feels old and dated or like a museum.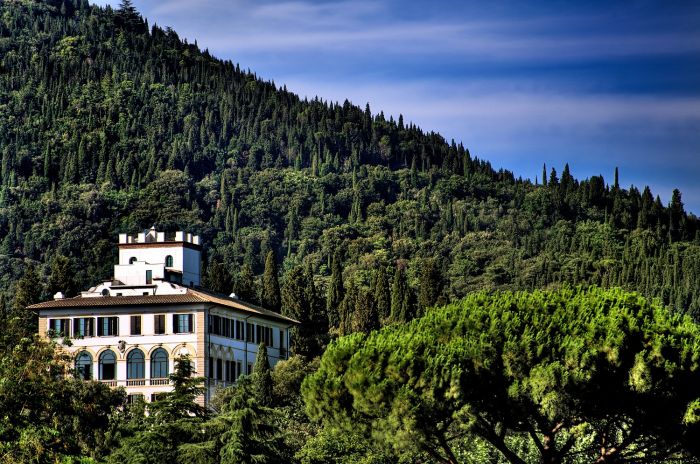 The villa is located amongst the hilly countryside on 12 acres of woodlands, olive trees and manicured gardens. White gravel crunches underfoot as pathways weave under vine-covered trellises, through flower gardens, and finely cropped hedges. The views are stunning, especially from the broad terrace offering panoramic views across the countryside to the skyline of Florence below.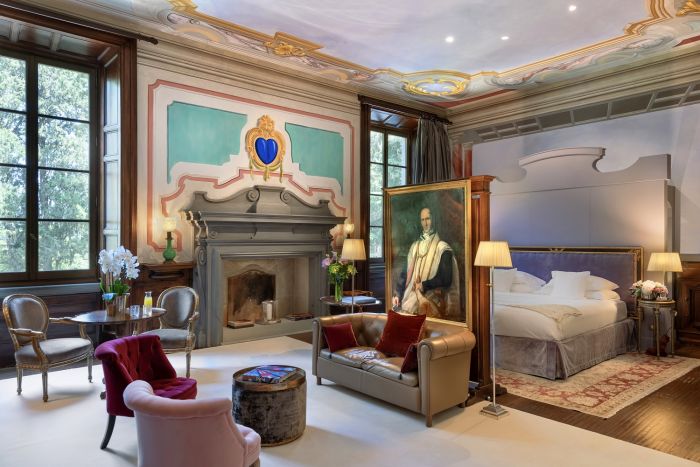 The opulent palazzo houses works of art you'd expect to find in the Louvre or Guggenheim museums. The 19-century frescoes, centuries-old mosaics and museum-worthy objects d'art are found under the vaulted ceilings, impressive stairways, and along wood-paneled corridors.
There are several common areas to explore but none more impressive than the library which could belong in a royal palace. It is adorned with intricate, gilded and vaulted ceilings, wood-paneled walls and filled with curios, artifacts and works of art. It is a place that demands the aficionado to sit and appreciate the space as well as the old world literature and priceless volumes of leather bound and coffee table books.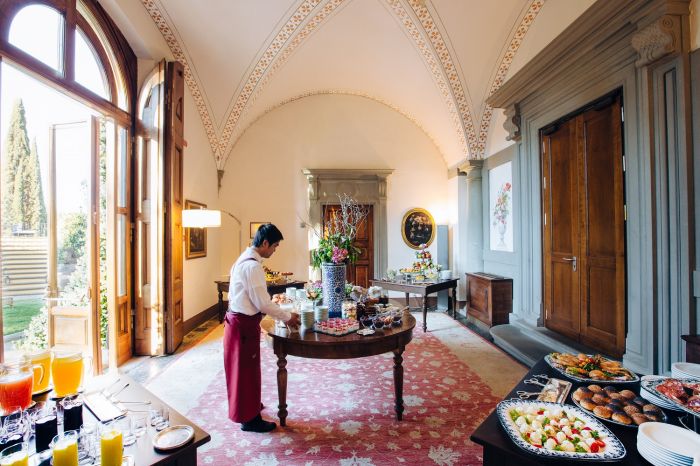 Service is a well-honed art as well where guests truly feel valued by their genuinely warm team who take discreet care of each guest's needs. They don't have a traditional front desk; instead the staff that act as your host providing all that you'll need from concierge to butler service. They know Florence and can arrange dinner at one of the city's top restaurants, a visit to an art exhibit or arrange a day visiting the Tuscan wineries nearby.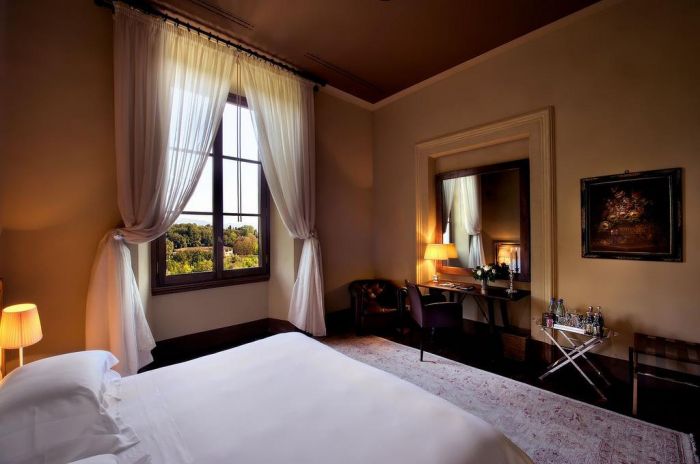 The 44 rooms and suites offer the perfect marriage of the traditional with the modern with handmade authentic Tuscan linen sheets, captivating original wall art, high ceilings, and details such as hand stitched leather furnishings. Others boast marble bathrooms with jacuzzi tubs, restored black-and-white-checkered marble floors, hand-painted murals and frescoed ceilings with terraces that overlook the intricate Italian gardens and the iconic dome of Florence's cathedral. All have the mod cons required by today's travels such as Wi-Fi, plasma screen TVs and the added necessities such as Nespresso coffee makers and bespoke bathroom amenities.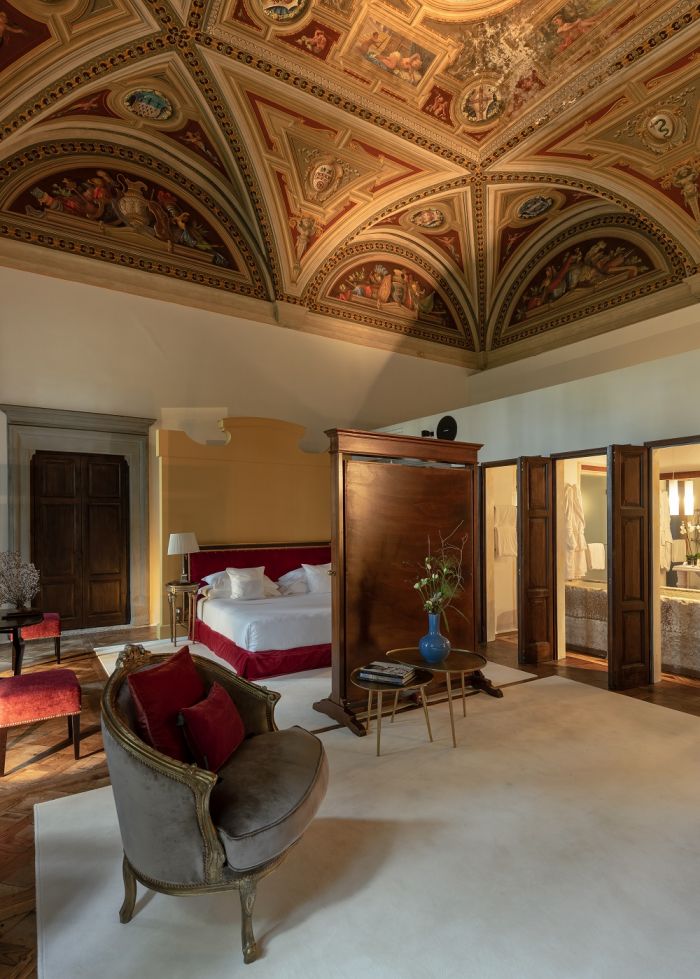 To fully indulge in the experience of aristocracy there are several suites unlike any other. The Affresco Suite is truly a masterpiece with museum-like décor ideal for all who love art and history. The centerpiece of this over abundant sized suite is the 1886 fresco by Bruschi and the intricate vaulted ceiling reminiscent of what you'd find in one of Florence's cathedrals.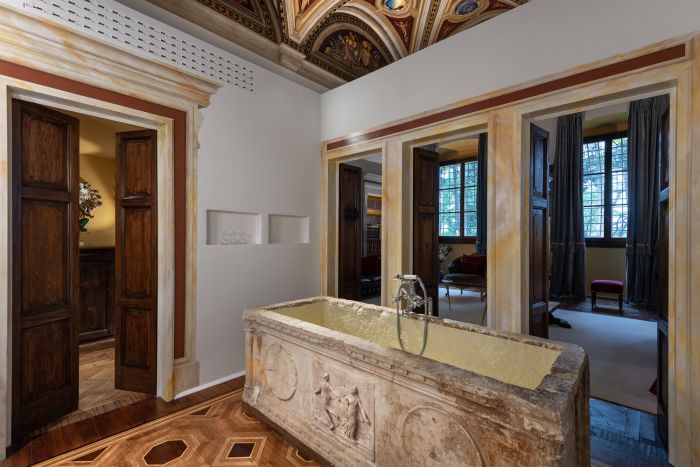 Riveting guests further is the "Il Fiammingo" which is two large oil paintings by Gabriel van der Leeuw, the immense fireplace and vintage chesterfield sofas as well as a library of coffee table and rare books. The bathroom includes an oddity as well of an ancient bathtub shaped like a 12th-century Venetian stone sarcophagus.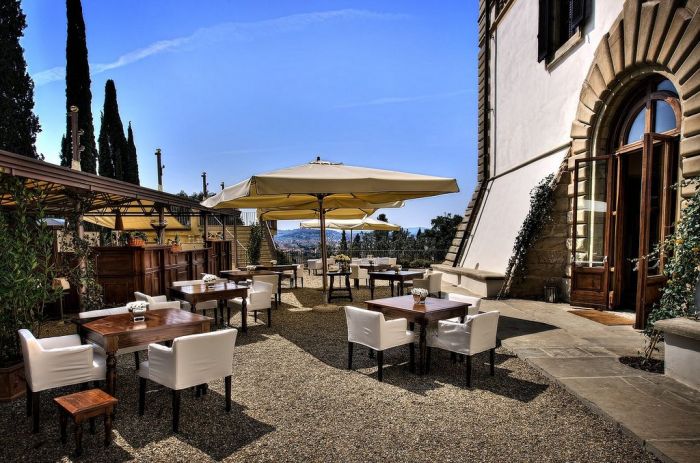 Dinner is served al fresco under a canopy of stars with the ambiance set for love with flickering candles on white cloth covered tables with stunning views of the twinkling lights of the Florence skyline. Needless to say, Italy and Florence in particular, is a destination known for their exquisite culinary tradition. The hotel's restaurant, La Cucina, provides an epicurean masterwork based on reimagined Tuscan dishes created from locally sourced organic produce and meat.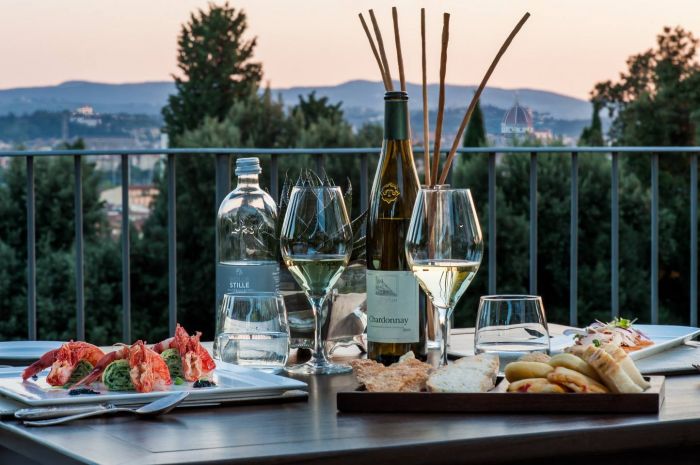 This is simple food, full of flavor that is presented with finesse. Expect an evening of dining on memorable dishes such as s Risotto with razor clams, celery broth and the Cajun-spiced Lamb with Jerusalem artichokes with many of the ingredients sourced from the hotel's organic kitchen garden located a few steps away. The service is authentically Italian as well with warm, friendly and professional staff who are well versed on each dish served or the perfect wine to pair from their abundant cellar.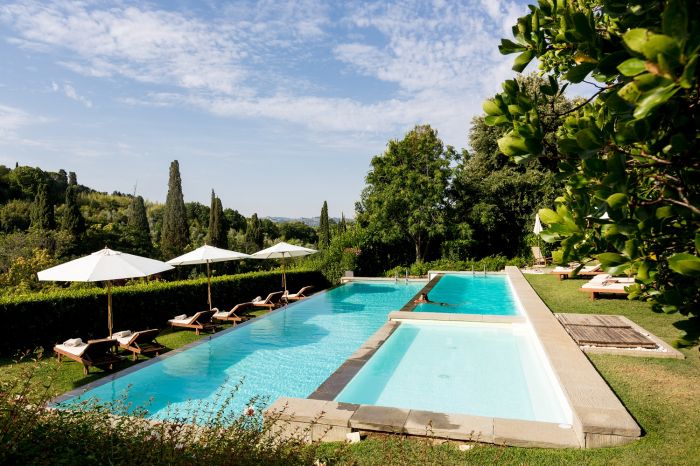 Around the property guests will enjoy exploring the manicured Italian gardens, walking through the property's olive trees, Il Salviatino's three-level heated infinity edge pool is a stunning scene worthy of a spread in Architectural Digest with guests in the latest designer swim suits lazing about on sun loungers under canvas umbrellas as staff wait attentively with an Aperol spritz at the ready. Nearby the pool is the hotel's renown center for pampering and rejuvenation in their spa equipped with five treatment cabins and private hammam, Jacuzzi baths and a fitness center. Services include traditional eastern practices by skilled Thai therapists.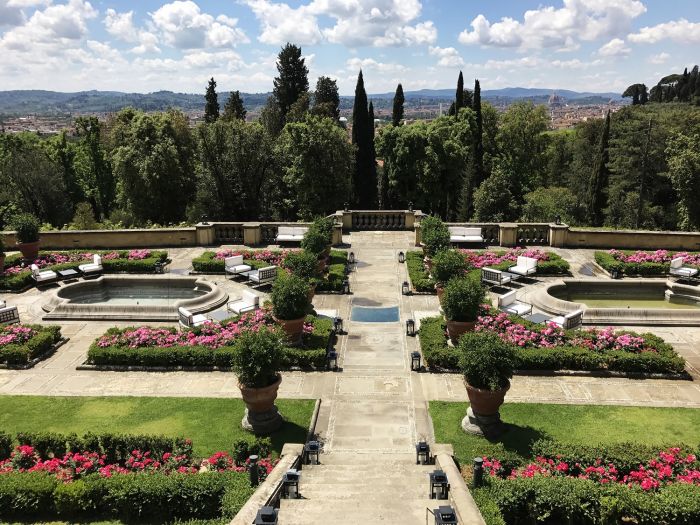 Exploring Florence could not be made any more convenient for guests. The hotel has a scheduled shuttle that takes guests to the magical city which is only ten minutes away. Guests will love strolling through the narrow cobblestoned streets, marveling at the endless art galleries, museums or just taking in the architecture of the centuries that have created this wonderful city. Must see sites include Michaelangelo's masterpiece David which is housed amongst other invaluable treasures in the Academia Gallery. Others on the must-see-check-list visiting the Fountain of Neptune, Cathedral Square, Ponte Veccio or the city's iconic landmark the Duomo.
Art, by definition, is a luxury. It is extra and unnecessary, yet it has the ability to speak to our soul, move us and it makes us human. Il Salviatino is a work of art just as any magnificent painting or sculptures found in the city. It is the art of living that only Italians can provide and is found in one of the most beguiling cities of the world. For your next visit to Italy, make Il Salviatino the centerpiece of your unforgettable Florence and Tuscany experience.