Art Deco dream, courtesy of Excelsior Hotel
Before my visit last month, I had never heard a peep about Thessaloniki, so I was shocked to find out that not only is it the second-largest city in Greece, with over 1 million inhabitants in its metropolitan area, but it's also the capital of Greek Macedonia! However, when I learned that many Greeks consider Thessaloniki to be their culinary capital, I was sold.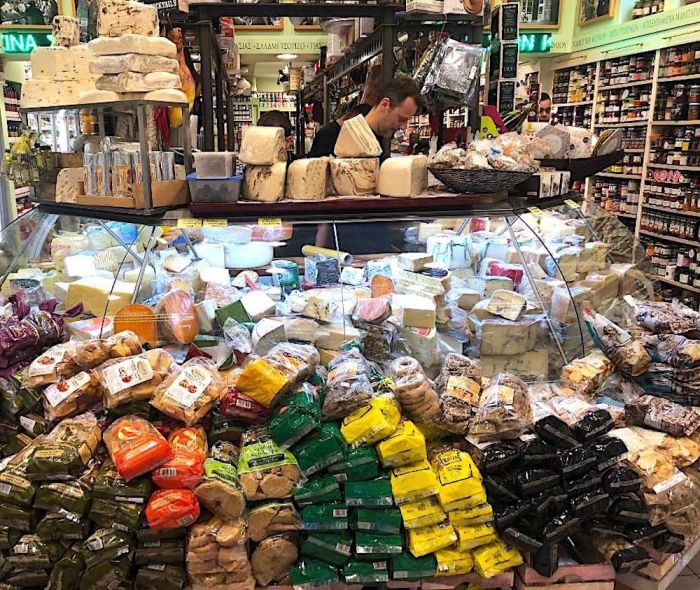 Incredible local deli from 1924, JRN
This hidden-in-plain-sight treasure trove gets extra-credit points for its gorgeous beaches, lively college-town energy, and cosmopolitan character. Although the majority of the city center was destroyed in the Great Fire of 1917, the rebuilt 20th-century city has a well-planned, Europeanized design.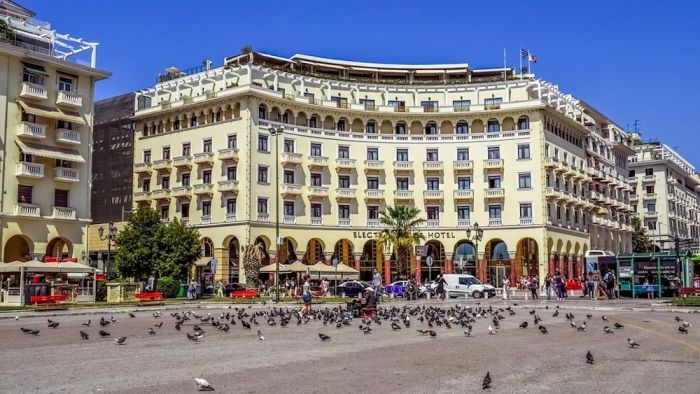 Aristotelous Square
Often referred to as an open-air museum, at least ten of the city's UNESCO historical sites are within walking distance, where you'll find remains of the city's turbulent history from the last 23 centuries when it was occupied by the Romans, Byzantines, and the Ottomans.
Where to Stay:
The five-star Excelsior Hotel, part of the luxury Tor Hotel Group and Thessaloniki's only member of Small Luxury Hotels of the World, is perched right in the city's sweet spot, next to bustling Aristotelous Square and just a five-minute walk to the waterfront.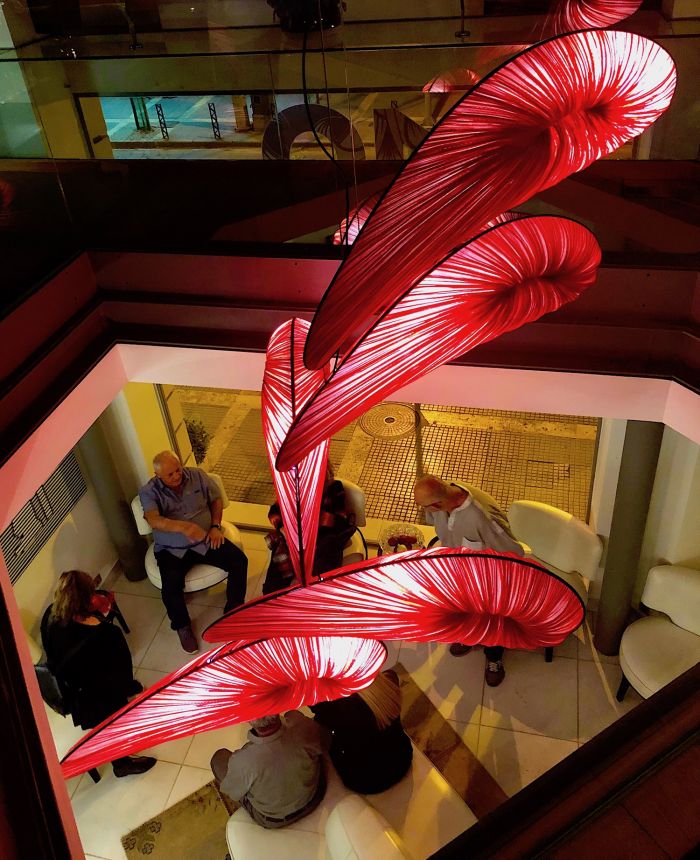 Love the lighting here, JRN
Dating back to 1924, the Excelsior is a beautifully restored Art-Deco building where historic French balconies, elegant marble staircases and mile-high ceilings combine nicely with contemporary design elements, gallery-worthy artwork and a scrumptious breakfast you'll be happy to wake-up to.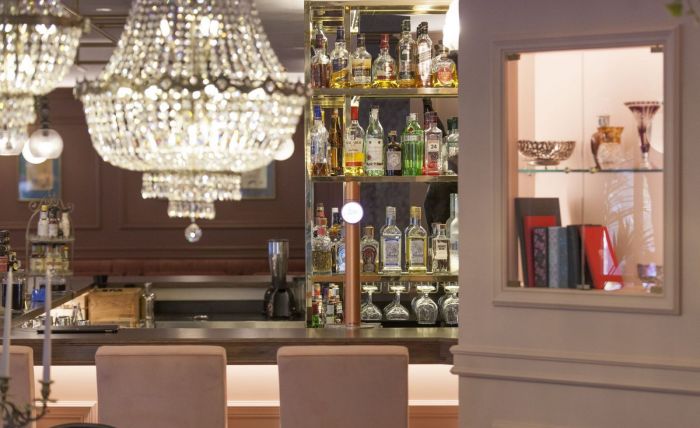 Charlie D. Brasseie
Head downstairs for a gourmet meal at the brand new, pretty-in-pink, Charlie D. Brasserie. For a one-two knockout punch, restaurateur Apostolos Trastelis has joined forces with two-Michelin star Chef Arnaud Bignon, to create a dazzling, French brasserie. Bignon plays with his food, using only the freshest ingredients in unique combinations with modern presentations.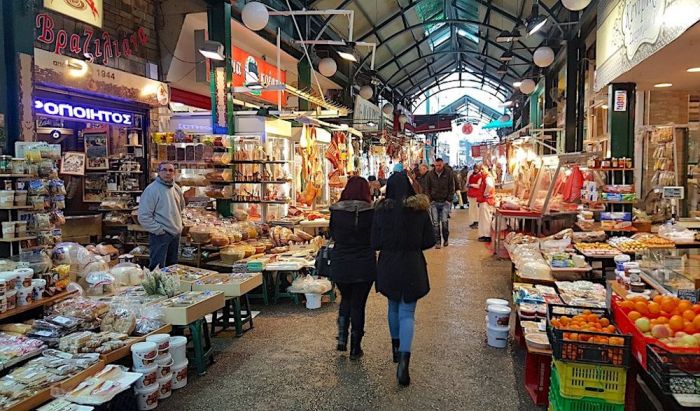 Modiano Market
Where to Eat:
If you'd like to sample the best-curated bites of Thessaloniki I can't rave enough about our almost 5-hour culinary walking tour conducted by Anastasia Gaitaman (anastasia2570@yahoo.com) a true gourmand and a fascinating food historian. I was utterly immersed in sipping, nibbling and listening to Anastasia while she shared Greece's local culinary traditions, rich food history, and introduced us to her favorite vendors.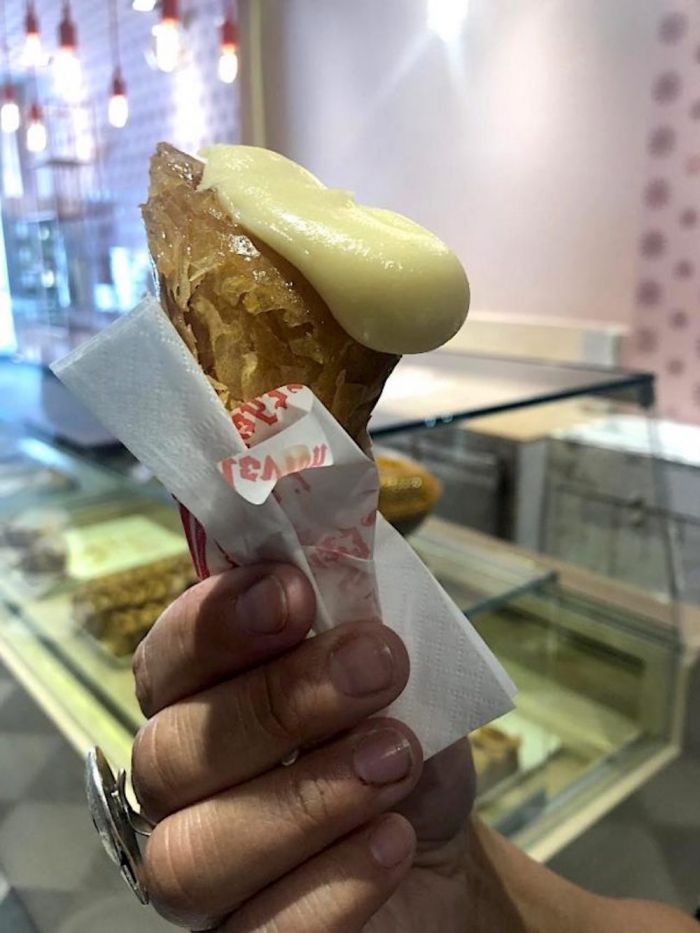 Elenidis�s tirgono, JRN
Highlights included meeting the woman hawking "the #1 best" Koulouri, their beloved sesame seed coated "Greek bagel"; popping into specialty shops featuring the finest olives, yogurt spreads, or Easter cakes; and licking up the remaining crumbs from Elenidis's tirgono- a crispy fillo pocket that encases a mound of luscious sweet cream filling. There are endless photo ops at the authentic Modiano market, a warren of stalls filled with a riot of fresh produce, flowers, honey, spices, salted fish, olive oil, shouting fishmongers, and butchers proudly displaying their perfectly skinned lambs, as well as dark passageways lined with humble tavernas offering perennial favorites like traditional moussaka, homey stews and seafood soups.
There is no shortage of fabulous, creative restaurants in Thessaloniki, with a new one popping up almost daily because the locals love good food. Eclectic eateries run the gamut from traditional Ouzeri's where tasty mezze are washed down with copious amounts of ouzo Greek pizzerias sporting top model-thin crusts laden with feta and veggies, and a Soho-chic meat-packing district filled with pricey steakhouses.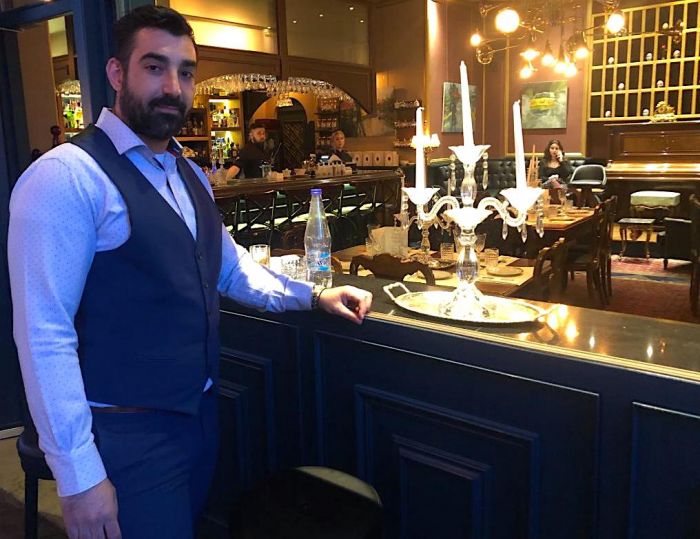 Kazika De Malta�s handsome manager said to tell you that �he�s single!�, JRN
Kazika De Malta Restaurant is located in the colorful Ladadika (ladi means oil) district, an old Jewish port neighborhood that once accommodated olive oil traders and brothels. As a matter of fact, Kazika De Malta, an elegant, antique-filled gastrobar featuring a vast selection of hand-crafted cocktails, premium wines, top-notch European cuisine, live music (an accomplished singer and piano player entertained us into the wee hours) and impeccable service, was once a popular "house of ill-repute"! Although I rarely order red meat, the steak here was sheer perfection, particularly when sided by a toothsome risotto piled (and I do mean liberally PILED) with shaved truffles. Be sure and order a cup of tea and dessert which arrives on an antique silver platter with a crystal sugar bowl and bone-china cups.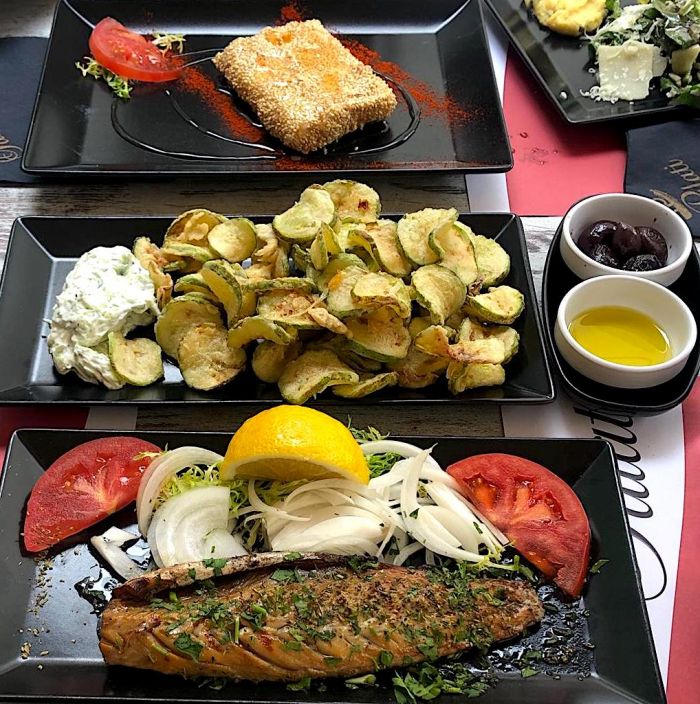 A sample of Palati starters, JRN
Palati Restaurant, located in a picturesque fountain square, is also in the Ladadika nabe. It's been around almost 30 years but is still bigger than life. The traditional food has big, bold flavors, the servings are huge, big sounds come from the live bouzouki band, and upstairs there's a gigantic dining room that would make the perfect spot for a Big, Fat Greek Wedding party. Big kudos for all their starters, partic the saganaki (grilled cheese), the betcha-can't-eat-just-one zucchini chips with tzatziki and flash- fried sardines.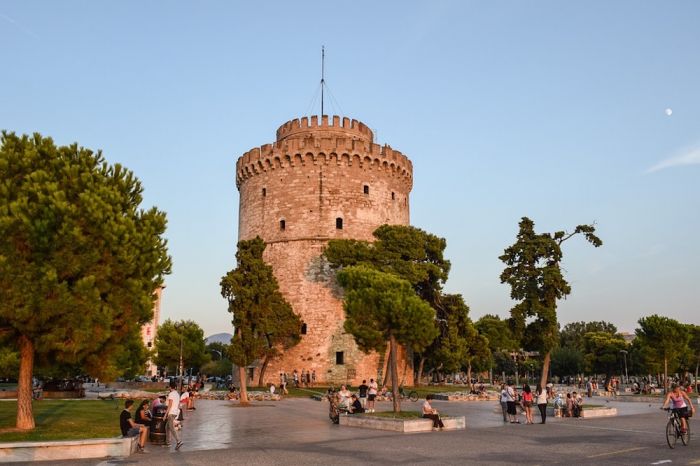 White tower
What to See:
White Tower
I think the best antidote for jetlag is by taking a long walk, which also is the best way to see the sights, so lace-up your comfiest sneakers and start your explorations with a stroll down the new, 4 km Thessaloniki waterfront promenade. Aim towards the iconic White Tower, renamed after a Jewish prisoner whitewashed the tower in exchange for his liberty in 1890. Its previous moniker was the "Tower of Blood" since it was used as a death row prison with walls dyed red by the blood of the condemned prisoners.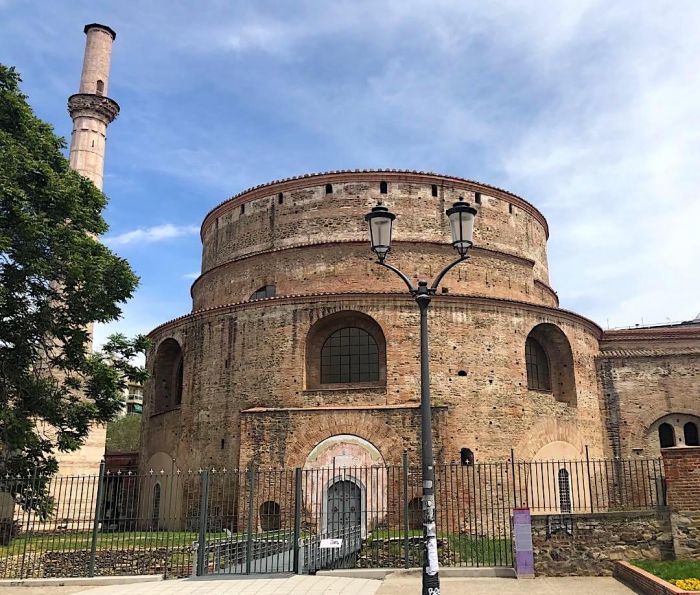 The Rotunda, JRN
The Rotonda and the Arch of Galerius (Kamara)
Nearby lies the Rotonda, which served as a place of worship, and the Arc of Galerius,. These are part of a complex built in the early 4th century AD by Roman Emperor Galerius, to celebrate his victory against the Persians. The Arch, one of the oldest Paleo-Christian edifices in the world, was once part of an extensive roofed arcade.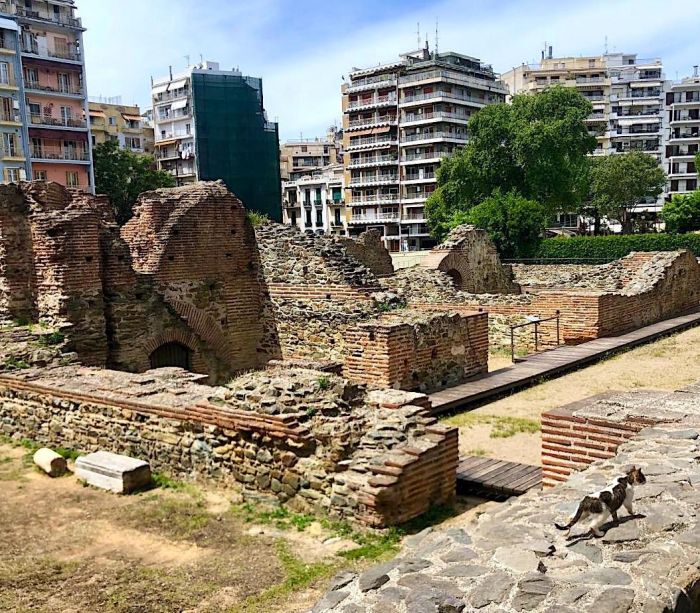 Ruins of the Forum right next to high-rise apartments, JRN
The Roman Agora (Forum)
Keep walking straight toward Aristotelous Square and you'll come to the Roman Agora, the city's main hub from approximately the 2nd to the 4th centuries AD. It was largely forgotten until it was revealed during archaeological excavations in the 1960s. Follow along the impressive Roman arcade to enter the underground museum which offers highly informative, state-of-the-art presentations about the city's past.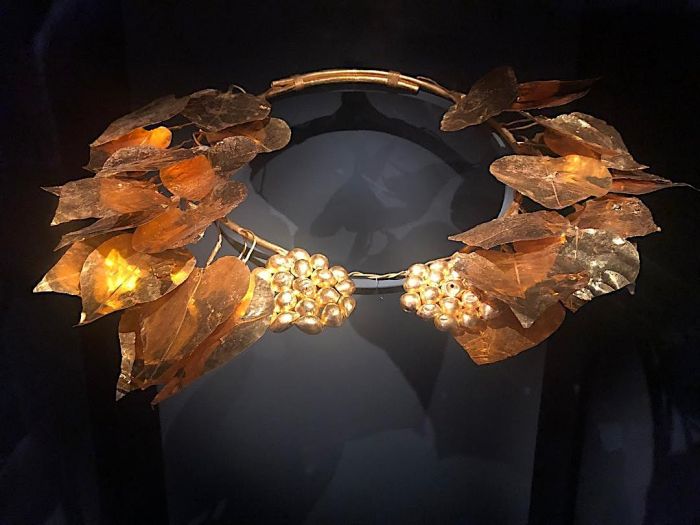 Just one of many gold burial wreaths, JRN
Archaeological Museum of Thessaloniki
Even if you usually shun museums, the Archaeological Museum, one of the largest in Greece, has something for everyone. The prehistoric exhibition personalizes early inhabitants daily life by showcasing some of the world's first jewelry, tools, cooking and household items-even a primitive baby bottle. Don't miss the brilliant Gold of Macedon exhibit with exquisitely detailed funereal wreaths and one the museum's rarest finds, an extraordinarily, well-preserved skeleton of an embalmed woman complete with hair and eyebrows!
For help in planning your trip contact Doucas Tours & Travel Northern Greece's leading luxury travel company, carrying on a 135-year-old family tradition.