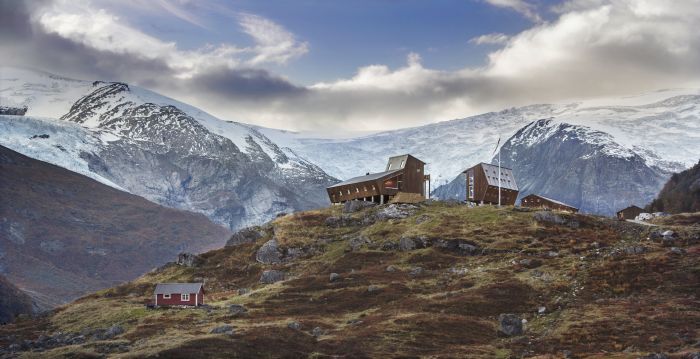 Snohetta
The idea of glacier hiking sounds, at this Coronavirus time, both foreign and seductive.
Glaciers dazzle from a distance, but, as hikers walk closer, they often experience a fairytale blue environment of constantly changing ice forms. Moving light from AM to PM modify shades of blue, often accompanied by subtle ice sounds, all combined to create glacier hiking a unique, memorable, experience.
It is also one activity that requires special equipment-- crampons, rows, suspender belts, helmets and ice axes. This type of hiking is not for everyone, as it also requires special knowledge and minute-by-minute awareness of constantly-changing weather conditions and how these conditions affect glacial features. Hazards – crevasses and serac -- are obstacles that glacier hikers must be aware of each moment they hike.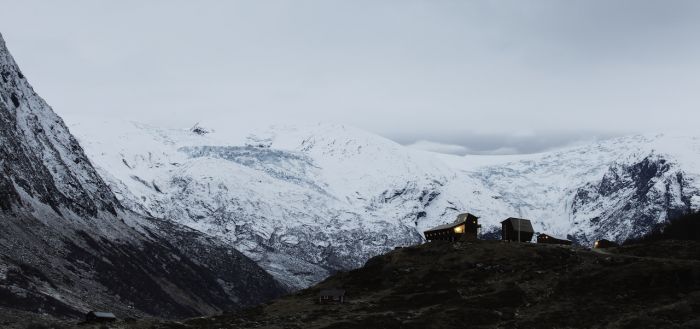 Snohetta
In the mountains of Norway, glaciers are common, and for centuries, glacial hiking has been an eminent sport. And for those hardy hikers, the Jostedalsbreen glacier is one that stands alone. It has a length of approximately 50 miles and covers 183 square miles. At several places the ice layer is over 546 yards, or 0.31 miles thick. Jostedalen Glacier or Jøstedalsbreen, in Norwegian, is the largest glacier in continental Europe.
Snøhetta, a multi-awards-winning Norwegian architectural firm, knows Jøstedalsbreen quite well.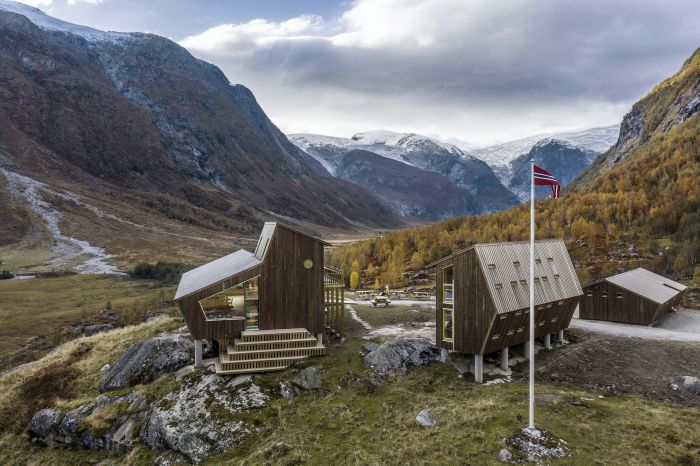 Snohetta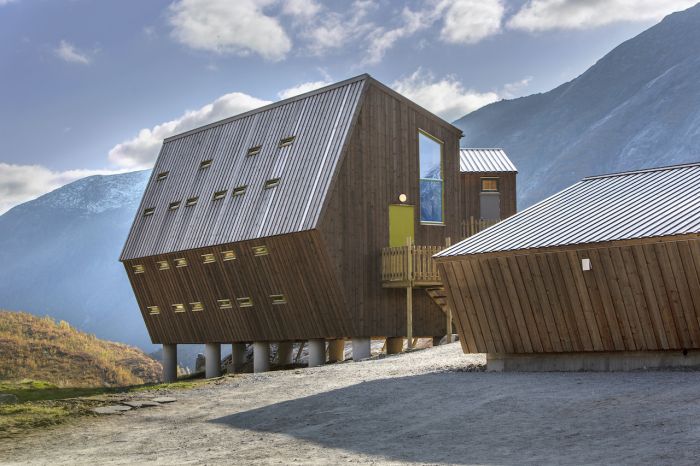 Snohetta
One of their most recent projects, recently completed, is a constellation of pentagonal glacier hiking cabins, called Tungestølen. In Norway, many cabins are built in the highest and most remote reaches in the mountains. But not many are perched near a huge glacier. Tungestølen is situated in Luster, in the western part of Norway, on a small plateau overlooking the Jostedalen glacier.
Designed as an architectural reaction to the changing weather conditions of this mountainous site, the glacier hiking cabins offer hikers a comfortable shelter during the summer and autumn months when the cabin is open to the public.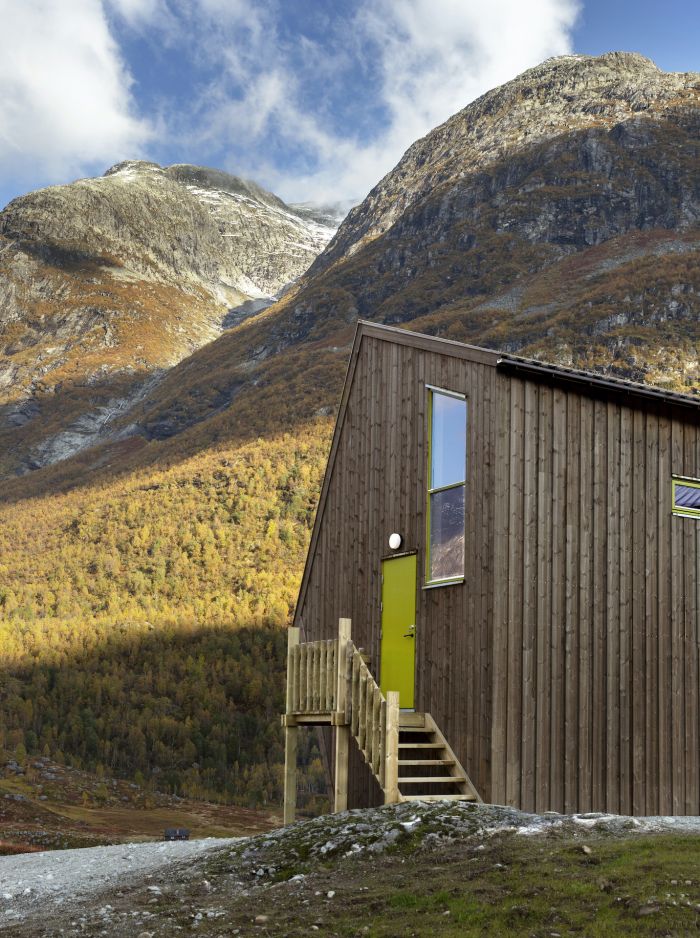 Snohetta
But there is more to this story—one that is not well-known outside Norway.
On Christmas Day 2011 the original Tungestølen Tourist Cabin, which had served as an important destination for avid glacier hikers for over a century, was completely destroyed by cyclone Dagmar that swept across Norway, as well as neighboring countries. Dagmar arrived with wind speeds estimated at 67 mph on the coast, and became more ferocious as it went inland. Dagmar is believed to be the third strongest storm to hit Norway in 50 years.
The old cabin, a sanctuary to so many hikers, was gone forever. But, determined to replace the old cabin somehow, Luster Turlag (a local branch of the Norwegian National Trekking Association) and the small local village of Veitastrond, collected funds for the rebuilding, which included an international architectural competition that Snøhetta won in 2015.
With the ravaging of the original Tungestølen cabin fresh in mind – it happened only a few years earlier --Snøhetta designed a new constellation of nine robust pentagonal and oblique cabins, made with wooden glue-lam frames, covered by sheets of CLT (cross-laminated timber) and clad in ore pine. The outward-facing walls of the cabins have been given a beak-like shape to slow down strong winds sweeping up from the valley floor. Inside, the playful shape of the cabins frames the mountains and valleys outside through angular and panoramic windows, adding views and light to the spaces, while encouraging individual contemplation and respite.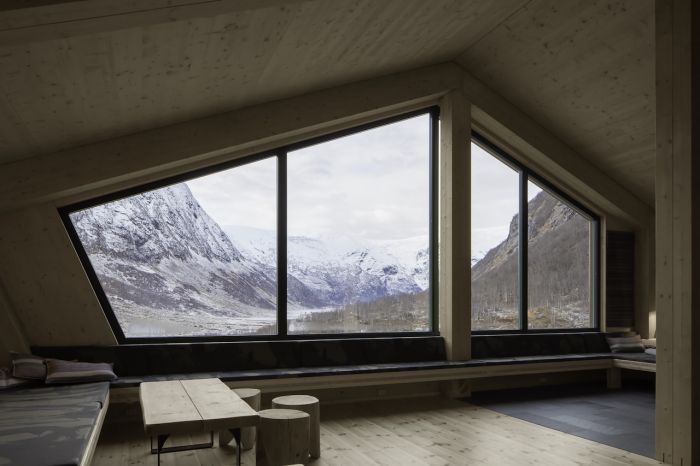 Snohetta
The main cabin at Tungestølen now offers a welcoming space, well-suited for meals with friends around large wooden tables. The ceiling measures 15 feet high, while below, space exists to allow social meeting areas with panoramic views, overlooking the surrounding glacial landscape. The main cabin comprises a lounge framed by a large stone-clad fireplace offering a comfortable retreat from the often chilly summer days outside.
The remaining cabins consist of a dormitory and smaller private units, offering approximately 30 visitors the possibility to spend the night comfortably. Once all nine cabins are completed in the next construction phase, Tungestølen will have enough capacity to accommodate up to 50 visitors.
Snohetta
Surrounded by a dramatic landscape with steep mountains on all sides, Tungestølen serves as a starting or ending point for adept hikers who wish to experience local glaciers in guided groups, but also for families with small children who wish to take shorter and less strenuous hikes in the surrounding areas.
Tungestølen was officially inaugurated by Her Majesty Queen Sonja of Norway in the fall of 2019, and is open again for visitors when the hiking season begins in June, 2020.
Visit Snohetta for more information