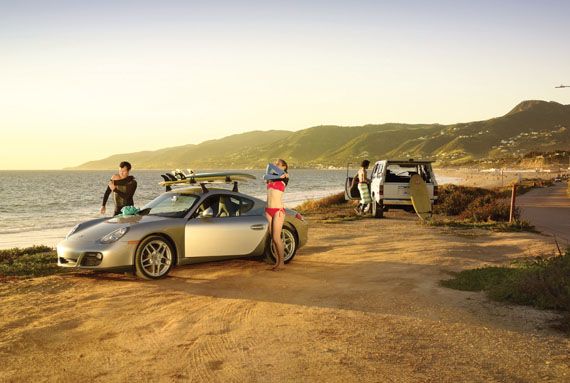 When it comes to luxury cars, we like to think we know a thing or two. And when it comes to luxury sportscars, personally I have always had a soft spot for a supped-up, shiny black
Porsche
. Perhaps it's the vehicle's signature streamlined silhouette, the sound of its revved up engine, or its truly fascinating heritage. Or maybe, just maybe, it dates back to my childhood celebrity crush on Luke Perry (you know,
90210's
bad boy Dylan McKay, who just so happened to drive a drop-top 356 Speedster).
Apparently, there are many more who share this sentiment, so many in fact, that people are quite eager to share their story and personal Porsche experience with the world.
Accommodating its loyal fans, Porsche has launched an interactive campaign called
Engineered for Magic. Everyday.
Designed as a place for real drivers to connect, the site features real stories submitted by real Porsche owners. What makes the concept so genius is that many of the stories feature personal videos (several of which were shot from the Flip video cameras that Porsche provided to select owners).
Michael from Los Angeles says, "My kids think I moved to Pasadena so the commute would be longer."
Tim from Minnesota shares "Who says Porsche's aren't good cars for the snow? I drive my 996 C2 Cab year-round no matter what the weather. Rain or shine, sun or snow, it's never let me down."
With a Facebook community of more than one million fans, along with support from its dealers, and of course, the Porsche Club of America, the interactive campaign has proved to be a favorite among both real-world and cyber world fans.