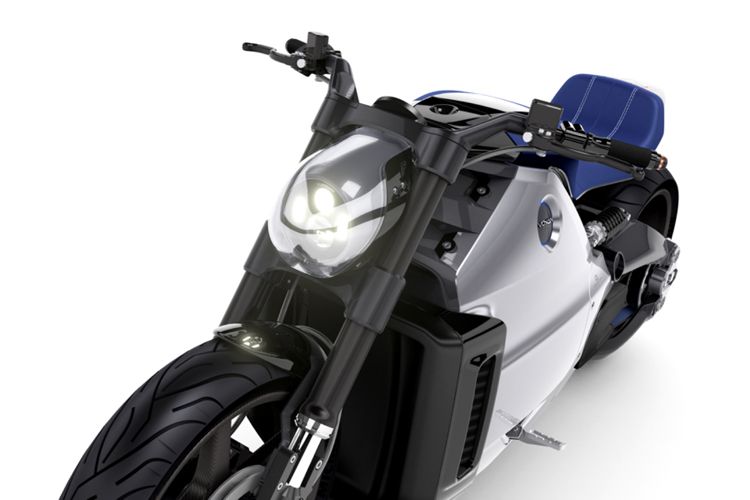 Photos Courtesy of Voxan
French motorcycle manufacturer Voxan introduced the Wattman, which it claims is the "most powerful electric motorcycle in the world," at the Paris Motorcycle Show on December 2. The Wattman is a big, beefy hulk of a machine, measuring 7.7 feet long and weighing in at 772 pounds. Its 200-horsepower motor can accelerate from 0-100mph in 5.9 seconds, with a top speed of 106mph.
With the Wattman, Voxan replaced the usual tubular frame of motorcycles with an ultra-rigid exoskeleton styled after a scorpion, integrating all powertrain components and resulting in what the company calls a "very pure motorcycle." Technical features are not visible at all on the outside of this motorcycle. The electric motorcycle's 12.8kWh battery has a range of about 110 miles and can be charged to 80 percent capacity in just 30 minutes. It also contains an integrated charger that allows users to plug the vehicle into a standard European wall socket.
"This aluminum exoskeleton, which contains [its] battery, is the motorcycle's signature. You can tell from this design that it is an electric machine," saidd Sacha Lakik, the designer of the Wattman.
Voxan was founded in 1995 and acquired by Gildo Pallanca Pastor, the chief of electric car manufacturer Venturi Automobiles, in 2010. Mr. Pastor introduced the Wattman to revive the Voxan brand name. The high-voltage motorcycle will not be mass-produced, as it is being targeted to upscale clientele that are looking for an innovative, experiential luxury motorcycle that they can call their own. Each Wattman will be individually hand-built to order from the firm's factory in France.