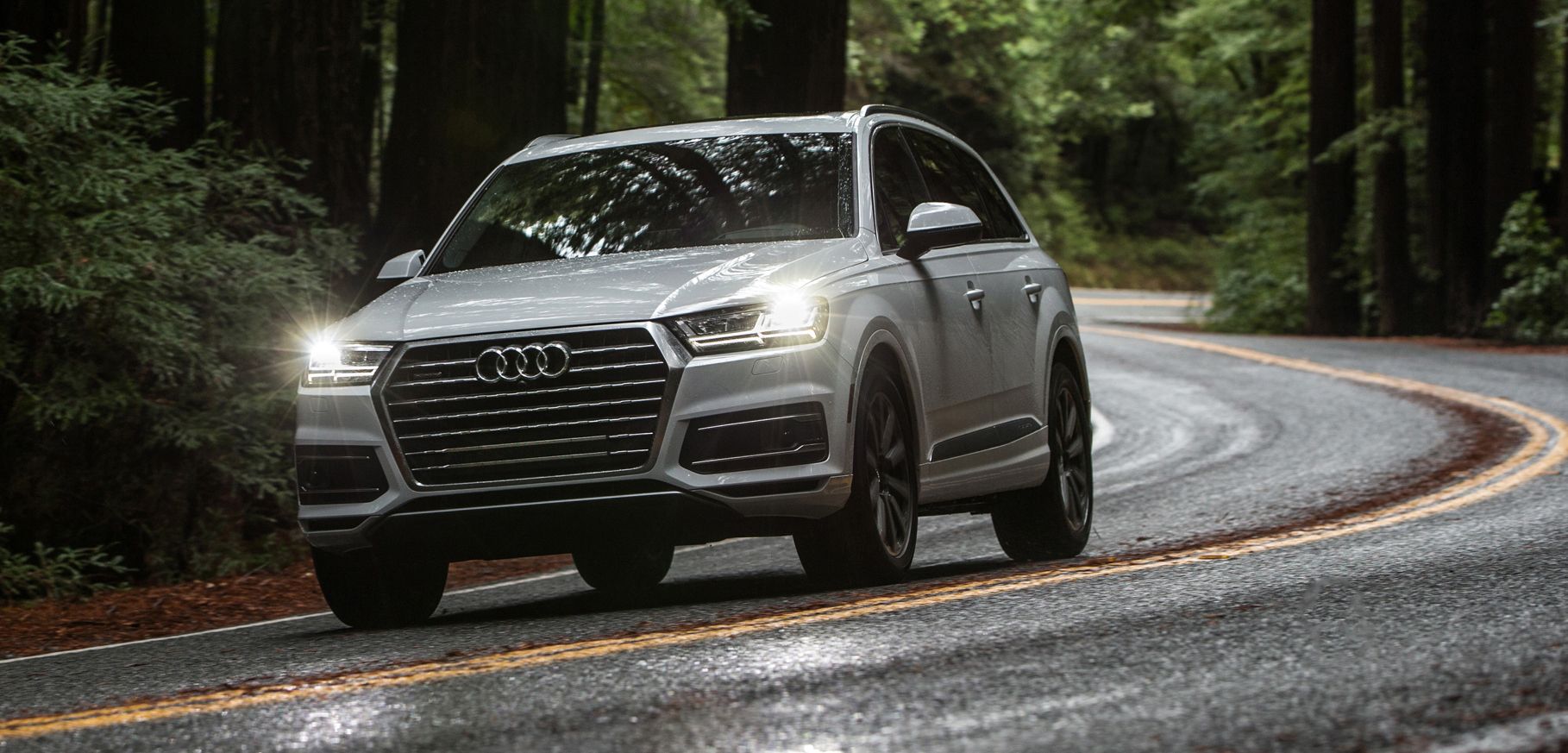 Photos Credit: Audi
Audi first launched the Q7 SUV back in 2006 and aside from some touch-ups here and there, the design remained relatively untouched. Until now, that is. With the launch of their all-new 2017 Q7, they're hoping that consumers will forget about the old and fall in love with the much larger newbie. While we got to try out the new model just a few short months ago in Aspen, it was far too short of a drive to really get a feel for the SUV. Thankfully, the marque sent one over for us to drive for an entire week and now we can firmly name the 2017 Audi Q7 a success.
The Quattro all-wheel drive Q7 we drove was packed with the Premium Plus trim, which starts at $58,800. It comes with the 3.0 TFSI engine that offers 325 lb-ft of torque at 2,900-5,300 rpm and 333 hp at 5,500-6,500 rpm. It hits 0-60 mph in 5.7 seconds and a top track speed of 130 mph. We also had the Driver Assistance Package, which includes details like lane assist and adaptive cruise control—both work incredibly well (the latter smoothly took me from 50 mph to 0 in freeway traffic without issue). It also came with the BOSE 3D Surround Sound System, which has 19 speakers, 15-channel amplifier and offers 558 watts.
The first thing you'll probably notice is just how big the Q7 is (something which we forgot about since the last time we drove it). Its grille and headlamps are angular and aggressive, while its integrated twin-trapezoidal exhaust outlets sit flush against the design. The exterior also boasts Xenon plus headlamps with LED daytime running lights and aluminum roof rails with ESC integration. The interior features seven seats (there are two electronically foldable ones in the very back) and all of the lush amenities one would expect from an Audi.
With comfortable seats that make you feel like you're driving a chariot, the Q7 has tons of room for the driver and passengers—especially the second row. Everyone has access to temperature controls (including seat warmers/coolers) and can customize their experience. Plus, the panoramic sunroof makes it look even larger—add on the Ambient LED Interior Lighting package and you've got yourself an SUV for stargazing and romance.
While most of the gadgets get a thumbs up (like everything safety-related), some still seem archaic, like the "finger writing" touchpad that we never used (who wants to write out directions in their car nowadays?). Clearing out this feature would help minimize some of the gadgetry clutter, which is still an improvement compared to previous models.
Of course, the SUV wouldn't be anything if it wasn't great on the road. Its 3.0 TFSI Quattro engine and eight-speed Tiptronic transmission gives it plenty of pep. With most of its weight carried on the front two wheels and most of the power sent to the back, the Q7 ends up being a well-balanced ride that sticks to the road no matter what the weather is like. That said, you're still driving a giant SUV and it's never going to feel light on its wheels, so don't be disappointed when you don't fly around tight corners as if you were driving a Maserati.
Though the 3.0 TFSI is all that is available now, Audi will soon add a 2.0-liter turbocharged inline-4, a TDI diesel and an e-tron version to the Q7 lineup.