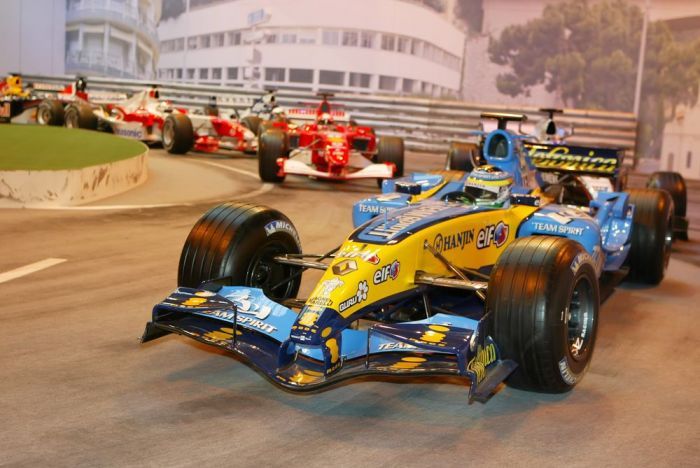 Photo Credit: Shutterstock
It's just about time for the world to gather and watch the Monaco Grand Prix. The most glamorous event in Formula One, it's also the most anticipated race of the season, with film stars, socialites and royalty all flocking to Monaco to catch a glimpse of the festivities. For those in the mix, excess is the name of the game. As much as it costs to attend and be part of the spectacle, it's even more expensive to actually be on the ground participating, with high costs from car development and testing to paying the teams and its drivers, who regularly top lists of the world's highest-paid athletes.
Photo Credit: Shutterstock
The Principality of Monaco, itself, is a unique playground for glamour and splendor, making it the ideal venue for the race. Marked by extravagant casinos, a railway connection to Paris, lack of income, capital gains, inheritance taxes and a gorgeous Mediterranean perch, it's truly the ideal retreat for those who know how to live. Many F1 drivers call Monaco home because of the aforementioned benefits. In general, a F1 driver's income is, "derived from 70 percent retainer and 30 percent bonus, which is based on podiums, wins and championship position," according to James Allen, F1 commentator for BBC. Allen reports that the strongest earners on the circuit can pull in $13.5 to $16.8 million per season. In certain cases, there are drivers that come in well above this amount, like the current top-earning driver, Spanish national Fernando Alonso, who drives for the McLaren-Honda team and was paid $38 million in 2015. On top of that, top drivers can earn more through endorsements and other bonuses.
For the Monaco Grand Prix specifically, there's a complex metric concerning how teams are paid. The prize fund, now at around $1 billion, has historically been split between the top 10 teams. Any team outside of the top 10 will receive $10 million. This agreement is called the Concorde Agreement, and is a contract between the Fédération Internationale de l'Automobile, the Formula One teams and the Formula One Group. It has been renewed six times since its inception in 1981, and stipulates payment protocol as well as requires teams to participate in every race, to ensure consistency, professionalism, and continuity.
Photo Credit: Shutterstock
The agreement specifies prize money as well as its distribution, based on performance. Prize money includes the teams' share of revenue generated by Formula One series, which is mostly comprised of series-level sponsorships, hosting fees, hospitality, and media contracts. The teams are then awarded prize money, which is split in two, with, "one half split between the top ten teams in the championship on a sliding scale. The other half is split evenly, and only goes to teams which have finished in the top 10 in two out of the past three years," according to Forbes.
Furthermore, it was revealed that 7.5 percent of F1's profit is paid out to Ferrari, McLaren, and Red Bull Racing, as they won the most races in the four seasons prior to 2012. That particular bonus, guaranteed to those three teams regardless of finish in subsequent years and equal to 47.5 percent of the series' underlying profit, is called the Constructors' Championship Bonus, and it hovers around $100 million annually. In another twist, Ferrari has a separate arrangement within the agreement that guarantees the team five percent of F1's underlying profit, which clocks in around $62 million annually and is also paid regardless of the previous year's standings. This special status is granted to Ferrari as it's the longest-standing team racing in the championship since its inception in 1950.
Photo Credit: Raconteur
As for individual teams, that's an entirely different business, altogether. According to London publication Raconteur, team budgets are about $229 million a year (considering a British Pound to U.S. Dollar conversion at today's rates). Raconteur has research and development at $59 million, car production costs at $57 million, and general operations at $52 million. The remaining goes towards salary, and the team's main revenue comes from sponsorship, with prime spots on the cars of top teams costing sponsors $15 million for the privilege. On those same cars, smaller logos on the lowest edge of the chassis go for about $1 million. Raconteur says the trade guide Formula Money estimates that about 39 percent of team revenue comes from sponsorship, with another major source coming from F1 profit-sharing, or prize money. Team owners are shown to kick in about 20 percent of overall team revenue.
The cars themselves have parts that cost more than many luxury vehicles. The engines are listed at $5.1 million, the tires at $942 each, the steering wheel at $72,474, and the transmission at $1.1 million, to name a few. The transmission and engine are, by far, the most expensive components. Most cars are estimated to cost $8,696,820. Cost is driven from the high-tech grade of materials, but also by the tight time frame they need to be produced in. These teams rely on rapid prototype machines, which use lasers to cut computer-drawn carbon-fiber parts that can be pushed out over the few days between races. Of course, most of the cars' features are customizable for the driver (including significant on-board computing capabilities), and must be within tight specifications. Design problems to overcome include military-grade connectors to protect the wiring from exhaust, almost a mile's worth of wiring to fit into a tight car that's made to be aerodynamic, and a plethora of sensors transmitting metrics on everything, which will be analyzed by the road team back in the garage. It's oft-discussed steering wheel, which features an LCD screen, buttons controlling over 40 functions, and boost function is the main control center from everything in the car, from clutch to radio.
Photo Credit: Shutterstock
As for the future, Formula One just (finally) hired a head of digital media and started Instagram and YouTube accounts, hoping to capitalize on the ubiquity of social media and digital life. For something that captures huge audiences the world over, it's incredible that they're not yet a force in the digital space. What this means for the economics of the Monaco Grand Prix and Formula One is anyone's guess, but in all likelihood, it seems like that $1 billion prize pot might just be the tip of the iceberg.