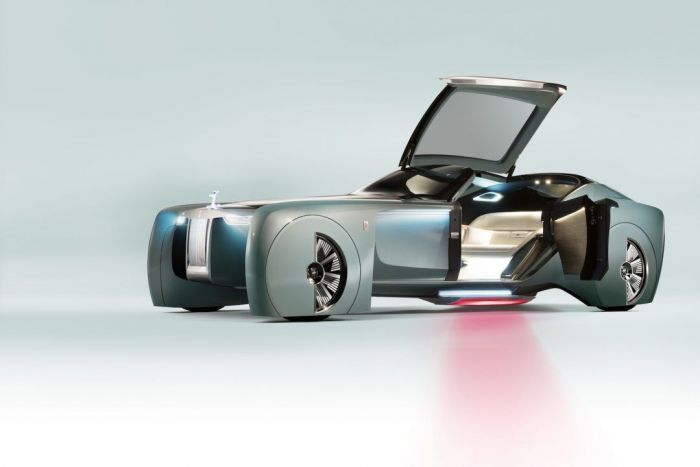 Photos Credit: Rolls-Royce
Rolls-Royce has come out with a new car that is certainly one-of-a-kind—and right out of a science fiction movie. The 103EX is an electric, driverless concept that is an innovative departure from previous models, of which the design generally skewed conservative. First of all, it's almost 20 feet long and five feet tall, making the 103EX a very large car. It fits just two passengers, who will sit on a silk sofa in the interior cabin, which has been dubbed the "Grand Sanctuary." A transparent glass display screen replaces the steering wheel, something that was once standard and is now becoming a thing of the past.
The classic grill is purely cosmetic: the engine sits at the rear of the car and the luggage compartment sits behind the front tires. Speaking of the wheels, they are obscured in a way that Rolls-Royce says makes the car look "elevated." This unique design has received mixed reviews, with "sublimely crazy" and "slightly ridiculous" being thrown around, but it's certainly the first of its kind. Other signature features include an artificial intelligence system that can act as a personal assistant, named Eleanor and an LED carpet. For now, this concept car remains just that—a concept. The rules don't apply here and for the time being, it doesn't matter: the marque says that, should the model roll into production, this won't happen until the 2040s.