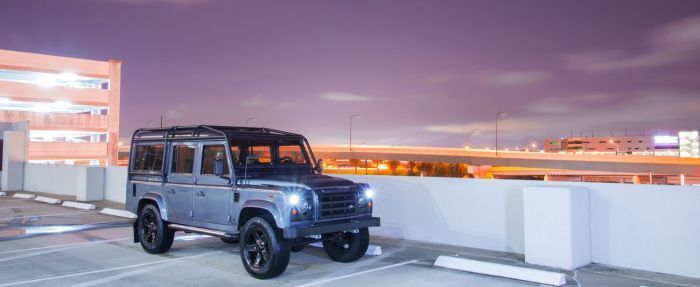 Photos Credit: East Coast Defender
What's old is new again, as the saying goes. This has never been truer for one of the world's most favored vehicles, the Land Rover Defender, which is living its best life in the form of a roaring aftermarket. The British four-wheel-drive, off-road utility vehicle was first launched in 1948 and continued until January 2016, when the last Defender rolled off of Land Rover's production line. This gas-guzzling cult favorite has had a storied history, beginning just after World War II, when it was introduced to keep Land Rover's operations afloat for a few years.
Originally designed with a Jeep chassis and outfitted with a Rover engine and aluminum panels, the first iterations were dark green, due to an overflow of material from the war. The car was successful off the bat—British drivers flocked to it out of patriotism and for its utilitarian capabilities. Over the years, the vehicle evolved from its first days as the Land Rover Series I, II and III to the modern-day Defender, which was an updated version of the older Series vehicles that debuted in 1991. Though comforts were improved upon, it was still considered a bare bones, rough-and-tough off-roading truck. The Defender was intended to appeal to the daily driver market, so it included newer and better engines, automatic gearboxes, leather trim, air conditioning, metallic paint and—finally—carpets.
Its relative rarity and no-frills allure turned the Defender into a bit of a trophy car, appearing as the vehicle of choice for Hollywood stars and making cameos in both the James Bond and Fast and Furious franchises. However, the truck's labor-intensive construction and environmental unfriendliness contributed to its demise, popular though it was, and the Defender is now officially in its twilight years, if you can call them that. There is a roaring secondary and aftermarket, which was well in place before Land Rover stopped production, due to the cult status of the car and the sense that it would eventually fall off the production schedule.
So, what happens when you get three Defender fanatics under one roof? Enter East Coast Defender. The three Brits at the helm of this Orlando, Florida-based company made their way to the United States four years ago, when they realized they missed their home country's Defender culture and also that the United States was ripe for a custom market. Tom Humble, the owner who is responsible for sales and marketing, said that as soon as he arrived in the United States, he knew he wanted to do something with his favorite car. "We started with a small shop and office with a couple of Defenders in the back. I was surprised to find that there was quite a demand for them—people were flying in from all over the country just to see and test drive what we had. Then, they started flying in even when we didn't have vehicles in stock, just to talk to us about building something for them. That's when we realized we had to not only sell, but build."
Initially, Tom, his brother Elliott and their other partner, Scott Wallace outsourced "large components" of the build to local specialists. That was only a quick fix, though. "We very quickly realized that wasn't sustainable, that we weren't in full control of the quality of the build. It had to be perfect, and our subcontractors weren't on our level, quality-wise. So, it was a quick turnaround to expand and bring in tech and mechanics in-house, so we could do everything ourselves." There was a time, after the initial push, where they were still outsourcing smaller jobs, like painting, but the quality still wasn't up to par for the three. "Now, we have a 12,000-square-foot facility with a paint shop, a guy who stitches seats by hand…everything. That's how we achieve quality."
If there was one theme to our conversation with Tom, Elliott and Scott, it's quality. That's because quality is the driving principle behind East Coast Defender—a mantra, of sorts. Scott told us, "Quality is our business. As long as we focus on that, the business takes care of itself. We have a markeing department, we're very active on social media and all that, but what we're known for is producing the highest standard of product. Our business plan, which revolves around providing top quality, isn't sitting in some dusty manual. It is literally painted on our building walls." Tom echoes this sentiment, explaining, "We're really the only Defender builders out there taking it to this full level of customization. It's because of our dedication to producing the best product but also, there's a practical reason. If you buy in Europe, you can't do that because of regulations."
Tom is referring to the very active European secondary market which, up until recently, was the primary marketplace for American buyers. Because East Coast Defender is able to import the vehicles and completely refurbish and customize them, would-be American owners no longer have to navigate the tricky import market. Elliott explains that, because of strict European Union regulations, "the car you buy would have to be completely standard. So, you're buying a 25-year-old (minimum) Land Rover Defender with an old, small diesel engine, 55-miles-per-hour top speed, stick shift and roll up windows, if it even has windows. There are a lot of negative aspects to buying in Europe and expecting to receive a usable vehicle. We get around that and can do one better, we customize Defenders however people want them to be. You can buy straight from us and it can have a big Corvette engine, automatic transmission—whatever you want, really."
Tom explains that customers usually start with their new online configurator, which allows possible clients to craft their own Defender from their living rooms. "Then they'll get in touch and we figure out how the vehicle fits into their lifestyle—is it a weekend vehicle or a daily driver? We try to build it so it fits with them and their family. Then we talk about the options they need: fit and finish of the interior, television screens, sporting boxes, all the way down to color of stitching on the seats. There's a lot to talk about initially, but it's a moving process. We are always evolving through the life of the build."
As for the build, what can clients expect? A lot, it turns out. To start, they buy Defenders with basic trims from all over the world, "traditional vehicles that have had a bit of a hard life," Tom explains. "We bring them into the shop here, strip them down to the frame and build them back up to the owner's specifications, which is usually to a luxury standard." Elliot walks us through a typical build: "The main idea is that these trucks end up a reliable vehicle. We now fit Chevrolet drive trains into the truck, either a Chevrolet LC9 set-up or, on the performance side, a Chevrolet LS3 engine. The LS3 is over 400 horsepower and really enhances the power of the truck. We upgrade everything around the engine, as well—new brakes, axles, suspension, steering— the whole undercarriage is updated for performance standards."
Scott expands on the custom process. "I don't know if you've ever ordered a car off the lot, but if you order from Europe, the vehicle is rarely on the lot at Mercedes or BMW, something like that. You order it from the factory and they add and subtract specifications as needed. We're different, because that is just the start of our process. The next step, which is the actual fun and integrated part, is where you become part of East Coast Defender life. It's the bit from ordering to delivery. Through our concierge service, you get a bi-weekly update with images, your own personal contact and we'll fly you in so you can see the build happening. It's like the birth of a child, from finding out you're pregnant and seeing it grow through the process."
Customizations they've made for clients are impressive and groundbreaking. Keeping safety in mind, they recently installed blind spot assistance and lane notification systems in a Defender, which was the first anyone at the company had ever heard of doing in the space. Tom said he was told it could never be done in a Defender, but he doesn't like to think in such limited terms. "Innovation is this business' biggest challenge. People want our vehicle, they want it to be reliable, but they also want the story behind it. We can say we found it in a farmyard in Europe, and they know it's a 50-year old truck, but it has to perform like a luxury vehicle in 2016. We like to think like other innovators. Tesla, for example, has a self-driving, self-parking car. I don't ever want to be in a position where if a customer wants that option, we can't provide it." So, can you have a self-parking Defender? "Anything is possible."
Other customizations include unique paint jobs, one-of-a-kind interiors, special tire choices, engine options and, "hidden storage for anything people don't, you know, want found," Elliott tells us. "We also create additional storage, install remote tracking and alarm systems, remote start and stop, and we recently built an integrated Champagne cooler in the center arm rest, to go a little James Bond style. There's loads we can do. Ejector seats, drive underwater—O.K., those last two we can't do yet, but we'd like to." Tom adds that they're their own biggest critics, who are, "excited for a delivery for about 30 seconds, and then we're like, 'What else can we do? What can we do better?" Elliott also notes that they've never built one defender that was the same as any other. "Every build is down to the owner's particular taste. We use the same engines, of course, but the rest of the design is up to the customer."
Speaking of the customer, who's buying these trucks? Tom says that it's generally people who want, "something iconic, driven by quality and who wants something nobody else has." They have an equal split of male and female customers, both of which enjoy the process in their own ways. Tom surmises this is most evident during the client-intensive design process. "Men tend to just want to get in the car and drive it away, while our women clients enjoy the detail and build a lot more, it seems." East Coast Defenders' clients come from all over the country and have gotten a lot more Hollywood attention in the last 12 months. Kurt Sutter of Sons of Anarchy is a client, as is soccer superstar Alex Morgan, who recently ordered a Defender. Morgan is a huge fan of the truck and came to the company through rigorous research. "I've always liked the design and classic look of the Land Rover Defenders but it wasn't until I went to the shop that I fell in love with these awesome trucks. Getting to see previous projects in person and hand picking every detail of Project 13 with the East Coast Defender team has been a really cool experience. I can't wait to see the finished product!"
If you're in the market for a Defender, the average custom Defender from East Coast Defender clocks in around $150,000 and is completed within a 6-month build timeframe. If you're purchasing a refurbished Defender, the North American Spec starts at $89,995. Flips on chassis refurbishment, which are mainly North American Spec, average about $90,000 with a 12-week build time. Current owners needing service and upgrades average about $40,000 with a 6-week turnaround time. Custom builds comprise about 57 percent of their business, with flips coming in around 29 percent. Less intensive upgrades make up 14 percent of their workload.
If you aren't ready to pull the trigger on a specific truck, that's of little concern to East Coast Defender, who relishes the opportunity to connect with gearheads across the country. "If you come to our shop, we get as much excitement out of touring with people who are just enthusiasts, like us, even if they can't afford to purchase a Defender or are just shopping around. We believe everyone should be treated the same, and we appeal to a broad spectrum of people. You're never going to get the look you do walking into a Ferrari showroom like, 'Who are you and what do you have to offer?' That's not the East Coast Defender style."
Their enthusiasm is palpable, and it's clear that the three of them have gotten to the core of the obsessive Defender client base. Though they've had runaway success­, at the heart of it, Tom claims, "we're really three petrolheads who love cars and have turned that passion into a business. We're never going to lose those roots. We love touring people around and connecting over cars. I get the business part, but really, we love that people love our products and are showing it on Instagram, stuff like that." The adventure never stops for Tom, Elliott and Scott, and Tom concedes that, in the end, "We're still clients too, after all. We are all crazy petrol heads who want stupid cars, and that's never going to stop."