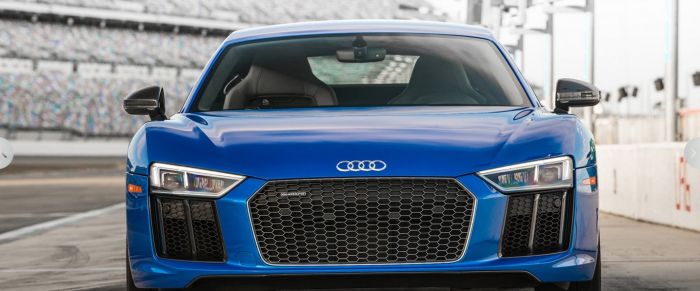 Photos Credit: Stefanie Keenan/Courtesy of Audi
If there's one thing Audi knows how to do, it's put on an event. To open a dialogue regarding women in the world of racing, the esteemed automotive brand held their very first Women's Track Day on October 10, 2016. The affair starred the 2017 Audi R8 Coupe (both the 540-hp V10 and the 610-hp V10 plus) and professional driver Lea Croteau, and was held at the invitation-only Thermal Club in Palm Springs, CA.
Fairly new to the luxury auto scene, the Thermal Club opened just last year and offers a 4.5-mile track that includes a half-mile straight, which practically begs you to reach 150 mph. After being fit with Audi-branded helmets and getting a rundown of the cars, journalists were led out to the track to go through a series of introductory laps. Though some were nervous to be driving such a powerful machine, Croteau was always in the lead R8, speaking through a walkie-talkie to give us tips of the track. As a professional driver who has perfected her skill set over the past 20 years through disciplines like sports car racing, ice racing, drift driving performances, stunt driving in film and being an IndyCar pace car driver, we couldn't have asked for a better teacher.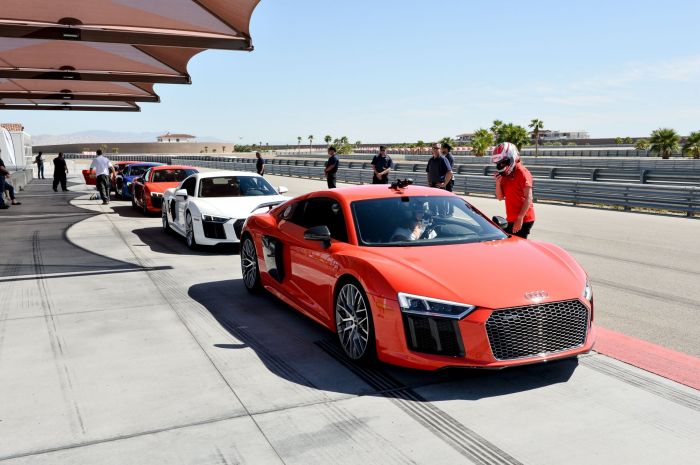 Though many of these events give you limited time behind the wheel, Audi actually set aside the entire afternoon for us to spend on the track. The first couple rounds were taken at a cool 60 mph, so we could become familiar with the twists and turns. Once everyone was comfortable and ready to ramp things up a notch, two of us at a time got to race after the pro at speeds most of us could never dream of reaching. The final round allowed us to individually follow Croteau at whatever speed we wanted, comfortable with the knowledge that somehow, she knew exactly how hard to push us.
Designed for the driver in mind, the R8's 12.3-inch virtual cockpit LCD screen includes all of the car's instruments and navigation, offering several options as to how you want it to look. Though the cars come with a five-speaker, 140-watt stereo system, you can upgrade it to the optional 12-speaker Bang and Olufsen system that gives 550 watts for an extra $1,900.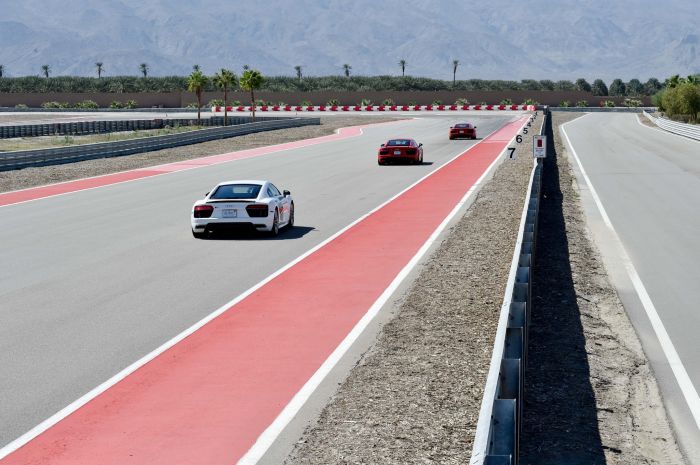 As we jumped back and forth between the V10 (offering 398 lb-ft of torque at 6,500 rpm and a top track speed of 199 mph) and V10 plus (with 413 lb-ft of torque at 6,500 rpm and a top track speed of 205 mph), we definitely got to experience all the R8 has to offer. While Audi officially states that the V10 has a 0-60 mph time of 3.5 seconds (3.2 seconds for the V10 plus), the pros on-hand at the Thermal Club pointed out that the cars have actually been testing much better. For instance, Motor Trend tested the plus and got it to 60 mph in just 2.6 seconds – that's faster than the Bugatti Veyron, FYI.
With speeds that high, handling and breaking has to be top notch. The Quattro all-wheel drive makes it easy to take the corners and pull through stretches without breaking a sweat. And while the ceramic breaks can be a bit jerky when going for a smooth, slow stop from 40 mph, they work absolutely perfectly when coming to a stop from 150 mph. The only real challenge of driving the R8 is to trust in the car and set your fears aside.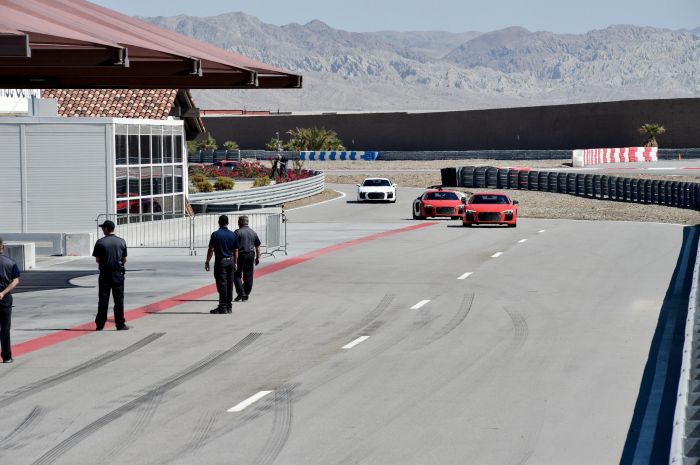 Actually, I take that back. The real challenge comes when you leave the track for the streets. While the R8 is certainly easy to drive on Comfort mode, I missed the aggressiveness of the track and found myself having a hard time sticking to the speed limit. The only thing that kept me driving 55 mph was Audi's assurance that no, they would not be paying for any speeding tickets.
The 2017 Audi R8 Coupe V10 starts at $162,900 and the V10 plus starts at $189,900.