Stinson Carter
A Smoky Mountain road trip revealed the luxury and off-road agility of Mazda's flagship vehicle.
When it showed up at my door, my first impression was that the gleaming red CX-9 needed a little dirt. And it would get plenty where we were going. My trip began ten feet above sea level in Charleston, and would rise 2,500-feet on its journey from South Carolina, through the Saluda pass, to a mountaintop just east of Hendersonville. In my week with the CX-9, driving alone or with my wife and two children, I experienced the CX-9 in every phase of its utility––from city commuter to freeway family road-tripper to off-road hill climber. And in every phase, it impressed.
Mazda's crossovers have long been prized by those who want driving to be fun, but who also need to adapt to a few of life's practicalities. In that context, the CX-9 immediately delivers the fun, and the Signature Series, with its quilted leather seats and rosewood trim, also delivers a level of luxury you may not expect in a sub-50k Mazda.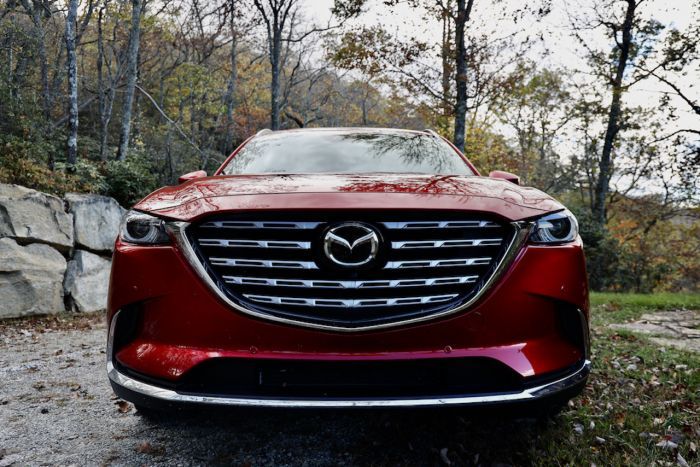 Stinson Carter
EXTERIOR
To my eyes, the oversized fastback styling of Mazda's crossovers is better proportioned on the CX-9 than on the smaller CX-5, and I was struck by the elegance of the style in its larger footprint. I also like the fact that the CX-9 is not as ubiquitous as, say, a Toyota Highlander. I don't want to drive a car I'll pass twenty times in a three-hour drive. Specific to the Signature trim, the LED accent lighting on the front grille could be over-the-top, but they end up looking very cool. The 20-inch silver-finish aluminum alloy wheels add a stalwart, masculine heft, as do the enlarged dual tailpipes. And though by no means a rare feature, I enjoyed the auto-folding side mirrors when parking on the streets of Charleston.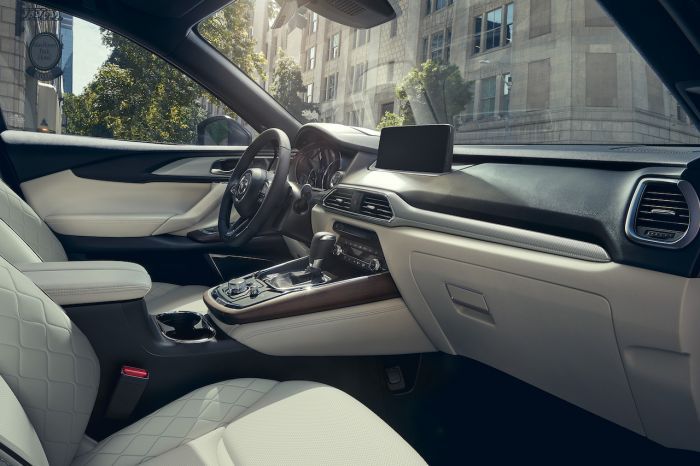 Courtesy of Mazda North America
INTERIOR
Crawl into the cockpit and it feels as if everything you touch is either soft Nappa leather, cold-touch patterned aluminum, or smooth satin-finished Rosewood. The front seats envelope the driver and passenger in a far more car-like than truck-like embrace. And that continues in the second row, where the captain's chairs have a leather-wrapped center console as nice as the one in the first row.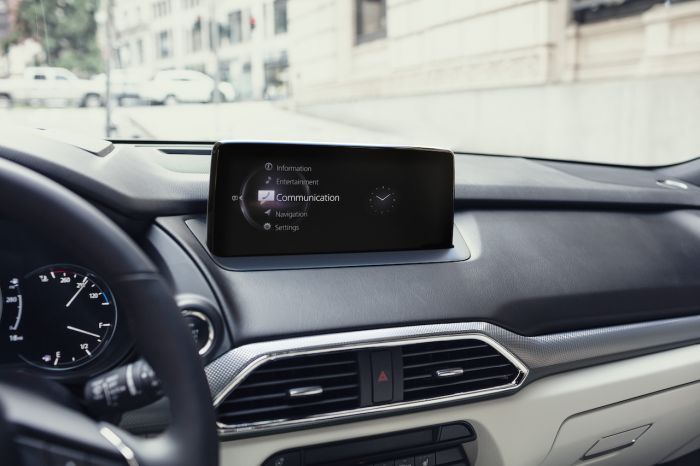 Courtesy of Mazda North America
A larger 10.25 inch center display is new for 2021, and it's a bright and luxurious monitor well-positioned above the dashboard for easy viewing while keeping one's eyes on the road. The wireless smartphone charger integrated into the console was extremely useful, and large enough for any size smartphone.
The sunroof seemed on the small side for a top-level trim, and I was surprised it wasn't a bit more panoramic. The cargo space in the back—with the third-row seats folded down––was noticeably smaller than it is in my Subaru Ascent, and the third-row is more of an emergency measure than something you'd ask adult passengers to undergo on a daily basis. But the trade-off in interior space is made up for by a performance that blows the likes of the Ascent out of the water.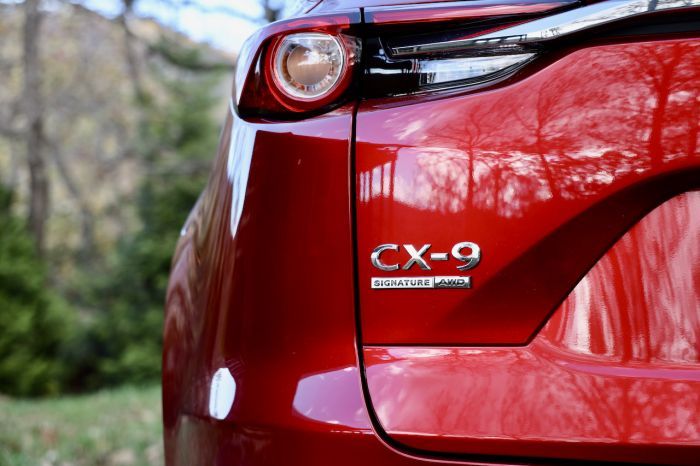 Stinson Carter
PERFORMANCE AND SAFETY
The CX-9 made every errand a joy, especially popping it into Sport mode to zoom around downtown Charleston. Off every stoplight, at every lane merge, the 250-horsepower 2.5-liter turbo-four always had more power than I expected. As far as handling and performance, the CX-9 exudes more car than truck DNA, with noticeably less body roll and far quicker acceleration than more ponderous three-row SUV's with a bit more interior cubic feet. Over the week that I had it, using non-premium gas, I got around 18 mpg in city driving, and 23 mpg on the freeway.
The drive from Charleston to the mountains of western North Carolina is one long steady uphill climb. It's a drive I make often, and I'm used to a certain sluggishness on the way up, but that vanished in CX-9. It just cruised. Along the way, I also fell in love with the Active Driving Display projected on the windshield––which made monitoring speed, radar cruise control settings, and blind spots a breeze. It even displays traffic signs for you, before you reach them. It's one thing to have all the modern safety features in a vehicle, but elegantly merging them with the driver experience at this level was impressive.
Stinson Carter
But there's a point when the paved roads end, and I knew we'd be going beyond it. We had been to the same cabin four months earlier, and the steep, winding climb up the side of a mountain had been plenty precarious. But nothing prepared me for what the rainy late summer and fall had done to the steep mountain road. What I remembered as a snaking rise of freshly poured granite stones had become a deeply-rutted, washed-out mix of silt, slick granite bedrock, and loose gravel. So I engaged the off-road traction assist, and hoped for the best. Over crevasses carved by runoff and crumbling terrain, the wheels never spun out once. In the sharp turns, the unexpectedly tight turning radius was downright mountain-goat-like. I made that run, both up and down, no less than six times and never had a single wheel slip and never held my breath during a hairpin turn.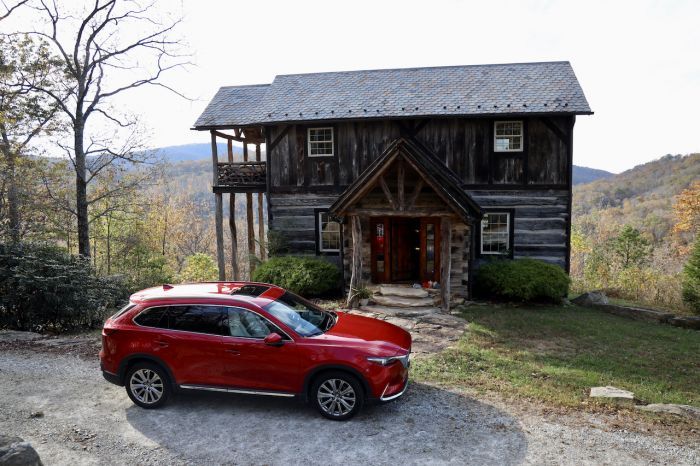 Stinson Carter
With a starting price of just over 46k, the CX-9 Signature is creeping towards more obvious luxury options, such as a base-priced Volvo XC90. But I would argue that this kind of thinking misses the point of the CX–9 Signature. This vehicle doesn't seem to be competing against luxury car manufacturers' badges; but instead, simply competing for its drivers' hearts and minds. It is a vehicle bought purposefully, with an appreciation for life's finer things, but without the usual pretense that comes with that. It offers luxury for the well-adjusted, and the already fulfilled. And that, to me, is what really makes it special.