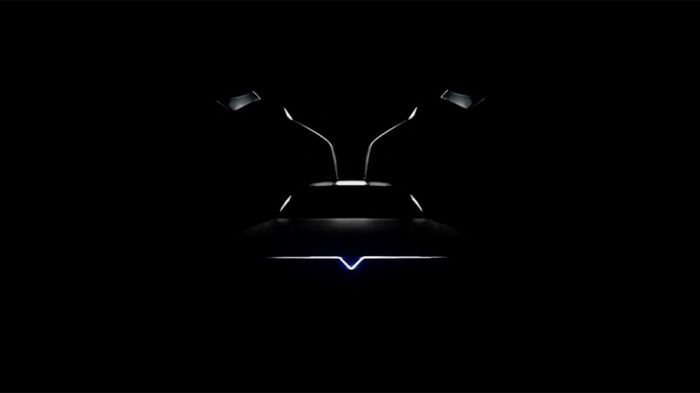 Courtesy of Delorean
One of the most legendary sports cars of all time will soon take a trip back to the future.
After decades of a rumored return, the DeLorean Motor Company has slyly revealed that it will soon reintroduce the iconic DMC-12, the legendary stainless steel, gull-winged coupe that captivated the '80s. Only this time, it will be reborn as an electric vehicle with a promised driving range of 300 miles or more.
DeLorean plans to officially unveil the EV at the prestigious 2022 Pebble Beach Concours d'Elegance, scheduled for August 21, in Monterey, California.
Other than video images that premiered online during Super Bowl LVI, little else has been disclosed about the reimagined design or engine except that the new version will retain its most-famous element: gullwing doors. "It will most certainly not be a one-to-one with the 1980s vehicle," DeLorean CMO Troy Beetz said to Robb Report. "This is a true luxury vehicle that is high-tech. (It will) have its own persona." Beetz told Car and Driver that the redesign presents the DMC-12 as if it "had it been around for the last 40 years."
John DeLorean founded the DeLorean Motor Company in 1975. The only model ever produced, the DeLorean DMC-12, was designed as a two-seater sports car for the US market. It was built in Dunmurry, Northern Ireland, from spring 1981 to the end of 1982 after the DeLorean Motor Company Ltd. filed for bankruptcy. The car became internationally known through its prominent role in the "Back to the Future" film trilogy. In 2021, the company was once again issued a license to start manufacturing cars in small numbers.
To be the first to know more and preorder, sign up for DeLorean's waitlist: https://www.delorean.com/.