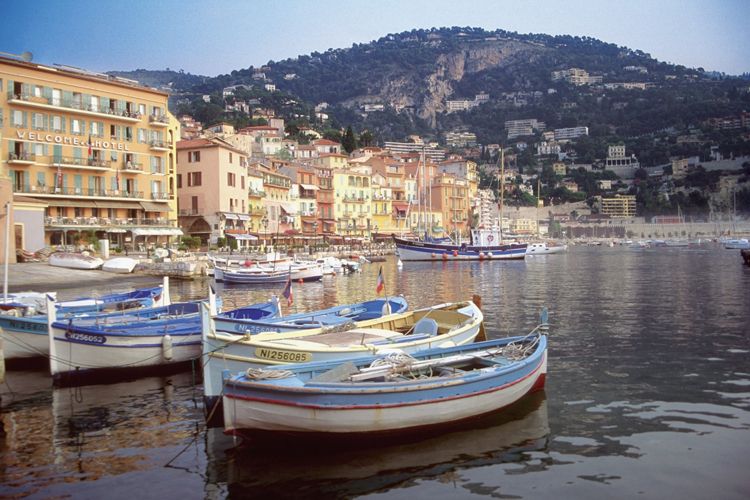 Photo Courtesy of Thinkstock
If you find yourself struggling to plan the perfect
luxury vacation
, you should think about chartering a yacht in the Mediterranean. Not only will you be able to enjoy the freedom the open sea offers, you'll be able to tell all your family and friends about how you spent every night in a new place without having to hassle with constantly re-packing.
Why the Mediterranean? There are so many different fascinating countries and cultures along the coast of the Mediterranean, each offering up unique experiences filled with beaches, remote villages, and delicious cuisine. Some stops will offer a plethora of
luxury fashion
and foods, while others will offer a more secluded paradise in the midst of nature. We're sure that a combination of the two will be an adventure you'll never forget. We've even selected five of our favorite destinations to get you started!
France
It should come as no surprise that France is the first on our list. The country has become a symbol of romance and leisurely living, so we find it fitting that a popular charter route is right along the Côte d'Azur. One can also find mega-yachts all along the ports in Cannes and Monaco, many coming in the summer for the annual Film Festival and Grand Prix. Often times celebrities can be seen on the spacious vessels so if you find yourself there in the summer, see if you can spot your favorite Hollywood star.
Not to be outdone, Antibes draws in so many large yachts that it's been nicknamed "Billionaire's Row." Vessels as large as some 300 feet regularly drop anchor there, while their owners sometimes stay at the historic (and incredibly exclusive) Hotel du Cap-Eden Roc, known for accommodating the likes of Elizabeth Taylor and Winston Churchill.
Another popular port is St. Tropez, featuring sandy beaches that are the favorite amongst millionaires all over the world. With many luxury stores and restaurants, St. Tropez is a great place to visit in October for the Les Voiles de St. Tropez, which marks the official end of the Mediterranean season. Like St. Tropez, Nice is also incredibly popular and features rich history. Once inhabited by the Greeks, there are many cathedrals, museums, and palaces, all nestled amongst sandy beaches. With cobbled alleys and silk shops, you can find some amazing organic produce from the vast morning market that is a favorite amongst charter yacht chefs.
Ports:
Port de Cannes, Port d'Antibes, Saint-Tropez Harbor
Italy
Separating the eastern Mediterranean from the Adriatic, Italy has been a popular vacation spot for decades. With so much coastline available, it would be nearly impossible to pick your favorite area and because you're on the water, you don't have to. South of Naples is the Amalfi coastline, which is famous for its beauty and hard-to-reach location. With mountains cutting it off from the mainland, approaching by sea is the easiest choice in some areas. The spot also features the famous archaeological site of Pompeii, the famous Roman city that was partially destroyed by the eruption of Mount Vesuvias in AD 79. The compelling site is so valuable because it wasn't simply blown up, it was actually buried under of burning pumice stone (lapilli), making the lost city even more fascinating to witness.
If you want to sunbath on a fairly unknown beach while in Italy, check out Basilicata's Tyrrhenian Coast. While the area is pretty short, coming in at only 12 miles long, it makes up for it with hidden coves and sandy beaches. Set between Calabria and Campania's Cilento peninsula, the area is surrounded with coastal cliffs and the nearby charming town of Maratea is worthy of a day-trip.
When wanting to venture on land, you can stop at Positano's port and explore the stunning town, which is an artist favorite. With the picturesque cobbled walkways and local caves of La Porta, where you can spend a day exploring, the quaint town offers lovely views of the sea. You may even be able to spot your own chartered yacht.
Ports
:
Port of Napoli, Pasitano Port
Croatia
Croatia's coast has a rugged beauty that would be hard not to fall in love with and we definitely think a Mediterranean Charter wouldn't be complete without a stop at Pula. Anchor at the port there and spend the day wandering the many Roman ruins, including a well-preserved amphitheater in the center of town where concerts and shows are often put on. Even with a booming nightlife and many restaurants, Pula maintains a small-town feel.
Before you leave, make sure to check out Kamenjak, a small peninsula south of Pula. Over the years this undeveloped beach, that is also a nature reserve, has become a favorite amongst Croatians. With lush greenery and mazes of dirt trails, the peninsula has many pebbled bays and hidden rocky beaches to escape the summer crowds.
Before you sail over to our next pick on the list, you should definitely take a pit stop on Montenegro's coastline. The Luštica Peninsula features a line of pristine beaches, some only accessible by sea (like the beach of Dobreč ), that feature some of the cleanest waters and whitest beaches (like the popular Pržno). Take a day maybe and check out Plava Špilja (The Blue Grotto), which is popular due to the way light reflects off of the water, filling the entire cavern with a mesmerizing blue.
Ports
:
Port of Pula
Greece
While Athens is the main metropolitan area, Greece has so many different islands and towns to explore, each rich with history and beauty. There are around 6,000 islands and inlets in the area and only 227 of those are actually inhabited, giving you the ability to literally explore secluded and rarely seen lands. Popular cruising areas in Greece include the Ionian islands and the Cyclades islands. The Ionian islands (traditionally referred to as the Heptanese, "the Seven Islands") feature many ruins and castles, each with their own personality. The greenest island, Kerkyra, is the setting for the novel and film
Captain Corelli's Mandolin
and was Odysseus' last stop on his long journey back to Ithaki. Because of the rainfall, the entire island is teeming with flowers, olive groves, and cypress trees, making it incredibly beautiful. The island of Ithaki, besides being Odysseus' home, is made up of two peninsulas that feature steep cliffs and is a favorite amongst fisherman. With charming coves and ancient monasteries, this island is a historical and cultural monument you shouldn't miss.
Cyclades is a group of around 39 islands, with many of the smaller ones uninhabited. One can find historic religious ruins, marble carvings throughout small villages, white cubist homes, olive groves, and terraced valleys. While many of the islands bustle with mainstream tourism, Anafi is a great choice if you want to experience more of a traditional Greek lifestyle. The island's small port, Agios Nikolaos, is a great place to drop anchor so you can catch a short bus ride up the winding hill to the village of Hora. While there are many beaches to visit in the area, there are also many neat sights you won't want to miss. The Moni Kalamiotissas monastery is a three mile walk from Hora, and happens to be near the ruins of a sanctuary to Apollo. Another sight is Monastery Rock, the highest formation found in the Mediterranean Seas, reaching 1,544 feet above sea level.
Ports
:
Gouvia Marina (Port of Kerkya), Port of Ithaki, Port of Agios Nikolaos
Turkey
Turkey has so many fascinating legends surrounding it that sailing through the adjacent waters, the same waters Galatea (the nymph goddess of calm seas) rode her four dolphins through, is sure to be momentous. Many of its favorite charter destinations overlap with Greece but it definitely has some stops all its own. One of our favorites is Kabak, a remote beach that is framed by two cliffs. Still pretty unknown, this beach is great for anyone wanting to spend some time off the boat camping and trekking.

Another great area is the port city of Bodrum, which has a rich boatbuilding tradition and their own castle that looks over the bay, which was built in the 15th century by Crusaders. You can anchor your yacht in view of the castle, which is lit at night, and home to a museum and tour. You also may want to visit Kas, a port town that caters a bit more to high-end tourism. There you will find many luxury boutiques and one-of-a-kind clothes, much of it handmade, as well as gourmet restaurants and wonderful old streets to wander down.
Ports
:
Port of Bodrum, Kas Port