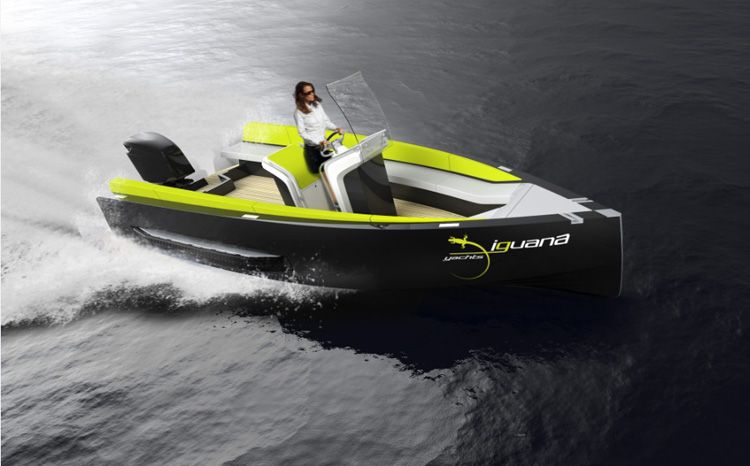 Photo Courtesy of Iguana Yachts
While large yachts are certainly popular, sometimes you may want a smaller, more powerful
luxury vessel
and that's where speedboats come in. Created in 2008 by Antoine Brugidou, Iguana Yachts has many ambitions to create "sustainable motor cruising" while employing elegant and groundbreaking designs, one of which being their integrated under-carriage system that gives their boats a functional ability inside and outside the water. Iguana has taken everything they learned with their IG29 model and used it to make the smaller IG24 version, which went into production in May 2012.
Like the larger IG29 (which is a fitting 29 feet long), the IG24 boat is customized for transitioning from water to land. Able to accommodate 8 people, the IG24 reaches 43mph (faster than it's big sister, who can only make it up to 40) and is 24 feet long, which you probably already guessed. With the help of its V-shaped hull, the versatile speedboat is able to effortlessly cut through choppy waters, according to Iguana.
When in water, the wheeled track system (located on both port and starboard sides) tucks up under the boat to make sure the boat isn't slowed down when in water. Once you move to land, the tracked sea legs are brought out and down (much like a plane's wheels operate) and the entire thing is controlled by a joystick. On land it moves at about five miles per hour, making it convenient for anyone wanting to avoid sandy feet or needing to transfer goods to a nearby beach site.
A price for the IG24 has not yet been released but one can find the IG29 for around $287,300.
For more information visit
Iguana-Yachts.com
.