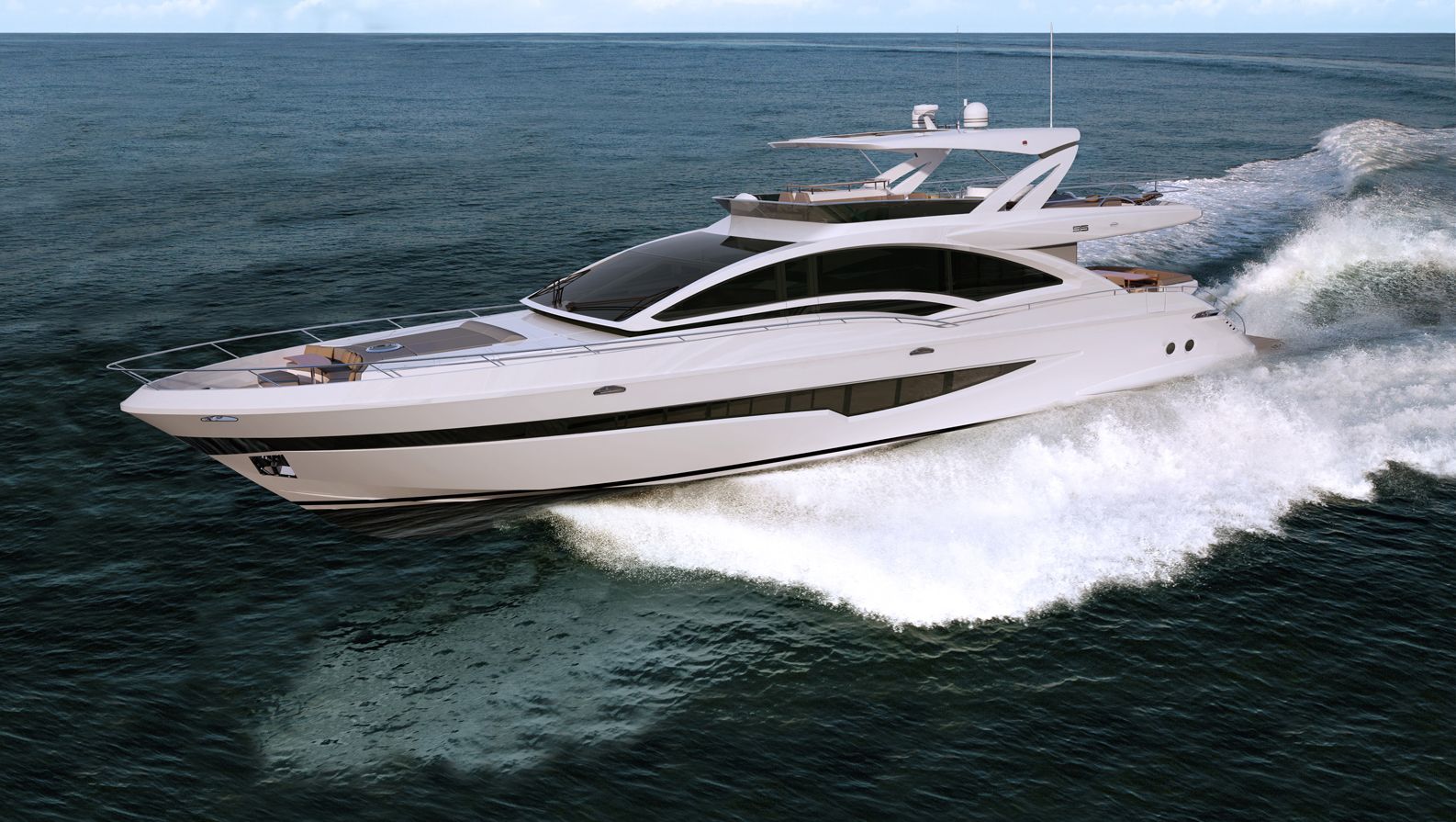 Photo Credit: Luiz de Basto
If you're in the market for a yacht, chances are you've come across the work of master designer Luiz de Basto. His award-winning, eponymous yacht design company, De Basto Designs, is at the forefront of cutting-edge design and technology for yachts of all sizes. An architect by training, de Basto made the choice to go in to yacht design full-time after juggling both in the beginning of his career. He hasn't looked back once in the last 21 years, nor has he needed to, with the exception of a few home-design clients he picked up along the way as they were so inspired by his work with yachts.
De Basto was born in Angola to two Portuguese parents, who moved the family to Brazil after Angola erupted in civil war. When Brazil experienced political and economic turmoil in 1990, he and his wife decided to move the family to the United States, as yacht building had all but come to a halt in Brazil due to the economic situation. Plus, he wanted to enter the international market, which being in the United States provided significantly more access to. He said they looked in to California – "We could really go anywhere, but working so much with Europe, it just wasn't possible with the time difference" – and eventually settled on Miami, whose weather better suited his tropical roots in Angola. True to his jet-setting history and life philosophy, he's a citizen of the world with an Italian, American and Brazilian passport, as well as a house and a sizeable business wing in Viareggio, Italy.
After arriving to Miami, he spent five years working on a company called Boatmobile, which he sold in 1995 to start De Basto Designs. "I had to start from scratch completely. Everything I did in Brazil was–well, nobody cared. I started to work with Intermarine in the United States, and things started to go the right way." Though he's based in Miami, his clients are all over the world, specifically in Italy, Brazil, Spain, Turkey, the United States and others. He has significant shipbuilding capabilities and relationships in Italy, the Netherlands and Brazil, where he designs Intermarine's entire line. In general, he's traveling to see his clients but notes that they visit him in Florida sometimes, too.
Speaking of clients, de Basto has two types: private-custom and shipyards for larger-scale construction and production. He says that the design process and relationship is completely different for both and that you have to, "wear different hats depending on which type you're dealing with, so to speak." As for custom specifications, de Basto says there really isn't much he can't do. "When you work with private clients, you have to really listen to the client, and that's where some unusual requests come in. Nowadays, though, it's very difficult to not be able to do something, technology is incredible. For example, about 10 or 12 years ago, a client comes in asking for a pool table on a boat. I thought it was crazy! You can't play the game on a boat, the boat moves. Today, that's absolutely possible because of upgrades in stabilization. Twelve years ago? Crazy request."
Regarding special desires, de Basto is quick to note that this isn't usually his private clients' first time at the rodeo. In general, this isn't the first boat they've built and they already know what they want as they spend significant time on-board and operating yachts all over the world. He sits down with the client to discuss needs and wants, "some like more toys on board, others less. Some want the meditation room, the gym, the movie theater, others no. Think of a boat like a house: the bigger the house, the more toys you can have in it. A very large yacht that's 80 or 90 meters? That's not a house. You're taking the village with you at that point." In one particular instance, "there was an issue with a pool on the top deck, and we weren't sure what to do with the water. I suggested making a waterfall to the bottom deck, and the wife lit up. 'I love it! Let's do it.' Then the husband followed. And it turned out beautifully."
He notes that discussing yacht size is a big learning opportunity for both him and the client. He's had a lot of repeat customers who want to downsize—not because of money, but because of convenience. For example, they don't need all those rooms or want to move in and out of certain ports easier. De Basto thinks medium-size boats are a fun challenge because you can pack a lot of features in by playing with the flexibility of layouts, creating different spaces for different times of the day or activities. In particular, he has a few memorable projects, but, "whatever I'm working on at the moment is my favorite project. I'm completely absorbed with my work—my mind can't go anywhere until I've finished it." At present, that includes a yacht he's been designing for a client with Burger Boat Company, which has been 20 months in the making. Though at any given moment he has several projects going on at once, he's the go-to for any problems that come up. "I take care of everything—any project, any problem. I have to take care of all of it, and I do."
As far as the process is concerned, custom clients come to him through word of mouth and through brokers he's made relationships with, though he's not completely sure of the breakdown. "If I knew, I'd do more of it! It's very much a buyers' market, and there are a lot of people involved: the captain, the broker, the buyer and other designers they're consulting with." Once a buyer has settled on De Basto for custom work, they're generally involved but let him take the reins. De Basto said he's lucky, in the sense that the clients he attracts come to him looking for something different and creative:
"My clients give me a lot of carte blanche: do whatever you want within the requirements. But be creative. They expect me to surprise them with new ideas, with interesting things. That's why you have to listen to the client and understand. My clients are very successful, well-informed people, they have a lot of ideas, but those who end up with me have an openness for something new. They don't want a boat like any other out on the water, they want their boat. Even if they don't know exactly what they want when they walk in, I create it, they see it, and they like it. That's my job. To visualize what the client can't." However, the process is different depending on whether he's building custom or for a shipyard. With a private client, it's a simple yes and no with one person. With a shipyard, he's dealing with sales teams, marketing departments, captains and engineers, making the decision-making process much more multi-faceted.
In terms of aesthetics, de Basto says he doesn't have a preferred or strict style. He isn't a stickler for modernist trends and prefers to defer to the client's wishes, first and foremost. This is evident in his body of work—it's true that no two boats of his look alike. He isn't concerned with making his signature on a boat and focuses instead on creating definite and creative solutions to every possible design problem. He notes that lifestyle and technology change over time, which is why boats change. He mentions glass as an example: "Ten to 15 years ago, the glass was not developed enough for us to use in ways you see today. Now, we can use glass like never before. You can have it way lower on the hull, close to the water, because it's resistant enough not to break. You have big windows on the hull that weren't possible a few years ago."
Another feature he's seen evolve is square design. De Basto explained that interiors used to have to be rounded because the boat would move and people would get hurt falling onto things, which isn't the case anymore. Improved stabilization systems mean that passengers can't feel the boat move anymore, let alone to the point where they'd be falling over. "Technology influences design. There's a lifestyle component and a technology component…the owners are younger, they have kids, they need more toys, they're going diving off the boat. Nowadays, boaters are active people, and that changes the requirements for boats." Yachts are also becoming more personalized. De Basto once encountered a client who pushed back on his broker, who was insisting on considering resale value. "After a while he said, 'Listen! I'm not building this boat for the next guy, I'm building it for me.' And that was the end of that conversation!"
Thanks to his business, de Basto gets to spend a lot of time on boats, particularly at the invitation of his clients. Just this past December, he and his wife spent two weeks in the Maldives on a boat he had designed, vacationing with the client. Overall, he thinks yachting is exciting from a design perspective, because, "no two boats are alike. This means there's inherent creativity." From a lifestyle perspective, he thinks it's the highest form of adventure. "The openness in my design is not a coincidence, the big spaces, the glass: I want people to connect with nature. It's very important. We isolate ourselves in cities. Remember, the ocean is the last free territory on the planet. You can go anywhere you want at your own speed—no limits, nothing. That essential connection with nature, spending time with family and friends, discovering new destinations, I think that is what yachting is all about." As for what de Basto can do to make this a reality for his clients? "If it's not against the laws of physics, I think we can do it."