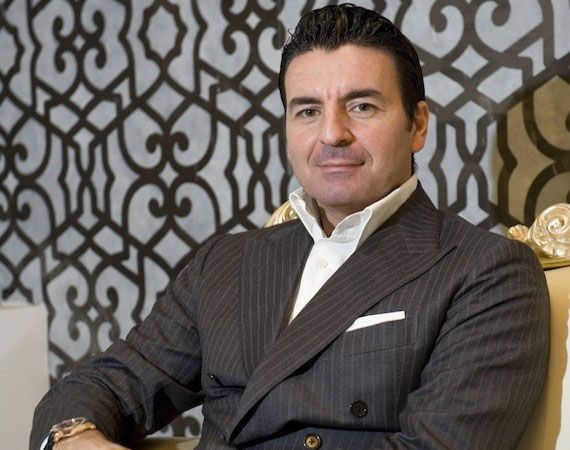 Photo Courtesy of Montegrappa
Giuseppe Aquila is the CEO of Italy's oldest writing instrument company,
Montegrappa
. His family has owned this company since 1912. Recently, I interviewed him as part of the Montegrappa Centennial celebration in Bassano del Grappa, where he discussed his company's rich brand history, and its plans to expand ideologically and product-wise in the coming years.
JustLuxe: It is your Centennial this year, as in 1912 the Montegrappa Pens began manufacturing in a building in Bassano del Grappa, Italy, about an hour north of Venice. The same factory is still there, and Bassano Del Grappa's history and culture — involving two world wars, and historic economic ups and downs — became part of the stable DNA of the Montegrappa brand. What is the longevity secret to Montegrappa?
Giuseppe Aquila:
Montegrappa is defined by its roots in Bassano del Grappa, as the company has been operating from the same factory (refurbished and expanded of course to modern standards) on the same site on the bank of the Brenta river for 100 years now. We are in an area of northeast Italy, famous for resistance during the two World Wars. In fact it was on the Monte Grappa mountain range, immediately to the north of Bassano del Grappa, that the Italians heroically held back the Austrian army and prevented them from reaching the plains of the Veneto region. In 1918, Ernest Hemingway, then a Red Cross ambulance driver, wrote home of the ferocity of the battles on the Monte Grappa and the Piave. Our Italian ancestry that defines strength of character, no matter what the economic climate, is a fundamental reason why Montegrappa is still in existence. The Monte Grappa is a symbol of national pride in Italy, representing the heroic resistance in two World Wars, while also being a name synonymous with art, craftsmanship and literary accomplishment. 
JL: Unlike many high-end brands, yours combines extremely diverse elements as regards your brand ambassadors and the individuals for whom many pen designs were created. Can you discuss this conceptual divergence and what it means to your brand?
GA:
Montegrappa is indeed a divergent brand; that is why we can celebrate the achievements of Muhammad Ali and Bruce Lee, while at the same time being proud to have a century of celebrated authors as users of our pens: Ernest Hemingway through to Paulo Coelho, now one of our brand ambassadors. We also have Sylvester Stallone as ambassador for the brand as he symbolizes our brand DNA — Italian heritage, global recognition, strength of spirit, deep intelligence and an underlying sense of artistry. The pen he designed, Chaos, is one of the best selling pens in the history of Montegrappa. 
JL: One population that Montegrappa seems to attract are the true UHNWs (Ultra High Net Worths). This is an elusive group, and generally not affected by the world economy. They are attracted to functionality, beauty, authenticity and legacy. To that end, Ferrari, Lamborghini, and Bentley all have had record years in 2010-2011. Also, residents of BRIC purchase high end products and services in unprecedented numbers. So, how has Montegrappa done, sales volume wise in those emerging markets, and with different populations?  
GA:
This is an interesting question, as last year, 2010-2011, our sales volume grew 42%. And our first quarter 2012, we grew 25% more than this time last year, so we are doing very well. As regards emerging markets, we are becoming better known. In Brazil, where
Paulo Coehlo
, our most recent Montegrappa brand ambassador is from, through him we are becoming well known. China is still underdeveloped for us, though they certainly appreciate luxury. And in India, they have great awareness about our brand. 
JL: Within the paradigm of positives and challenges in the high-end writing instrument world, the positives deal with the symbol and the reality of the great pen — the sensual nature of its touch and feel, the beauty of its design. Yet there are two challenges related to the ubiquitous use of the computer: the ease of the computer makes it difficult for anyone to use a fountain pen as a consistent writing tool, and second, the fact that many schools do not teach cursive writing anymore to young students. With that said, how do you think Montegrappa will handles these challenges now and in coming years? 
GA:
No matter how much we use the computer, there are always occasions when handwriting with the fountain or roller ball pen (hopefully Montegrappa!) will be the only way to effectively communicate, with strength and with deeper artistry. Like the Alchemist concept, now a pen dedicated to the work of Paulo Coelho, the Montegrappa could be considered an Alchemists' tool, in that it weaves thoughts into words. From a historic perspective, western culture moved forward, partially because the pen was used to transcribe, to copy and to create. I often think we may have still been in the Dark Ages without the use of a writing instrument. Writing words must first commence before one can read words. 
JL: Which design of the Montegrappa has been consistently the best selling within the past few years?
GA:
Sylvester Stallone's Montegrappa Chaos pen has been a surprising best seller. And with such substantial sales, we think we may be reaching another demographic with this writing instrument — the self-made millionaire, and billionaire, who sees the art of writing in terms of strength of identity, and sees a pen not only as a writing instrument but as a collectible objet d'art. 
JL: Mr. Stallone is a memorable choice as one of your brand ambassadors, as is Paulo Coelho, one of the most popular and best-read authors ever. What other artists and themes will you be using for your pens in the immediate future?
GA:
There are many new ideas we are considering, but two have been taking more concrete form recently. One is a writing instrument dedicated to the genius of Salvador Dali, others to the genius of Modigliani and Stradivarius. Another project I truly love, and it is still in the conceptual stage, is the Brain Pen. It will deal with the neuroscience, especially in regard to how handwriting benefits brain function. We are also looking at other cultural icons, and will have many interesting launches in the next few years. 
JL: I am also aware that Montegrappa has moved into other product lines: timepieces, men's accessories, and fragrance. Do you have future plans for creating new products that you can discuss? 
GA:
Yes, Montegrappa has a new lifestyle brand called NeroUno. It expands our brand and it is our response to how evolved elegance is seen in the 21st century. With our NeroUno brand, we recently introduced a wristwatch line, cuff links and men's fragrance. Soon, we will be introducing a ladies' fragrance, leather goods, stationery, travel and desk accessories and eyewear. 
JL: I am aware of how your brand defines your legacy, but please explain this relationship in your own words.
GA:
Our DNA, family, legacy, and our dedication to our family business cannot be separated. If you love your family and its business, if you have grown up around pens, inks, paper, handwriting, all defining our 100-year-old family business, and in an old, historic town, our business, our lives balance history and individuality, mechanics and artistry. Montegrappa pens are who we are, as the history of the town, the history of our company flow through our writing instruments, our timepieces, all we create. Our DNA is our brand: the root system and the flower, one does not exist without the other. 
Visit
Montegrappa.com
to learn more.