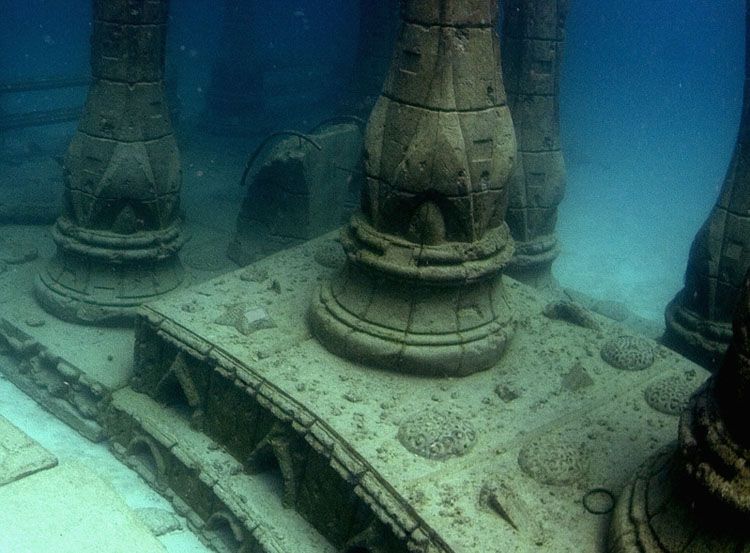 Photos Courtesy of The Neptune Memorial Reef
An underwater graveyard located off the coast of Key Biscayne, Florida, is creating an abundance of marine life in a once-barren ocean floor. The Neptune Memorial Reef, operated by cremation service provider the Neptune Society, is the largest man-made reef in the world. It is as much a place for the living to enjoy as it is for the dead to rest.
Located about three miles offshore and 40 feet underwater, the Neptune Memorial Reef is the world's first underwater mausoleum. However, it is indeed more than simply the final resting place for people that loved nature and the ocean in life: it is an underwater park with elaborate cement statues and columns that is meant to evoke the mythical Lost City of Atlantis.
The structures are designed for beauty and environmental soundness. Neptune notes that its reef "meets the strict guidelines and permitting of the EPA, the DERM, the NOAA, the Florida Fish and Wildlife, and the Army Corps of Engineers." The area is designed to withstand a Category 5 hurricane.
The cremains of people "buried" at the site are mixed with the material that forms the reef, so that they ultimately become part of the reef's structure. Deployment is the official name Neptune calls this evolving process. The underwater structures provide a habitat for coral and marine organisms. A recent study performed by the Department of Environmental Resource Management found that marine life around the Memorial Reef has risen from "zero to thousands in two years." At last count, 56 different species of fish and 195 coral colonies have been identified at the "Reef."
Families of those whose cremains are deployed at the Memorial Reef are encouraged to visit. Some have even become dive-certified for this purpose. The "Reef," which is free and open to all visitors, is attracting the general public as well. Scuba divers, marine biologists, students, ecologists, and researchers flock to the site to admire the "Reef" and to track its progress.
When the Neptune Memorial Reef is complete, the structure will span 16 acres of ocean floor, accommodate 125,000 burials, and provide a sustainable habitat for countless numbers of ocean organisms.