Call of the Wyld
For the ultimate thrill ride in 2022, the boutique Western design boutique Hotel Jackson, in the heart of Jackson, Wyoming has collaborated with a local dog sled tour company Call of the Wyld to offer guests a ride with a team of Alaskan Huskies.
The famed Pedigree Stage Stop Race kicks off in Jackson on January 28, and starts its annual journey on Friday, January 29. For guests seeking a similar experience, the hotel is offering a two-nights or more 'Live out a Wild West' package starting at $900 for two guests. Besides a dogsled adventure for one hour at the base of the Teton Mountains, guests receive classic leather gloves by GIVE'R, a LIQUID HARDWARE thermos to keep a beverage or toddy hot, and stylish wool beanies.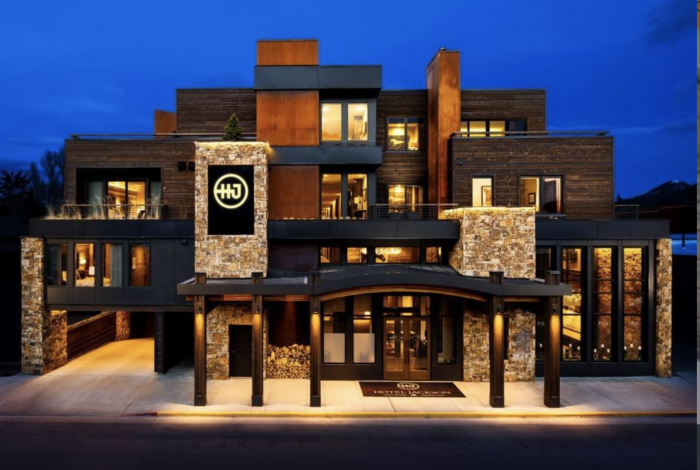 Hotel Jackson
Hotel Jackson offers 55 guest rooms and four suites, each with their own natural gas fireplaces, spa-like bathrooms, Nespresso machines, and L'Occitane bath products.
Guests may dine at FIGS during breakfast, lunch and dinner. The coffee bar serves free-trade organic coffee and teas. The authentic Mediterranean menu offers numerous vegetarian and vegan options. In the afternoon and evening, the bar serves appetizers to enjoy with hand-crafted cocktails, wine and beer.
Located in the heart of Jackson, urban cafes and boutiques are just steps away from the hotel lobby. The location is 20 minutes away from the Southern entrance to the Grand Teton National Park, and one of the top ski resorts - Jackson Hole Mountain Range.
Jackson Hole is part of the Greater Yellowstone Ecosystem (GYE), with the largest concentration of wildlife. It's home to bison, elk, moose, grizzly and black bears, over 350 species of birds, wolves, mountain lions, and foxes. There are more than one dozen glaciers, a supervolcano, and the highest concentration of geysers in the world. The area offers more than 3,000 miles of hiking trails, and six ski resorts.
During the winter, Jackson Hole airport is serviced by major airlines American Airlines, Delta, United Airlines and Frontier Airlines. Flights are from Atlanta, Chicago, Dallas/Fort Worth, Houston, Los Angeles, Minneapolis, Phoenix, Salt Lake City, San Francisco and Seattle. Flights from Newark and Washington Dulles are available during ski season.