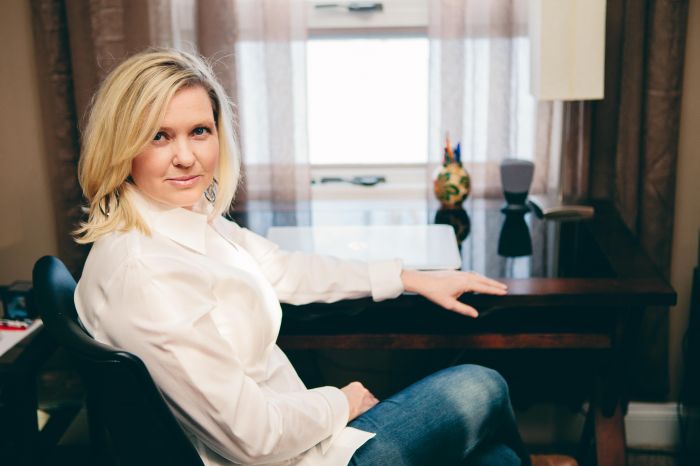 Jennifer Dawn
Jennifer Dawn is the founder of Jennifer Dawn Coaching and the creator of the Best Planner Ever. She began her entrepreneurial career selling apples off her grandfather's tree because a lemonade stand was so "yesterday". Jennifer is a serial entrepreneur who has grown two multi-million-dollar businesses and is a successful speaker and author.
She serves high-achieving entrepreneurs through private business coaching and hands-on workshops. Jennifer is a master at setting and achieving goals, problem-solving, profitability, and cash flow. She is also the host of the top-rated podcast, Happy Productive with Jennifer Dawn.
A mother of three children, Jennifer currently lives in Rhinebeck, New York with her family. She loves to spend time with her family, ride horses, travel, and coach/mentor others.
What is your professional background?
-While I attended Florida State University and worked full-time, I didn't finish college and nor did I earn a degree. When I was in my second year of college, my grandfather passed away. He was the father figure for all of us. We all loved and adored him, but when it came time for the funeral, my family said they would not pay to attend it in Arizona as we were in Florida.
So, I decided to pay for the entire family to attend. I purchased plane tickets, made hotel arrangements, and rented cars — all at 19. But to do this I lost two weeks of work; I wiped out my savings; I maxed out every credit card — all of which got me into debt, so I had to withdraw from school and get a second job. I went back and took classes but never fully gained the momentum I once had.
At the age of 23, I started my first software company doing Point of Sale Ticketing Systems for waterparks and ski resorts. Although I didn't know what I was doing, after years of trial and error, learning, and testing, I grew the company to seven figures and then sold it.
I then purchased a log home company in Montana. However, the real estate market bottomed out and I had to close my doors within a year. I went from being cash-rich to $178,000 in debt and was forced to take a job in corporate America. I took a position with a $54 million manufacturing firm as the software division President.
At that time, I had just given birth to my third child. She was eight weeks old when I had to move across the country with three kids, three horses in the trailer, and nursing. I was there for about 2.5 years and grew revenues from $300K to $2.2 million in 18 months.
I discovered problems with the company's software product. When I pointed the issues out to senior management, they ignored me and didn't want to fix them. This was a very turbulent time, and I sought the help of a life coach who helped me navigate. I left the company and took a summer off to figure out my next move. It was during this time I met my now husband, moved to New York, and was asked to lead a national network of women entrepreneurs. While there, I tripled the organization's revenue and developed a love of coaching and mentoring. That is how Jennifer Dawn Coaching began almost a decade ago.
Tell us about Jennifer Dawn coaching. Who are your clients? What services do you offer?
Jennifer Dawn Coaching is a one-stop shop for entrepreneurs and small business owners looking to take their businesses to the next level. Whether developing a successful marketing strategy, creating an effective sales funnel, or finding ways to increase revenue, Jennifer Dawn Coaching provides comprehensive coaching services and resources to help you succeed. With experienced professionals on staff and an expansive library of resources, Jennifer Dawn Coaching can help you reach your goals.
Tell us about the upcoming retreats you're going to host this spring and fall?
Several exciting projects and retreats are lined up for female entrepreneurs this spring. The first one is Unbreakable, a four-day retreat held in Montana from May 3 to May 8. It is designed to empower female entrepreneurs to reach their full potential by providing the necessary tools and resources. The retreat includes workshops, discussions, activities, and more to help the participants build confidence and develop business skills. This event will be an excellent opportunity for those looking to take their businesses to the next level.
What's your biggest accomplishment as a business owner?
As a business owner, my biggest accomplishment has been building a successful and thriving business from the ground up. Getting where I am today has taken hard work, dedication, and perseverance. I'm proud that my business has stayed afloat during difficult times and remains profitable despite the ever-changing market conditions. I'm also proud of the team I've assembled and all of the successes we've achieved together.
What's the best business advice you've ever received?
The best business advice I have ever received is always to put the customer first. No matter what type of business you're running, it's crucial to remember that the customer is always right and strives to provide them with the best possible service. Businesses can foster long-lasting relationships and build customer trust by putting customers first.
What's the worst piece of business advice you've received?
Whether from an experienced mentor or a well-meaning friend, business advice can be invaluable in helping entrepreneurs reach their goals. Unfortunately, there is also plenty of bad advice out there. From "sit in your chair and pay the price" to "you need to be ruthless," the wrong words of wisdom can lead entrepreneurs down the wrong path and leave them feeling lost and frustrated. Understanding what constitutes bad business advice can help entrepreneurs avoid costly mistakes and focus on their goals instead.
What's one of the hardest things about being a business owner?
Being a business owner can be an enriching experience, but it also comes with its own set of challenges. Managing cash flow is one of the most difficult aspects of being a business owner. This means having to make sure you have enough money coming in to cover expenses while still keeping some in reserve for unexpected costs and emergencies. Additionally, successful cash flow management requires understanding the tax implications of your financial decisions and ensuring you are up to date with filing deadlines and other regulations.
What are the top three tips you'd give anyone looking to start, run and grow a business today?
Starting a business can be intimidating, but anyone can become a successful entrepreneur with the proper guidance. Here are three tips to help you get started: (1) Develop a business plan—create a clear roadmap for your business that outlines goals and strategies; (2) Focus on customer service—make sure you provide excellent customer service to build loyalty and trust; and (3) Utilize technology—use digital tools such as automation, analytics, and AI to streamline processes and increase efficiency. With these tips, you can confidently start, run, and grow your business today.
How do you balance work and life as a business owner and mother?
It can be challenging to manage both roles as a business owner and mother. Balancing work and life requires careful planning, setting realistic expectations, and learning how to prioritize tasks. It is also important to practice self-care, find support systems, and remember that the two roles don't have to be mutually exclusive. Taking steps towards a healthy work-life balance will ensure you can successfully navigate both roles without feeling overwhelmed or stretched too thin.
What is the Best Planner Ever?
Jennifer Dawn's "Best Planner Ever" is a comprehensive planner designed to help individuals achieve their goals, increase productivity and create a successful life and business. Here are some ways in which the "Best Planner Ever" differs from other planners:
Goal setting exercises: The planner includes detailed exercises to help users set and achieve their goals. This includes breaking down goals into manageable steps, identifying obstacles and creating action plans to overcome them. Daily planning pages: The planner includes daily planning pages with space to prioritize tasks, schedule appointments, and track progress on daily goals.Time-blocking system: The planner also includes a time-blocking system to help users manage their time effectively and avoid procrastination.Habit-tracking tools: The planner includes habit-tracking tools to help users develop positive habits and track progress over time.Monthly and quarterly reviews: The planner includes regular monthly and quarterly reviews to help users assess their progress, identify areas for improvement, and adjust their goals and plans as needed.
Overall, the "Best Planner Ever" is a comprehensive and detailed planner designed to help users set and achieve their goals, increase productivity, and create a successful life and business.
Where is your favorite place to travel?
Traveling and spending time in Sedona, Arizona is one of the most exciting and rewarding experiences for me. I love traveling and for me the possibilities are endless. I relish any time spent on or near the ocean, in the mountains, or high desert. No matter where I go, travel is often an unforgettable experience.
How can our readers get in touch with you?
They can reach me at JenniferDawnCoaching.com.