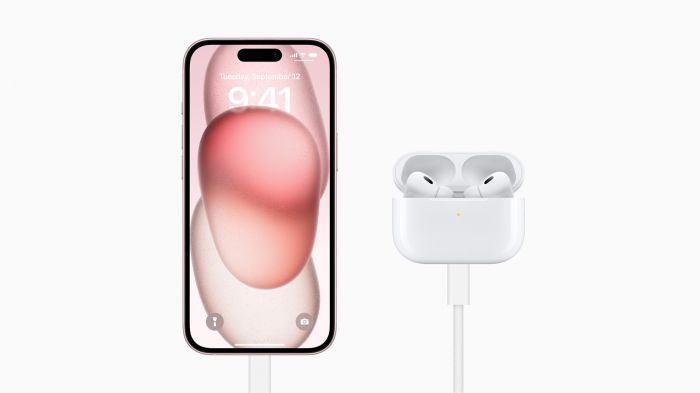 Apple
AirPods Pro (2nd generation) with MagSafe Charging (USB-C) delivers a substantial upgrade to the world's most popular headphones. AirPods Pro (2nd generation) deliver incredible sound quality, as well as up to double the Active Noise Cancellation of their predecessor, an advanced Transparency mode, a more immersive Spatial Audio experience, and a wider range of ear tip sizes for an even more bespoke fit. AirPods Pro (2nd generation) are upgraded with USB-C charging capabilities, Lossless Audio with Apple Vision Pro, and extra dust resistance. With iOS 17, all AirPods Pro (2nd generation) give access to new audio experiences including Adaptive Audio and Conversation Awareness.
Great Convenience and Durability
AirPods Pro (2nd generation) are updated with a USB-C connector, so a single cable may be used to charge Mac, iPad, AirPods and the iPhone 15 family. It is even possible to charge AirPods directly with any of the phones in the iPhone 15 lineup, which also come equipped with a USB-C connector.
In terms of dust resistance, the enhanced IP54 rating for the earbuds and case means that users can use them with greater confidence in a wider variety of rugged contexts.
Lossless Audio with Apple Vision Pro
Lossless Audio is enabled with ultra-low latency to provide the perfect true wireless solution with Apple Vision Pro. The H2 chip in the latest Airpods Pro and Apple Vision Pro, combined with a revolutionary wireless audio protocol, unlocks powerful 20-bit, 48 kHz Lossless Audio with a huge decrease in audio latency.
When Apple Vision Pro is available in early 2024 in the U.S., users will be able to enjoy the most advanced wireless audio experience in the industry with the new AirPods Pro for outstanding entertainment, FaceTime calls, gaming, and more.
New iOS 17 Features
There are three exciting new features and capabilities gained with iOS 17: Adaptive Audio, Conversation Awareness, and Personalised Volume.
Adaptive Audio is a new listening mode that dynamically blends Transparency Mode and Active Noise Cancellation, calibrating the noise control with reference to the sound in a user's environment. This revolutionary experience (delivered through advanced computational audio) permits users to stay completely conscious of their surroundings, whilst distractive background noises are minimized.
In a similar vein, Conversation Awareness detects when a user begins speaking to someone nearby and helps to lower the volume of the user's content, thus improving the audibility of the voice in front of the user, and reducing background noise.
Personalized Volume is another remarkable improvement that automatically adjusts the listening experience for users based on their preferences over time using machine learning to recognize environmental conditions and volume selections.
Environmental Credentials
AirPods Pro (2nd generation) feature many materials and features specifically designed to minimize their environmental impact. The rare earth elements in all magnets and the gold in the plating of multiple printed circuit boards are all 100 percent recycled. The tin used in the solder of the main logic board and the aluminum in the hinge are similarly 100 percent recycled metals. The external packaging has eliminated the outer plastic wrap, and 90 percent or more of the packaging employs fiber-based materials, bringing Apple closer to its aim of excising plastic from all packaging by 2025. AirPods Pro (2nd generation) are also free from potentially harmful substances such as beryllium, BFRs, mercury, and PVC.
Conclusion
The AirPods Pro (2nd generation) are absolutely worth it for first-time buyers and anyone in need of a replacement: the more convenient charging capabilities and superior IP54 rating are subtle but important upgrades. These are nearly perfect true wireless earbuds. For new iPhone 15 owners looking for a more tailored listening experience, these are the pinnacle of Apple technology, ideal for Apple device owners who want earphones that deliver a seamless software experience and highly effective noise cancellation.
AirPods Pro (2nd generation) with MagSafe Charging Case (USB-C) Pricing and Specifications
Price: $249 / £249
Colors: White
Battery life (rated): 6 hours; 30 hours (charging case)
Connectivity: Bluetooth 5.3 (codec support: AAC)
Water resistance: Yes (IPX4 rated)
Size: 1.22 x 0.86 x 0.94 inches (per bud); 1.78 x 2.39 x 0.85 inches (charging case)
Weight: 0.19 ounces (per bud); 1.8 ounces (charging case)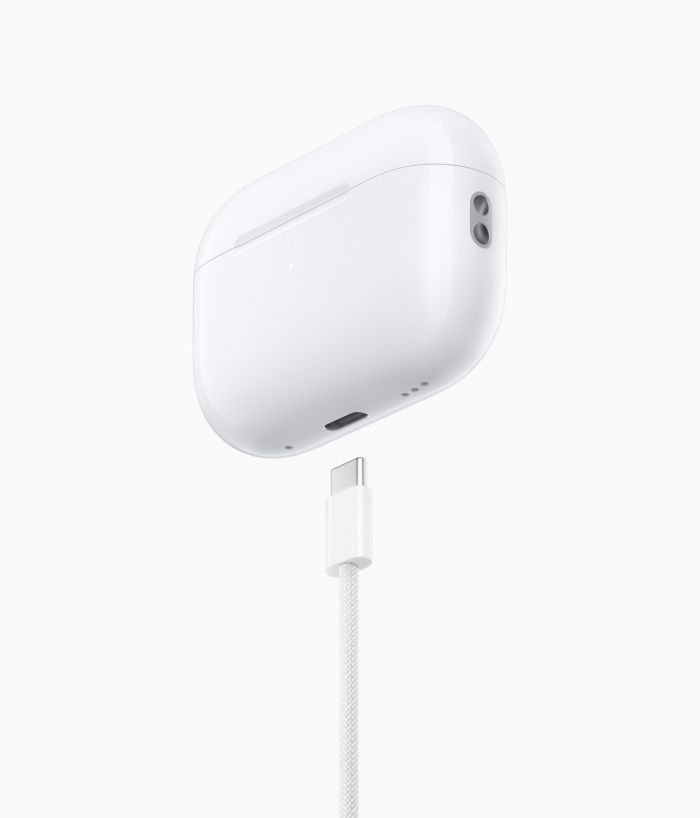 Apple
The updated AirPods Pro (2nd generation) introduce USB-C charging, additional dust resistance, and Lossless Audio with Apple Vision Pro.