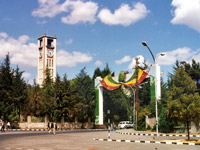 Addis Ababa Shopping
Addis is the perfect place to buy some emblematic souvenirs of your stay in Ethiopia. Top of your shopping list is likely to be a pack of Ethiopian coffee beans, preferably vacuum sealed to preserve their freshness. Decorative metalwork, in the form of crosses, and painted religious artworks on carved wooden boards are also popular. Filigreed silver and gold jewellery is also a great buy.
Other good buys are woven blankets and cloth, 17th century silver Marie Therese Thaler coins, and items bearing the image of Haile Selassie and the distinctive Rastafarian colours. If buying what you believe to be an antique ensure you obtain a clearance certificate from the vendor as Bole customs are always on lookout for smugglers of Ethiopian heritage items.
The most popular place to shop is the Merkato, which is an essential tourist experience although not for the fainthearted. This is a chaotic, thrilling flea market with a diverse range of both goods and people, including a fair number of shifty characters. All prices are negotiable. Another shopping area is Churchill Road, above the main post office on the right.
If bargaining is not your thing, and you don''t mind being overcharged a bit, do your souvenir shopping in the boutiques at the Hilton and the Sheraton, where high quality examples of the classic Ethiopian souvenirs can be bought without the crush and fuss of the more typical shopping experience in Merkato. The shops at Bole Airport are decent too, but are only open when an international flight is departing.
Visit the Former Women Fuelwood Carriers Project for good quality souvenirs like woven hand shawls in support of a good cause. Similarly the alert Handicraft Shop makes sells beautiful embroidery in support of the Berhan Taye Leprosy Disabled Persons Work Group. Check out Sabahar, near the Salem nurses college, which makes extraordinary silk scarves. There are also some great bookshops in Addis. Try The African Bookshop for great second-hand reads, The Mega Book Shop for the most eclectic range of literature you''ll ever find, and Ethiopian Trading Enterprises for fantastic and cheap postcards.
Before burning all your remaining birr on a shopping spree remember that luggage is carefully weighed at the airport with hefty surcharges for those going over the specified limits of 44 pounds (20kg) for check-in luggage and 15 pounds (7kg) for hand luggage.
A note on finding your way around in Addis: a good taxi driver is a better option than a detailed map or GPS as street names change name/direction quite often. If your driver can double up as a guide and negotiator for your trip into Merkato, so much the better.