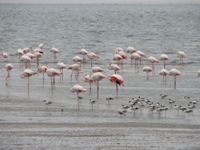 Walvis Bay Overview
Walvis Bay is often overlooked by tourists travelling to Namibia. However on closer inspection the county's second largest town has a lot to offer. Visitors to Walvis Bay get to step away from the rat-race and enjoy the serene and lonely beauty of the some of the country's most evocative desert scenery. The town is the gateway to a host of endless dunes, freshwater lagoons, birdlife, sea life and silence. The dunes just outside Walvis are both majestic and tragic as they dissipate into the ocean in a timeless battle that will never be concluded. The freshwater lagoons found at the base of some of these dunes provide life to a range of highly specialised and adapted desert wildlife. Visitors to Namibia should not miss the opportunity of visiting this diamond in Namibia's desert crown.
Aside from the awe-inspiring scenery, Walvis Bay offers a range of other activities and sightseeing opportunities for adventurous visitors or those who just want to relax and commune with the wind. This seaside town is Namibia's only working sea port. Walvis Bay is the perfect base from which to explore the surrounding desert regions including the beautiful Sandwich Bay and Cape Fur Seal colony at Cape Cross, and the nearby seaside resort of Swakopmund. Other popular activities include deep-sea fishing excursions, dune-boarding, dolphin watching and scuba diving.
Walvis may be a small dusty town along Namibia's barren and harsh coastline, with hot days, cool nights and mornings shrouded in sea fog but it offers up something magical that few can resist. Even the Hollywood glitterati like Billy Bob Thornton, Angelina Jolie and Brad Pitt have fallen for its charm. Walvis is the perfect place to relax, zone out and commune with your surroundings as you sip a cold beer while watching the colours of the fiery sunsets compete with the flamingos in the lagoon.