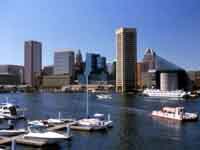 Baltimore Overview
As Maryland's biggest city and one of the USA's busiest ports, Baltimore's position at the end of the Patapsco River that feeds into Chesapeake Bay gives the city easy access to the Atlantic Ocean and it became an important port and shipbuilding centre. It was home to a large number of US Navy vessels as well as the famously swift Baltimore clipper ships that destroyed or captured many of the British merchant ships during the War of 1812. Unlike Washington DC, Baltimore survived the vengeful attack by Britain, and with the triumphant flying of the American flag over Fort McHenry the country's national anthem, the 'Star-Spangled Banner', was born.
Since its important role in the Revolution, Baltimore has experienced a turbulent history. Its fortunes have see-sawed from post-Revolution prosperity to a city crippled by the violence of divided loyalties during the North/South Civil War; from a railroad-rich 19th century to the devastation caused by the fire of 1904; and the economic despair of the Great Depression.
Nicknamed 'Charm City' for its fusion of small town hospitality and city finesse, Baltimore combines an interesting mix of neighbourhoods, a diverse range of attractions, and delicious seafood specialities of the Inner Harbor that include the abundant Maryland steamed blue crabs. The distinct neighbourhoods are an attractive feature of Baltimore, among them the historic maritime district of Fells Point, the broad avenues of wealthy Mount Vernon, the village ambiance of Little Italy and the Bohemian neighbourhood of SoWeBo, or Southwest Baltimore. The dividing line between the northern and southern US states runs through the city and its southern heritage is visible in the wide front porches of the houses, and the typically laid-back attitude of its residents.
No holiday in Baltimore is complete without sampling its active nightlife. Fells Point is the most popular district for entertainment, with a large selection of restaurants, cafes, bars and nightclubs. The Powerplant Live! area near the Inner Harbor has several blocks of nothing but restaurants, bars and clubs. Other neighbourhoods in Baltimore with good nightlife include Canton Square, Mount Vernon, Hampden, Federal Hill, and the Station North Arts and Entertainment District.
The waterfront area and Inner Harbor are the heart of this vibrant and growing city and has become a major tourist destination featuring the World Trade Center with its 27-storey high Top of the World Observation Level, the National Aquarium, the Maryland Science Center, and the Port Discovery children's museum covering everything from art to black history and archaeology. The water taxi service, besides providing an efficient means of harbour transport, is an excellent way to experience the waterfront and affords fantastic views of the city's skyline.