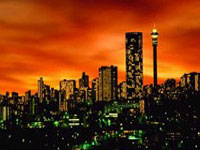 Johannesburg Overview
The capital of South Africa's smallest province, Gauteng, Johannesburg is the economic powerhouse of Africa with its ever-growing suburban sprawl creeping outwards from the central city skyscrapers and ring-road motorways.
The more than 10-million inhabitants live fast and have a restless spirit, which they have imparted into the fabric of the city, also known by its African name as Egoli, 'the place of gold'. The development of the city, which is just over a century old, has followed the fortunes of the Witwatersrand (White Water Reef), the rich gold-bearing rock reef that stretches across this area of central South Africa. The initial gold rush started in the 1880s, and barely ten years later Johannesburg had become South Africa's largest town and the site of frenzied development that has been ongoing ever since.
Johannesburg today is a city of contrasts, with glass-paned modern luxury high-rises towering beside a few remaining dilapidated Victorian buildings, and affluent northern suburbs with stunning private homes behind high fences giving way to the squalid streets and tiny shoebox houses of the massive Soweto township in the south. The chasm between rich and poor in the city has given rise to a high crime rate, evidenced by the fortress-like security that pervades the wealthier suburbs.
Most visitors to South Africa, particularly those intent on exploring the game reserves of Mpumalanga, arrive at Johannesburg's busy OR Tambo International Airport, which is the main point of entry for the country. There is little in Johannesburg itself to grab the attention of tourists, but a few days can be filled taking in some entertaining man-made attractions before heading off to the game parks of the northeast or the coastal regions. The most interesting diversion in Johannesburg is undoubtedly a 'Heritage Route' or 'Shebeen Crawl' tour of Soweto, but take care only to venture into the maze of the township with an organised tour or professional guide.