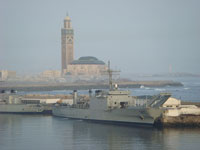 Casablanca Shopping
Not quite as bustling as some other Moroccan cities, Casablanca still has a lot to offer eager shoppers. Those keen on shopping in Casablanca should best brush up on their haggling skills, as spirited negotiation over price is the norm in this white-walled Moroccan city.
Head to the old Medina for traditional wares such as tagines, leather goods, hookahs and other Moroccan souvenirs. Major fashion chain stores can be found in the Maarif neighbourhood, where all the big names from Zara to Prada can be found as well as ''designer'' accessories, which can be scooped up for a song. The run-down Derb Ghraleef neighbourhood, where a cluster of small stalls offer everything from cellphones to ''genuine'' brand name clothing and everything in between, is an adventurous destination for serious shoppers with a basic understanding of Arabic and solid bargaining skills.
The famous Marché Central (Central Market) is a great place to pick up fresh seafood such as oysters, or Moroccan-style sausages and patés. Other handcrafts and souvenirs can be bought here too. The only department store in Casablanca is Alpha 55 on Avenue Mers-Sultan, and stocks just about everything under the sun. Look out for authentic Moorish silver jewellery: a sensational idea for gifts for loved ones back home.
Most shops open at 9am, close around lunchtime and reopen around 3pm, and are usually closed all day on Sundays. Lunch hours on Fridays are often prolonged due to Friday prayers. During Ramadan, shops open later in the day and remain open at mid-day.